In 1840, Abney Park cemetery chapel opened. It marked a key moment, not only for Abney Park but also for the ways in which cemeteries were developed and used.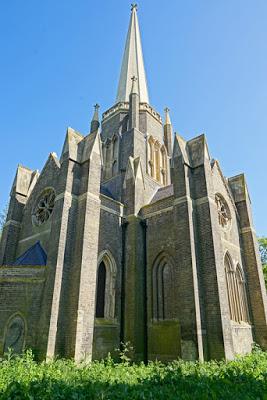 One of London's 'magnificent seven' cemeteries, Abney Park sits behind Stoke Newington High Street and offers a popular green space amidst the built-up city streets. That is no accident: like its six sisters, this cemetery was always intended for recreation as well as for mourning: it was an arboretum (planted by famous local horticulturalists the Loddiges family) as well as a graveyard. Its broad welcome extended to those who could be buried there: unlike churchyards, or even the non-conformist burial grounds, this cemetery was open to members of all denominations.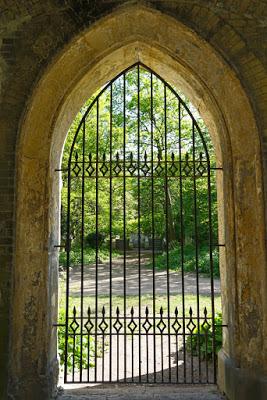 The non-denoinational approach was an innovation by Abney Park. Its sisters used a different strategy: Kensal Green, West Norwood, Nunhead, Tower Hamlets, and Highgate each had two chapels: one Anglican and another for Dissenters. Brompton has a single chapel, but it was originally Anglican; separate Catholic and Dissenting chapels were planned but never built. By contrast, Abney Park's chapel was always open to all denominations, and never consecrated.
Architect William Hosking therefore faced an interesting challenge: he had no precedents to follow in designing the chapel. His own background was non-conformist - he had apprenticed under Rev. William Jenkins, a Wesleyan minister as well as architect - although his major previous commissions had been in bridge design.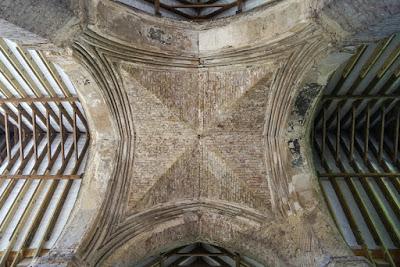 The chapel was carefully designed for its non-denominational use. It is cruciform in shape, with four equal arms intended to reflect equality before God. It is simple, but not without interest: gothic overall, it has romanesque and neo-classical elements, and the rose windows reflect the rosarium outside, which contained over a thousand varieties of rose.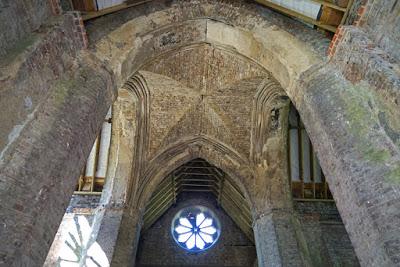 Meanwhile, its use for funerals meant that hearses would be arriving in all weathers, and they are catered for by a porte-cochere. Its ceiling forms the floor of a gallery inside the chapel.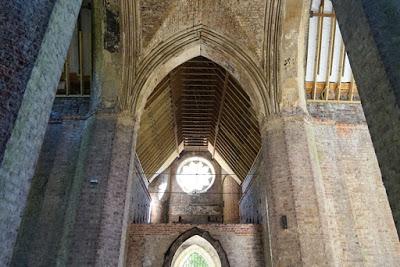 The design was also influenced by the chapel's location at the heart of the cemetery. Since it was some way from the entrance, designed to be gradually revealed as visitors approached thorugh the tree-lined paths, it dominates by height rather than position. The chapel strives upwards, its spire projecting above the surrounding trees.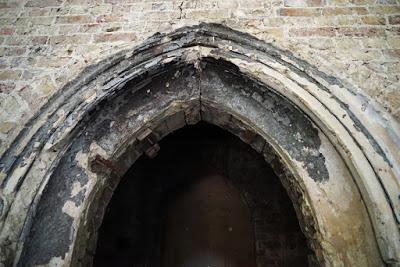 Although it had its critics, the chapel was also much-admired by Hosking's contemporaries. That same year, he became the first professor of architecture at King's College London.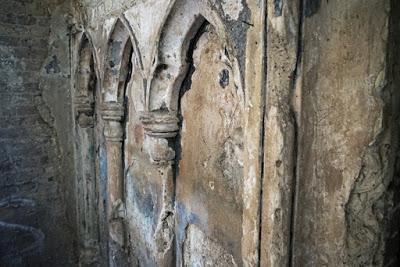 Abney Park's chapel has suffered badly from vandalism and fire. It reached a low point in 2012, when Hackney Council had to close it for safety reasons. However, recent restoration work has stabilised it: now safe to enter again, the chapel can look forward to new life as an event and community space under the care of the Abney Park Cemetery Trust. 
I visited on a guided tour organised by the excellent London Historians. The cemetery has regular walks and events.