If we go back in time and have a look at Abhishek Bachchan's Career, you will be mostly disappointed, well at least I am, but, it doesn't mean that he lacks the finesse of a good actor. On three different occasions, someone brought it out of him, and this someone was no other than Mani Ratnam.
Mani Ratnam gave us Abhishek's raw performance as Lallan Singh in the film YUVA. Yuva made directors and producers rethink about Abhishek and he certainly has a filmography that is being added with 2-3 films every year because of Mani Ratnam's effort to fetch the actor out of  him in his 3 films; Yuva, Guru and Raavan.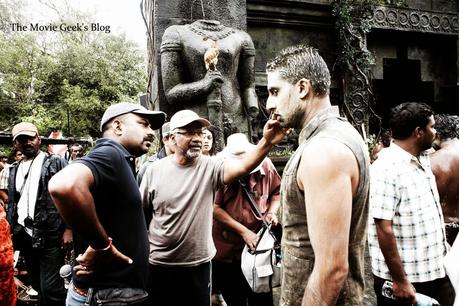 Abhishek debuted in 2000 with the film Refugee; it was also Kareena Kapoor's debut film, it took him 4 years to finally make an impact on the audience and that was because of his performance in Yuva. Yuva was arguably his breakthrough performance. In the next three years, we saw Abhishek's mediocre performances in no less than a dozen films before GURU happened; although I liked his work in Sarkar in between Yuva and Guru.
Guru garnished his career once again; people started believing in his potentials. Mani Ratnam made him comfortable around his territory, which is playing the hardened characters, where he is really excellent and natural. Abhishek delivered his dialogues well and looked totally convincing as the maverick entrepreneur. 
Even before people started to take him seriously, he started to disappoint again, right after Guru, Abhishek came up with bad films like Jhoom Barabar Jhoom, Drona and Laga chunari mein Daag. Except for Paa, he couldn't do really well in the next half a dozen or more films that came after Guru and now he needed another good performance for his career to continue, so Mani Ratnam came to the rescue once again with Raavan in 2010 and Abhishek got another hardened character to play. 
While Yuva and Guru were critically acclaimed good films, Raavan was snubbed by many. I personally liked Raavan, so much that I downloaded the Tamil version as well to see the difference in performances by the lead actors. Vikram who plays the cop in the Hindi version played the role of "Beera" in the Tamil version, now Vikram is a fine actor; he is certainly one of the best they have down there in the Tamil film industry but Abhishek did a better job than him playing the same character.
It's such a waste that an actor who had the potential in himself all through but could never utilize it except for a couple of occasions.
-Amrit Rukhaiyaar