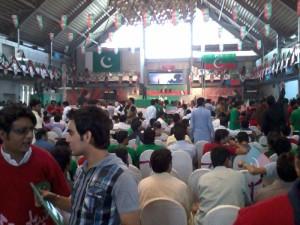 Pakistan Tehreek-i-Insaf (PTI) suffered a serious setback in Lahore when some of their candidates returned party tickets for upcoming General Elections over unjust allotment tickets. Rebels include PTI Lahore President and candidate from NA-124 and PP-127 Abdul-Aleem Khan, Candidate from PP-145 Hamid Sarwar, Candidate from NA-123 Hamid Mairaj, Candidate from NA-130 Chaudhry Talib – NA-130, PP-146 candidate and Yasmeen Tipu of PP-144.
Candidates who returned their party tickets announced that they will not contest elections on PTI ticket as central parliamentary board has not considered their recommendation for tickets.
Contrary to the claims Central information secretary of PTI Shafqat Mehmood said that PTI has only finalized the names of candidates and has not issued any party tickets yet. He maintained that Party tickets to selected candidates will be awarded on April 8, 2013. Shafqat Mehmood said that Aleem Khan and his group is trying to create pressure on Parliamentary Board but such tactics will not bear any fruits for miscreants. He once again reiterated that Party tickets will only be awarded on merit without keeping in mind the consequences.
Another source in the party said that Aleem Khan is a property tycoon and most of his recommended names are in real estate business and party cannot be handed over to property dealers.