May 18, 2016

Trivia Answer: Freaks & Geeks, The Grinder, My So Called Life & Firefly all were canceled after 1 Season?
First Th

ree

: Bobby Aguilera, Dani Jackel

&

Monica Caraffa
THE NUMBERS
Sunday's Broadcast Top 5
Family

Guy-FOX 1.3/2.6 
Onc

e Upon a Time-ABC 1.2/4.0
The Simpsons-FOX 1.2/2.7
60 Minutes-CBS 1.0/10.7
Quantico-ABC 1.0/3.7
Sunday's Cable Top 5
Game of Thrones-HBO 3.9/7.8
Fear the Walking Dead-AMC 1.9/4.4
Silicon Valley-HBO 1.0/1.8
Family Guy-Adult Swim 1.0/1.9
Keeping Up With the Kardashians-E! .8/1.7
Sunday's Social Media Top 5
Game of Thrones-HBO 200,000 Tweets
Nuestra Belleza Latina-Univision 94,000 Tweets
Fear the Walking-AMC

26,000 Tweets
Keeping Up With the Kardashians-E! 25,000 Tweets
Quantico-ABC 19,000 Tweets
Mon

day's Broadcast Top 5
The Voice-NBC 2

.1/9.3
Dancing with the Stars-ABC 1.8/11.5
Mike & Molly-CBS 1.

6/8.3
Bang Bang Theory-CBS 1.5/7.1
Castle Finale-ABC 1.3/7.7 
Mon

day's Cable Top 5
NBA Playoffs-TNT 3.7/8.7
Love & Hip Hop-VH1

1.5/2.8
WWE-USA 1.1/3.3
Black Ink Crew-VH1 1.1/2.0
Teen Mom-MTV .8/1.4
Mon

day's Social Media Top 5
WWE Monday NIght Raw-USA 125,000 Tweets
Love & Hip Hop-VH1 96,000 Tweets
The Voice-NBC 76,000 Tweets
Castle-ABC 58,000 Tweets
RuPaul's Drag Race-Logo 47,000 Tweets  
Broadc

ast Live +7 Week of 4/25/16-5/1/16
Big Bang Theory-From a 3.4 to a 5.4 (+2.0)
Empire-From a 3.8 to a 5.7

(+1.9)
Grey's Anatomy-

From a 2.0 to a 3.7 (+1.7)
Scandal-From a 1.6 to a 2.9 (+1.3)
The Blacklist

t-From a 1.2 to a 2.5 (+1.3)
Cab

l

e Live +7 Week of 4/25/16 -5/1/16
Fear the Walking Dead-

From a 2.1 to a 3.5 (+1.4)
Game of Thrones-

From a 3.7 to a 4.8 (+1.1)
Teen Mom

-From a .9 to a 1.9 (+1.0)
Keeping Up With the

Kardashians-
From a 1.0 to a 1.7 (+.7)
60 Days In-From a .8 to a 1.5 (

+.7)
THE SHOWS
The Deto

ur 
I can't really describe what this wacky, hilarious, show is like. It's a comedy, but it's crazy, and different and inappropriate and twisted and damn @ss good! Getting better ev

ery

week. It's a family comedy that is not really appropriate for every member of your family

.

Monday's episode was the best one yet. Nate and Robin recounted how they met. Nate's version was VERY different than Robin's version but

in both of their versions there was one huge takeaway

. They aren't married! The

kids and I were both pretty surprised by that news. 

You guys GOTTA get in on this one. Now that we don't have T

h

e Grinder, I'd say The Detour is a great replacement. Hopefully I get to meet Kevin Reilly today at the Turner Upfront. If I do...I'll congratulate him on The Detour, but no worries...hard press on

picking up The Grinder.
Deadliest Catch
The end of the Bairdai season and as usual every captain has a story to tell. Sean's ina

ugural

season resulted with

a bit of failure but mainly

success. He got off to a late start and came up 20,000 pounds short

,

but he still was able to deliver quite a bit of Sig's quota

and Sig was cool about it

. Sean's Dad died and his dream was for Sean to get the family boat out onto the

Bering Sea

and in

t

o a successful fishing career and that is what this young kid did. Pretty impressive. Jake Anderson's first season as Captain was a success. Ended with some problems in the engine room but who cares when you get back to the dock and your cute little boy and your cute little wife are waiting for you with huge hugs? Josh Harris made his Dad proud this season, too. Not sure Sig will say the same about Edgar. his crew kept calling him bitching about his brother and the way he managed the boat. Maybe Edgar should stick to the deck. Opelio Season starts next week. More crab, more drama, more disgusting bodily functions

and

rogue waves
Chrisley Knows Best
I don't get it. I thought Chase and Nanny Faye didn't move to Nashville. Seems to me they are all in Nashville now all the time. Doesn't Savannah go to school? Why is she NEVER

in class?

Now Todd bought a Juice Bar? For real? I don't know if last night

s episode was

one massive

Juice Bar

brand integration or if Todd really bought a

franchise

. Not sure I believe that corporate would let the family run an entire store with only 3 days of training.

Have the Chrisley's ever run any sort of retail establishment EVER? It wasn't even funny, it was just ridiculous. 

Let's see if they're still running a Juice Bar next week. I'm going to take a guess and say

...no. 
THE OTHER STUFF
ABC Upfront Recap
The presentation started out with Priyanka Chopra dancing without pants on. She's got Bollywood experience andpretty impressive dance moves.

Barry "Big Tasty" Goldberg and little Jack from Black-ish joined her on stage to open the presentation. impressive.

Geri Wang looked great in a coral pants suit

and ponytail

Ben Sherman

was

pretty comfortable in front of th

e crowd

How did Channing Dungey celebrate her 3 month anniversary? Presenting the 2016 ABC Upfront

. She's got a very slow precise way of walking around the stage.

The word "connection" was used way too many times to count. The takeaway: More Great Stories, More Innovative Ways to Connect

" Got it 

 
3 Upfronts 3 disses to YouTube & di

gital overall

I don't know what it is about ABC's package of clips but I get emotion

al

every time. Whoever puts their clip packages together does a great job. 
Channing Dungey and I both really...REALLY love TV. She used to tape TV shows (sound only) on a cassette tape to listen back to. Hart to Hart and Charlies Ang

els

were the two she referenced but I'm thinking Love Boat too.
Scandal is NOT on the Fall Schedule. It'll be back mid-season. Mainly due to Kerry Washington's pregnancy but I'm also guessing Shonda

's trying to figure out some plot ideas for the new season.

New show NOTORIOUS in Scandal's time slot. Need to see the full pilot

to give a real opinion

20/20

's been on the air for 38 years WOW!

2nd Season of Secrets and Lies

. No Ryan Phillipe. Just Juliette Lewis and another case. Didn't watch the first Season, won't watch the 2nd. 

3 Upfronts and 3 different shows with

time travel as the premise.

The show stars Daniel from Revenge and Adam from Un

real who's really dating Shelby from Quantico in real life.

Time Travel's TOUGH. The only time travel show I'm doing okay with is Outlander and that's because it includes the SUPER HOT Jamie

in it. 

Star Crossed is the next Shonda Rhimes show. Hate to say this but doubt this one lasts long. Romeo & J

uliet are dead...what happens to the Montagues and the Capulets, now? That's the show. 

When We Rise, an 8 hour event about the history of being gay in America look

ed 

pretty em

otional 

   

I thought Dirty Dancing was supposed to be live!!!! Turns out it's just a remake of the movie. Did we need a remake of the movie? 

Conviction will run after Dancing with the

Stars

on Mondaynights. A

n

other legal drama I won't be watching. At least Channing's sister, Megan Dungey got a gig out o

f the deal. 

 
Jimmy Kimmel SLAYED! He is THE BEST as usual!!! He also signed a new 3 year deal with the network so

we both are ASSUMING that he'll be skewering the networks for a minimum of 3 more years. 

Guillermo...cameo

American Housewife seemed

cute

Speechless, family comedy

but one of the kids has special needs.

Imaginary Mary will be cancelled before I finish typing

Downward Dog...tal

king dog sitcom.

I am a HUGE dog lover, but not sure this one works. I think the dog

s voice is all wrong

ABC's big bet...Des

ign

ated Survivor with Kiefer Sutherland. They're putting it on Wednesday's where Nashville was so I have the time open and I think it does look pretty good

but again, need to see all the pilots before I can make any official calls

With all the ABC stars on stage, not sure I'd end it with a

talking dog, but all in all I enjoyed the presentation.

Then...the party!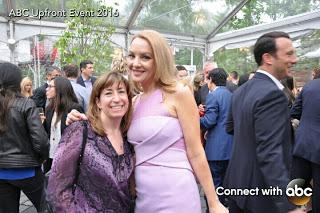 I waited 3 years to meet Wendi McClendon-Covey. She couldn't have been any nicer and our outfits worked well together.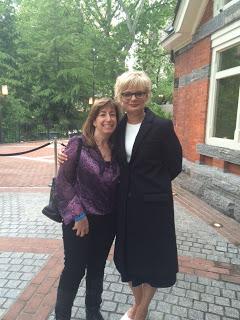 I love Martha Plimpton in The Real O'Neals and The Good Wife but for me it was also a big deal because I'm a HUGE Goonies fan! I came between Martha, her co-stars and her cocktail but she was pretty nice.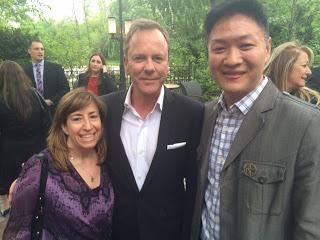 I'd always heard Kiefer was a jerk, but he couldn't have been any nicer to me and my buddy Mike! He'll always be Jack Bauer to me. Next season he goes from saving the President to being the President.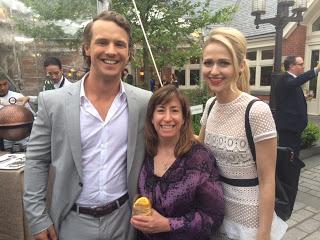 Adam from Unreal and Shelby from Quantico were also super nice. They were both in Unreal together last season and I think they are together FOR real this season. Hard to tell for sure but they seemed cute together and soooooo nice.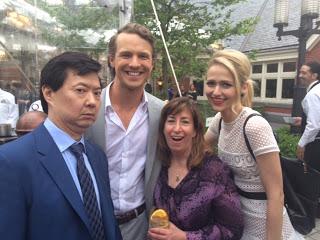 Dr. Ken with the photo bomb.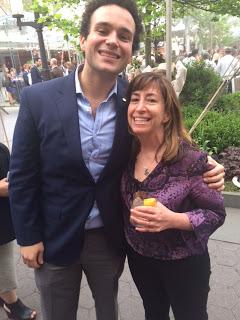 Troy aka Barry Goldberg aka "Big Tasty" was adorable. His first Upfront and he was getting mobbed.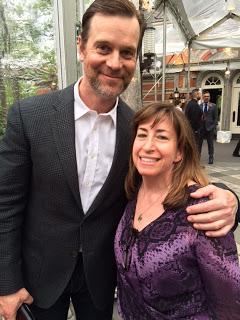 This was huge for me. Nate from Six Feet Under, Casey McCall from Sports Night, Adam Braverman from Parenthood and of course now Ben from Catch. Peter Krause was really nice to everyone and he was also mobbed.
I missed Jimmy Kimmel and I don't think Priyanka Chopra even showed up. David Blaine did some pretty unbelievable card tricks standing right in front of me which was pretty cool. Then it was time to go home. I love the Upfronts. 
ABC's Fall Schedule:
Monday-Dancing with the Stars

&

Conviction
Tuesday-The Middle,

American Housewife

, Fresh off the Boat, The R

eal O'Neals & Agents of SHIELD
Wednesday-The Goldbergs, Speechless, Modern Family, Black-ish

&

Designated Survivor 
Thursday-Grey's Anatomy, Notorious & How to Get Away with Murder
Friday-Last Man S

tanding, Dr. Ken, Shark Tank & 20/20
Saturday-Saturday Night Football
Sunday-America's Funniest Home Videos, Once Upon a Time, Secrets & Lies & Quan

tico

 
The Kelly Sec

tion
Yesterday, Kelly's co-host was Jussie Smollett from Empire. Of course we know he's not in the running for the job but he was very good and seemed to have great chemistry with Kelly. Gelman had the two of them spinning a wheel and performing Karaoke.

E

pic fail. The music was messed up, the song choices were horrible and the whole bit just didn

't work. Kelly and Jussie

handled it all well, but I'm betting there was some drama backstage. Note to Gelman: What works for James Corden doesn't work for Kelly

, especially not LIVE! 
-House of Lies canceled after 5 seasons on Showtime. NOW

...I'll binge it.
Wednes

day's Trivia Question:Seems like my questions have been too hard lately so I'm going to the trivia cards for today's: When Dr. Frasier Crane left Cheers and Boston, what city did he move to

?



WWTM-Kristy
Like me on Facebook at Watching Way Too Much
Follow me on Twitter at tvnme
http://watchingwaytoomuch.com
[email protected]