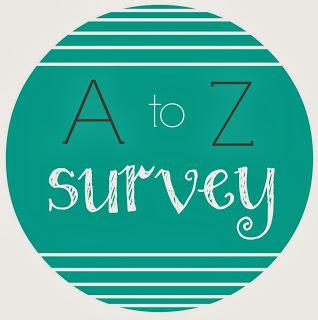 I saw this over on Care's Online Book Club blog and traced it back to the original source, Perpetual Page-Turner, so that I could join in! I love fill-in the blank type link-ups, I like that there are a bunch of questions that I can give short answers to and that will make me think about things to write about that I normally wouldn't have. This one is a book-themed A-Z list, with a question corresponding to each letter of the alphabet. It's long, so without further ado - let's get started!


A

uthor you've read the most books from:
Wow. I really don't know! I read all the Harry Potter books, which I guess is 7 books by one author. I also read all the Tom Robbins books, which is 8 and I read the boxed set of the Sookie Stackhouse books which I believe is about 8 or 9. As a child I read at least that many books by Roald Dahl, so it's possible Dahl wins.


B

est Sequel Ever:
Any of the Harry Potter books. Take your pick. Excellent series.


C

urrently Reading:
I have a tendency to read several books at a time and bounce back and forth between them - whatever I'm digging the most or in the mood for. I'll usually have a couple of non-fiction choices, a couple of fiction - often a more challenging book, a YA (or other "fun") book. Right now I'm reading Masters of Sex by Thomas Maier (because I'm loving the TV show), Blackwater by Jeremy Scahill, Under the Dome by Stephen King (also because of the TV show), The New Yorkers by Cathleen Schine, Looking for Alaska by John Green, The Cuckoo's Calling by Robert Galbraith (aka JK Rowling) and More Tales of the City by Armistead Maupin.


D

rink of Choice While Reading:
Like the original blogger, I'm gonna go with tea - if it's cooler weather. I'm not great with caffeine, so I tend to stick with rooibos-based, herbal or decaf. Just discovered a Harney & Sons one called Comoro, which is decaf black tea and vanilla. If I'm feeling in need of comfort I'll have hot chocolate. If it's summer I'll usually stick with a glass of water or ice-cold beer.


E

-reader or Physical Book?
If I had to pick just based on preference, I'd say physical book. I see books as part of my home, my decor, my personal style and personality. I feel safe surrounded by them, as if they were my friends or family members. There are also some books that simply don't work as electronic books - anything with art or colourful pictures. And there's something about the smell of a new book and the feel of the pages.
That said, life isn't always just about preference. It's also about practicality and comfort. Since having back surgery a few years ago, I stopped reading as much because I literally couldn't carry the extra weight of a book around with me all day. For this, e-readers and the book app on my phone have been godsends and have helped revive my reading life. I am incredibly grateful, and will always say that if an e-reader will help you read more, go for it. They're also amazing for reading at night, reading a heavy book (I tried the physical Under the Dome and OMG sore hands) and traveling.


F

ictional Character You Probably Would Have Actually Dated In High School:
I'm not one for literary crushes in general. I honestly can't remember most of the characters from books I've read more than a few months ago. So based on that, I'd say probably Augustus from The The Fault In Our Stars by John Green, Park from Eleanor & Park by Rainbow Rowell or Simon from City of Bones by Cassandra Clare.


G

lad You Gave This Book A Chance:
The Silver Linings Playbook by Matthew Quick. I nearly gave up several times because it was so similar to the movie and part of me felt like the movie was enough. But I'm really glad I stuck with it, because the book ending was so much better.


H

idden Gem Book:

84 Charing Cross Road by Helen Hanff or I Capture the Castle by Dodie Smith, probably. Out of my more recent reads I'd probably say Eleanor & Park by Rainbow Rowell or The Name of the Star by Maureen Jonson. Out of more out-of-the way/artsy books. I love Banksy's - his early bookettes (Cut It Out, Existencillism, Banging Your Head Against A Brick Wall) and more recently Wall and Piece. He's my favorite artist and has a witty, intelligent, critical take on the world that really appeals to me.


I

mportant Moment in your Reading Life:
The original poster claimed that Goodreads was her moment because it led her to start reading again. I am similarly fond of the site - it helps me keep track of what I've read, what I want to read, gives me recommendations and lets me browse other people's reviews and reading lists. I've also started lists and online book clubs, and I like the feeling of accomplishment updating my status on books affords me.


J

ust Finished:
Ready Player One by Ernest Cline and Austenland by Shannon Hale.


K

inds of Books You Won't Read:
If someone recommends a book to me and makes it sound interesting, I'll usually give it a shot. But left to my own devices I usually won't go near romance novels (the Harlequin kind), westerns, most horror and most sci-fi/fantasy. Which isn't to say that I haven't read awesome books from some of these genres - but it's a bit harder for me to get into them and I have such a long reading list as it is that I usually don't put a lot of effort into trying.


L

ongest Book You've Read:
According to Goodreads, The Cider House Rules is 973 pages, though I don't remember it being that long. (I'm not counting omnibus editions of series or books I didn't finish).


M

ajor book hangover because of:
The Fault In Our Stars by John Green. OMG that book was difficult to let go of!


N

umber of Bookcases You Own:
Depends. If you mean honest-to-goodness, full sized shelves, then we have 4 in the house. But I've also annexed part of the DVD shelf, a smaller bookcase that I've tucked into my desk, some old shoe shelves, the shelves on my bedside table... and there are a few stashed on odd bits of desk or piles. Basically, there are books everywhere.


O

ne Book You Have Read Multiple Times:
I know there are a few I've re-read. I don't know if I've read any more than a couple of times. Ones that come to mind are the Harry Potter books, Good Omens by Neil Gaiman and Terry Pratchett, I Capture the Castle by Dodie Smith and Fierce Invalids Home from Hot Climates by Tom Robbins.


P

referred Place To Read:
Anywhere that is comfy and cosy enough to allow me to sink into the book and become unaware of my surroundings. A nice armchair, the couch or in bed if I can get the pillows right!


Q

uote that inspires you/gives you all the feels from a book you've read:
I don't tend to really collect quotes, I just appreciate passages as I read them. So the only one I can think of right now is one I used for the Goodreads book club I co-founded:
"Sometimes, you read a book and it fills you with this weird evangelical zeal, and you become convinced that the shattered world will never be put back together unless and until all living humans read the book. And then there are books like An Imperial Affliction, which you can't tell people about, books so special and rare and yours that advertising your affection feels like a betrayal." - John Green (The Fault in Our Stars)


R

eading Regret:
Again, I find myself agreeing with the original poster on this - not having grown up with the Harry Potter books. It's not a regret I could have done anything about, since they weren't even published until I was in my early 20s, but it's my biggest literary sadness nonetheless. I also regret the time I lost when I stopped reading regularly around the time that I graduated from University with major burnout and had back surgery. I lost so much time! And there are books I'll never get to read now because of it. So there's that.


S

eries You Started And Need To Finish(all books are out in series):
I recently went on a trip to San Francisco and subsequently started reading the Tales of the City books by Armistead Maupin. I've got all the books lined up and intend to read the original series plus spinoff books - Michael Tolliver Lives, Mary Anne in Autumn and the upcoming Days of Anna Madrigal.


T

hree of your All-Time Favorite Books:
Good Omens by Neil Gaiman and Terry Pratchett, I Capture the Castle by Dodie Smith, Fierce Invalids Home from Hot Climates by Tom Robbins.


U

napologetic Fangirl For:
The Fault In Our Stars by John Green. I absolutely love this book. I don't know if it'll be in my top five of all time, but it's definitely my top five of the year.


V

ery Excited For This Release More Than All The Others:
Mad About the Boy by Helen Fielding, though I'm also pretty stoked about Worst. Person. Ever. by Douglas Coupland too!


W

orst Bookish Habit:
I can't go into a book store without buying a book. I can't go a month without buying a few. I haven't read all the books in my house, so there's really no justification - but there's something about a new book that's just.... magic.


X

Marks The Spot: Start at the top left of your shelf and pick the 27th book:
Dispatches from the Edge by Anderson Cooper, on the bookcase closest to me at any rate!


Y

our latest book purchase:
Fangirl by Rainbow Rowell - ordered and anxiously waiting for it to arrive!


Z

ZZ-snatcher book (last book that kept you up WAY late):
Probably Ready Player One by Ernest Cline. Such an easy book to get into, and things just keep happening! There's no down-time to stop reading. You just have to keep going and keep going and keep going until it's done!
So there you have it! My answers to the A-Z Bookish Survey. Wanna give it a go? Link up with the original post and  be sure to share your link in the comments so I can stop by and check it out!