Last weekend I was whisked out of London for a little surprise trip with the boyfriend. All I thought I knew was that we were going somewhere near Didcot, and staying in a Travelodge. My boyfriend isn't usually one for surprises, so I was preparing myself for a weekend at the railway museum. Luckily for once I'd got it all wrong :)
The weekend had an early start, and at 8.30am on Saturday we were already pulling in to Bath station. The boy had a full itinerary, and we were on the go straight away, checking out this bridge. I was so knackered I don't even remember what its called. This is my 'It's 8.30am and I've already been up for 3hrs' look.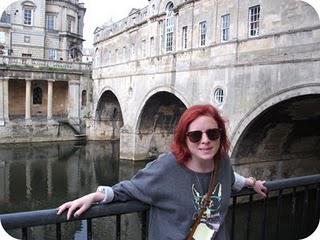 Next we headed to the
Bath Thermae Spa
. This I could deal with. It wasn't super sunny, but the sun was just about coming through the light cloud as we relaxed in the roof top pool over looking the lovely little city. I pondered how it might be a nice place for a hen do, innocently unaware of what was in store for the rest of the day.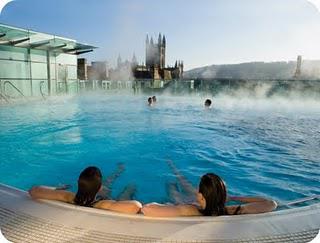 Image (c) Bath Thermae Spa
We searched around for breakfast, and found the very lovely
Cafe Retro
. I would recommend this place if you are visiting Bath and like breakfast as much as I do. The food was great and the interior was super cute!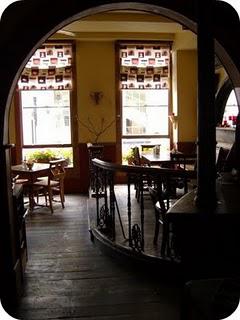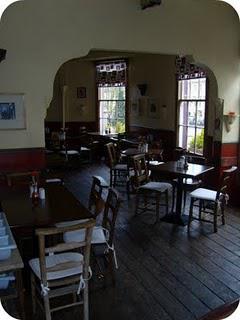 *Images (c) Cafe Retro
After a lovely breakfast of Eggs Florentine (and full english for the boy, naturally), we headed to the Fashion Museum. Note: if you have National Trust membership you can get in for free! To celebrate the recent Royal Wedding, there is currently a special display of wedding dresses. This subject seemed to keep cropping up throughout the day, even though it wasn't on the boy's well thought out plan! I'm not the most girly girl, but I did quite enjoy discussing which dress I would have.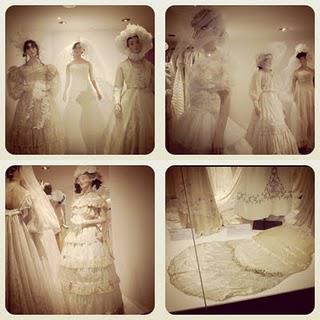 The fashion museum was a bit of an odd one. It didn't take very long to walk around, and at times felt very 80's. The audio tour got annoying almost instantly, and the fashion on show wasn't really to our taste. But it was a very welcome break from the rain and we were happy to get in free! I wouldn't say don't go, but don't expect too much either! I had fun trying on the corset and petticoat, anyway!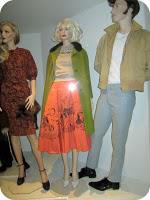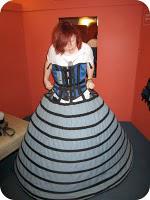 Still following the plan, we headed back to our b&b to freshen up. Well.. as I was expecting a Travelodge, I was really a little blown away. The place was gorgeous in every way.
Three Abbey Green
was a cute little town house on a square just minutes from the Abbey and the Roman baths. The staff we're lovely and friendly and I instantly felt very welcome there. We stayed in the Lord Nelson suite, complete with four poster bed and overlooking the square.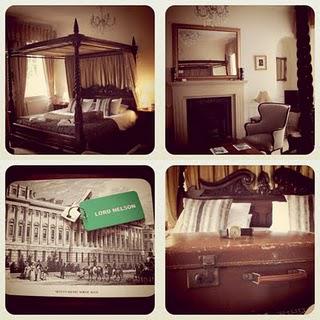 Next stop was Prior Park. I was told to get into my evening wear even though it was early afternoon, and I wondered what was going on in this park. 'In hindsight I wouldn't want to wear my jeans and jumper to the park', I was told. So after a little grumble, I got ready. The rain had cleared and again the sun was peaking through the clouds. It's a spectacular landscape garden with one of only four Palladian bridges in the world! But as far as I could see, there was no afternoon tea or any reason for me to be wearing a dress. And then as I daydreamed about the boy proposing to me on the pretty little bridge, I turned to see him tying his shoe.
He wasn't even slightly nervous. Almost a little smug! And there it was.. a beautiful diamond ring* presented to me while a little tear made an appearance from behind my sunglasses.
(*I'm saving an image of the ring for a later post!)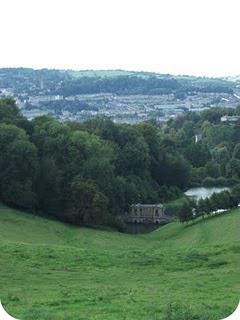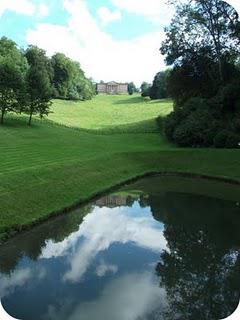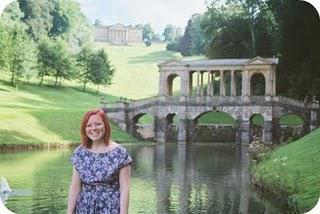 The rest of the day was spent frantically trying to get hold of family and friends. A walk back to town via 'mud path' almost resembled an episode of The Good Life, as I scrambled onto the boy's back to avoid muddy puddles destroying my very inappropriate shoes. Once back in town, we popped into the Roman Baths for good measure, which was pretty but obviously over priced.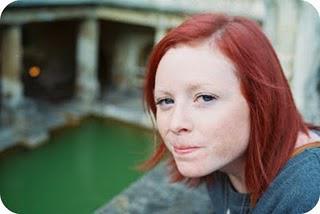 In the hope that I would say yes, (which of course I did) we had a table booked for dinner at
Green Park Brasserie
. Live jazz played as we sipped on champagne and gorged on steak. The food here was delicious, although I think anything in those few hours I would have described in the same way. I was in quite a daze, not really taking in what was happening. We continued to celebrate with rum and sambuca, as we do, and got some fantastic responses to our news from friends and family, which made the day even more enjoyable.
So here's to Bath, engagements, and wonderful friends and family.
I apologize for the bumper post, and the abundance of wedding related posts that I'm sure are to follow!
Cheers! x