In the middle of last week I set myself the challenge of going a week at work without wearing trousers for this week. I've slipped into wearing black trousers simply because it's easy and I don't have to put too much thought into it. I haven't been enjoying what I wear to work and so I decided it was time to change up what I wear.
If you follow me on Twitter you will have seen that I posted OOTD photos each morning showing my outfit, so you will have had a sneak peek at what's to come.
Monday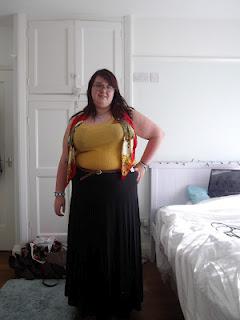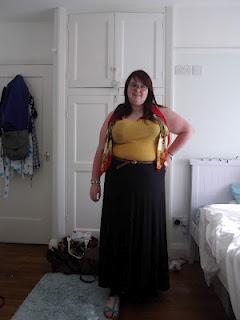 I wore my black pleated maxi skirt from Primark, I got it while I was in Edinburgh for £12, the yellow vest top is also from Primark, which I picked up last summer in Birmingham. My scarf is from New Look though I 'borrowed' it from Mummy, the belt is from a pair of trousers I got in New Look last summer and my sandals are from George at Asda.
Tuesday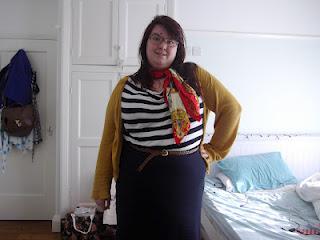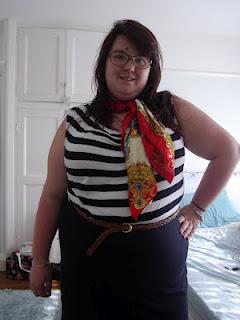 My Sainbury's dress came back out again, I did have plans to style it differently as this is almost the same as last weeks, however the tights I planned on wearing seem to have gone AWOL. My cardigan is from Primark and i'm wearing the same belt and scarf from Monday.
Wednesday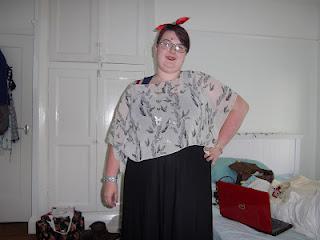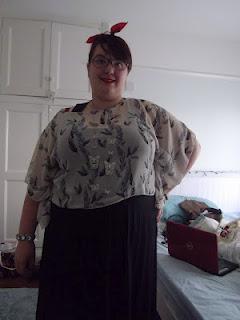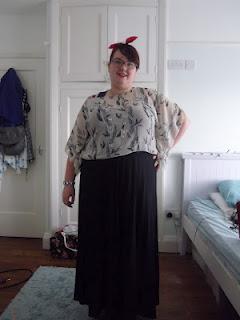 The maxi skirt from Primark came pack out again, because it is a fabulous piece. Looking at it most of this outfit is from Primark because the navy vest top I have on and the feather top are both from Primark last year. I'm not sure if you can see it but I have a butterfly necklace on which is from Internacionale, I think I bought it earlier this year but I could be wrong but it was about £1 in the sale so I couldn't leave it there. You can see the ears from my headscarf and it's from a bag I got for Christmas and I think it's from Next.
Thursday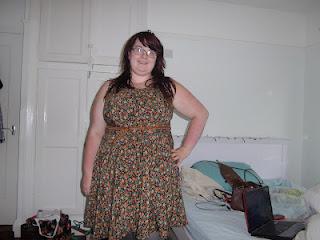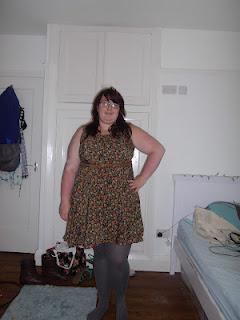 My Dorothy Perkins dress is back out again, I do tend to wear this dress a lot mainly because I love it and it doesn't require too much effort to make it into an outfit. I wore it with the same New Look belt as Monday and Tuesday and you can't see but I wore a headscarf again, this headscarf was from Primark. I knew my mom had this headscarf as my sister has the matching one so I nagged her into finding it for me.
Friday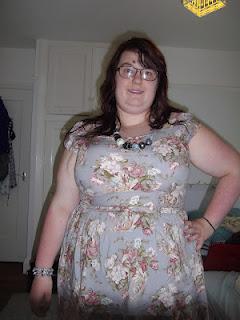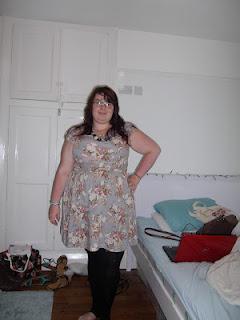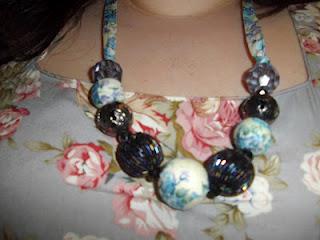 This is on of the dresses I picked up from Rachel's blog sale for £5, it's originally from Tesco. I love this dress and I'm planning on wearing it to Plus North, though I need to come up with a different way of wearing it. I wore it with my Dorothy Perkins leggings which I got a few years ago and I could do with a new pair because there's a few little holes in them but they're so comfy. The necklace I wore is from The Hen House in Kirkby Lonsdale, I picked this up in February for £9 when we went on a family day out. The Hen House is one of my favorite shops, whenever I go to Kirkby Lonsdale I have to pop in and I usually leave with something.
It was much easier to go a whole week without wearing black trousers than I thought it would be and i've noticed i've been much more comfortable and more productive. I think I am definitely going to try and slowly update my work wardrobe with dresses and skirts, I didn't realize just how many work suitable clothes I had, I still have work appropriate dresses which I didn't wear this week but i'd forgotten I had them because i'm so used to black pants. I did have to put more thought into the outfits I wore this week but it's worth it to feel comfortable.
I still haven't quite got to grips with self timer on my camera but I have learnt to make my bed before I take my pictures. All of these photos were taken at the end of the day when i'd got in from work so I don't look my best.