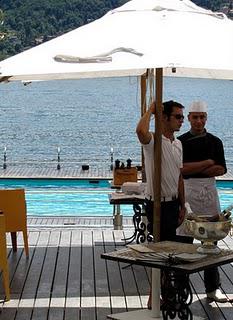 Grand Hotel, Tremezzo
I had lunch al fresco today, and for the first time this year, the air was marginally on the wrong side of comfortable. It may be one of the last outdoor lunches I get before its too hot.
Yes, that's right, summer is on the way. Most would think that Dubai residents would regard the approaching summer with almighty dread - the Armageddon skies, melting roads, boiling temperaments - it's not for the faint-hearted, especially for those without the blessing of air-conditioning, for whom the summer can often mean illness and death. The body is simply not built to live 24/7 at 48º C. But for the fortunate few, Summer in Dubai actually means Summer out of Dubai. We go to the continent dahlings.
For an Australian, it is actually more expensive to go home than it is to fly to Western Europe and rent a house for a few weeks, and for the last few years, that's exactly what we've done. I've just booked this year's jaunt and I'm thoroughly in the mood, so prepare yourself for a series of French and Italian travel posts "a la Sarah"
Let's see if you can guess where I'm talking about...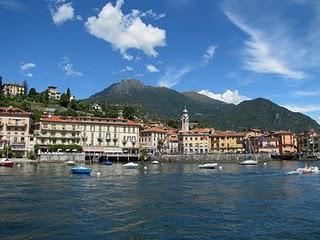 Menaggio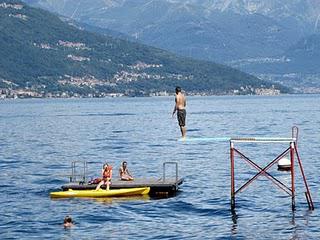 Diving in Bellagio
It's a lake, but in this part of the world, they call it "un lago". You must make sure the emphasis is always on the second-last syllable of any words spoken in this country. It becomes "oon laaaahhh-go", and even sounds mystical and romantic when spoken through an Australian mouth. In fact, this may be the only country where the locals pronounce their vowels broader and flatter than an Australian, and so the twangy accent helps one settle in quite nicely.
The lago is the shape of a Mercedes logo without the circle, but if it was encircled, that would delineate the picturesque hills - mountains in fact, that surround the lake - many spotted with medieval villages, chapels on precipices, billionaires hideaways and oft-trampled and yet still pristine national parks.
The lake itself is freezing - the yearly run-off from nearby snowy mountains fills it, and yet bathers still brave its icy temperature in the strong heat of summer. They tiptoe over the treacherous stones on the lido and launch themselves quickly into the water, just to save the soles of their feet. Only for moments though - just enough to take the heat off the sunburn, but not enough for the impending hypothermia. They retire to roses and wafer-thin pizzas served beach-side on red gingham tablecloths by arrogant waiters.
The only other way to escape the heat is to get on a boat. Ferries leave every ten minutes to various townships. The conductors announce them in sing-song voices: "BellAAAH-Jo, MenAAAH-Jo, Var-AIR-nah" - it doesn't matter which one you get on, they're all beautiful. But possibly the highlight of the ferry is not the destination, but the journey. Finally, you get caught in the breeze that shoots itself down the lake but seems to avoid the land, and as you peer over the glittering water, you see the famous villas: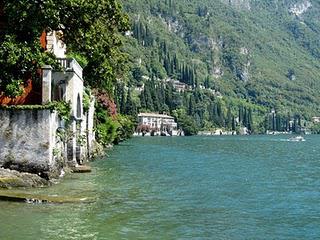 Villa Monastero, Varenna
Ahh, there's the old home of Caroline of Brunswick, the raunchy and tragic estranged wife of king George IV. Now, Villa Carlotta, built for a Marquis, bought by a princess and gifted to a duchess, with gardens to make Lion's grandmother weep. This one set the stage for Misses Bentley and Beaumont to engage in rivalrous flirting with Major Wilshaw. It also held the secret marriage of Queen Amidala and Anakin Skywalker, and the mighty Mr Bond recovered in the shade of it's candelabra-pruned plane trees. A movie star lived in that one, before the paparazzi scared him away. A movie star still lives in that one, and that one and that one. I want to live in that one....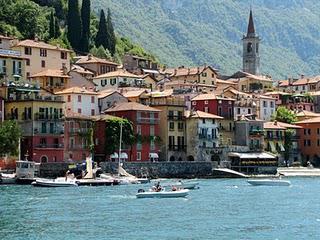 Varenna
But land still holds wonders. The townships are perfect - tourism is hefty, and has sufficiently kept these antique beauties in liquid finance and perfect condition. Bellagio is the most famous. Menaggio is the best place to stay (for a family), but the one that sweeps you off your feet is Varenna. It's card-board cutout terrace houses, magical cathedral, twin harbours, excellent restaurants, and then the impeccable Villa Monastero with its tessellated tiles, Grecian columns, botanical garden and fairytale boat mooring.
The ice cream is heavenly. Wine is cheaper than water. Most of the beauty of the area can be seen for free, or for the price of an espresso, so you can sit at cast-iron tables under brightly coloured canvas umbrellas and watch the world go by. But there is still plenty to spend your money on. My mother and I took an impressionist painting class at
Fresia studios
– for E120 we got three hours with Jerry Fresia, a professional painter, who traced his educational lineage back to Monet and Gauguin. It was worth it just to sit on his veranda and gaze over Lenno and the distant Tremezzo peninsula, pretending for a moment that we belonged in his incredible villa.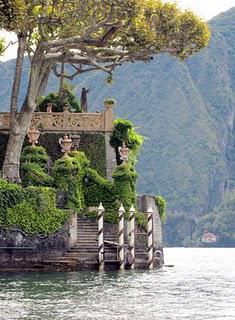 Villa Balbianello, Lenno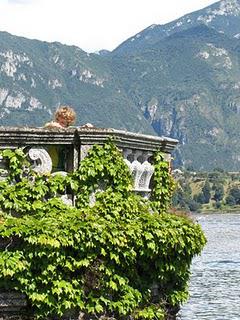 Tremezzo Public Garden
You can hire a boat, and scoot it around the lake at your own pace. Stop off the beaten track for a picnic of delicacies wrapped in the Menaggio delicatessen, partnered with a bottle of cheap Prosecco, which for some reason always tastes better in Italy. You can loiter out the front of private villas, go star spotting, pull up at the greatest movie-star of the lake, Villa Balbianello, and imagine that you are a young Darth Vader, recovering James Bond, or the unrequited Miss Bentley.
On a rainy day, you can cross the border into Switzerland, visit Lake Lugano, the non-tourist-filled neighbour, which under overcast skies is filled with opaque aqua water. But you will return – Lake Como, for that is indeed the place I am talking about, is full of tourists for a reason. It is one of the most magical weeks I have had in my life.
--------------------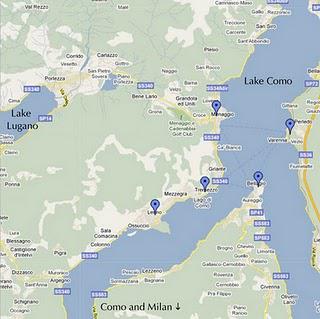 We stayed at the 6-bedroomed Villa Azalea, which is a private villa about 200m walk from the main square of Menaggio, around the corner from a supermarket, and in the quiet part of town. One week was about E1550, which we thought was particularly good value, as the house was basic, but charming in a kooky way, and very clean and functional (and air-conditioned!)
Although I loved Varenna most of all, I would not stay there unless traveling without children – it was full of narrow inclined stone paths, and very busy. Bellagio is the most famous, and a tourist Mecca, with some beautiful hotels, but not so much my cup of tea – just too big and shiny. Lecco is tiny and rustic, and just down the path from Tremezzo, which is stunning but poorly serviced. The hotel there is incredible (
the Grand Tremezzo
), and is next to the unmissable Villa Carlotta.
Lake Como (or Lago di Como) is only an hour or so from Milan Airport. One week is really only enough time to explore the central lake area - we did not even get to Como. Oh well, another time! Leave me a comment and make my day...