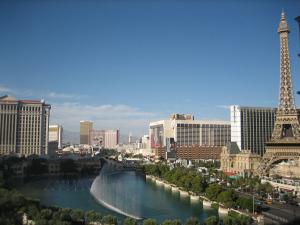 I was recently involved in organizing a wedding in Las Vegas for a British couple and their guests. They had a small party, themselves and six guests. They were staying at the Cosmopolitan on the Strip and they had their ceremony at the Little Church of the West.
They had solid plans for the evening, they had tickets for everyone to see fabulous Beatles LOVE show at the Mirage after an early dinner at Smith and Wollensky on the Strip. Our challenge was to find somewhere for a few drinks and some small snacks just after their ceremony. They didn't want a full lunch, because they were having that early dinner, and they wanted to flexible on timings, because they were not completely sure how long the ceremony and photos would take, and did not want to rush them. Ideally, they wanted somewhere not too far from where they were staying, the Cosmopolitan. And, they had come all this way to Las Vegas in October from the UK, where it is pretty chilly at this time of year, so they wanted to be outdoors if possible.
My first suggestion was any one of the nice restaurants in the Bellagio, that have views out on the the fountains. But, no, they do not have an afternoon cocktail hour, they require customers to buy a meal, and many were not open during this mid-afternoon period we wanted. We considered the Rhumbar in the Mirage, an outdoor bar with seating, which not only gets some sunshine but also had happy hour during the time we wanted to be there. We also considered the bar and restaurant at the top of the Mandalay Bay, close to where they were having their ceremony, but they were closed in the afternoon too. It seems easier said than done to get a little sunshine with our drinks on Las Vegas!
The couple had been fortunate enough to be able to upgrade to a suite in the Cosmopolitan. They had a closet and guest bathroom, and a small kitchen area with a large fridge, and a living room area that was separated from the bedroom. They were on the fifteenth floor on the North side of the hotel, so, instead of a view of the Pool, as the South side gets, they had a vast views of the Bellagio fountains, some might say a better view than the restaurants in the Bellagio itself. The Cosmopolitan offers an impressive room service menu, including a party drinks and nibbles selection. So, we decided to have the wedding breakfast in their suite. We ordered a cheese and crackers plate, vegetables and dip, fruit, and enough glasses for us all. I picked up some champagne and beer on the way. It was a lovely, relaxed break in the day and in my opinion, worked better than any of the other options we considered could have done. We were able to have a toast on the balcony, mingle with all the guests, watch the fountains, exchange gifts, refill our own glasses, and keep picking at the food whenever we wanted. Some of the party were able to pop down into the casino for a quick spot of gambling, and take a few photos with tables and the dealers since it was still a fairly quite period.
The suite was spacious and lovely. The furniture was very modern and mostly purple, so just to my taste. There were enough places to sit for our small party, and we could sit outdoors in the sun or come indoors to cool off as we wished. And of course we had that awesome view. I loved this location for a Vegas wedding breakfast.
For more information on planning your Las Vegas wedding, email Claire or visit her website. For updates, "like" the Las Vegas Bridesmaid page on Facebook.