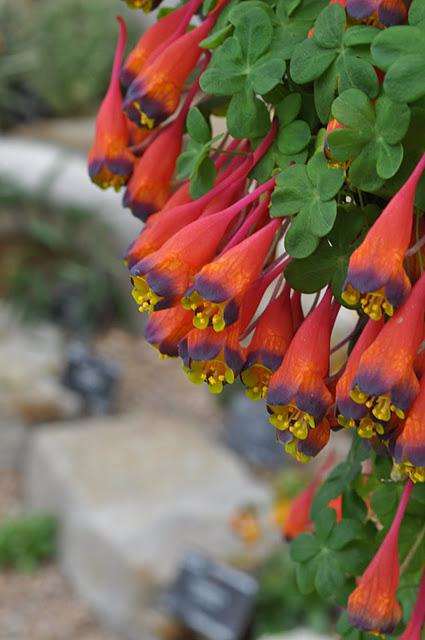 Tropaeolum tricolor in the Davies Alpine House

I recently met up with Richard Wilford, Collections Manager of the Hardy Display at The Royal Botanic Gardens Kew for a walk around the areas he manages and a behind the scenes look at the Alpine nursery.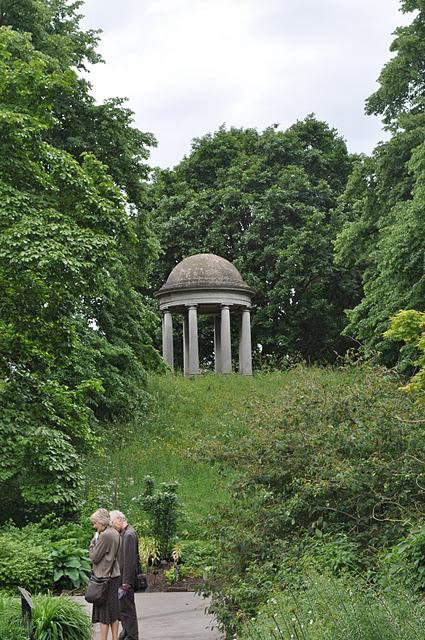 Looking up to the Temple of Aeolus
Meeting at the imposing Victoria Gate, a grade II listed structure formally opened in 1889, we made our way to the woodland garden that lies just below the Temple of Aeolus.  The woodland garden, full of Trilliums, Meconopsis, Hostas and other herbaceous and woody perennial plants, was lush and green and although many of the very early woodland plants had finished flowering the garden was entering its next phase and bristled with interest.  The relatively hot and dry Spring that has been widespread across Britian has not gone unnoticed at Kew and the plants appear to be ahead of themselves with early flowering across the board.  As you may imagine a lack of rain coupled with hot daytime temperatures could really make an impact on this wooded area but determined and in superb defiance this area appeared in tip-top condition.  As we walked up the small hill to the temple a beautiful view opened up allowing us to see over the order beds, where each plant order is grouped together, and down to the rock garden.  On looking over this area the colour from the climbing roses on the pergola that divides the order beds really had me hankering to go and investigate further but alas we were on the move.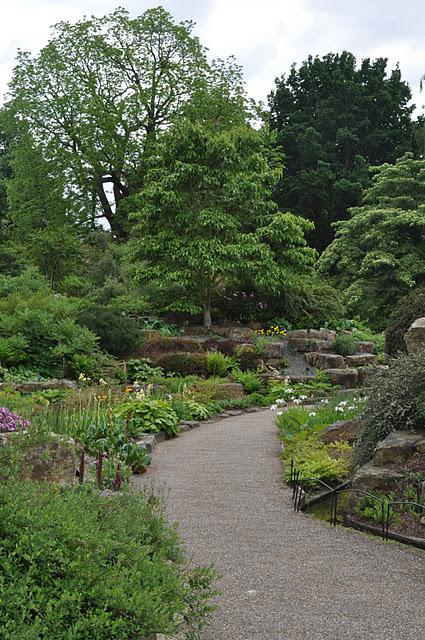 The Rock Garden
A quick walk down the hill and the landscape had changed, we were in the rock garden.  I'm in no way fanatical about such spaces and I've even advised friends in the past not to install such a feature but I was blown away by the amount of colour and the high level of interest such a space could offer. This was much more than your typical rock garden and on this scale it was divine.  For once in my life I viewed Saxifrages
as beautiful and I also fell in love with Arum dioscoridis var. dioscoridis and a late flowering Tulip, Tulipa sprengeri to be exact. Richard extolled the virtues of this bulb and sold it to me with talk of it being happy in our generally damp climate.  It doesn't require lifting, it self seeds and it flowers year in, year out.  Aside from this, it's also beautiful and has great form.  No longer had I decided that this is the tulip for me but we were moving through Europe, the Mediterranean, Asia, Africa, North America, Australia and New Zealand, and every section was awash with beautiful plants.  As we meandered through the rock garden I was fixated on one dominant feature throughout and eventually we reached it – the Davies Alpine House.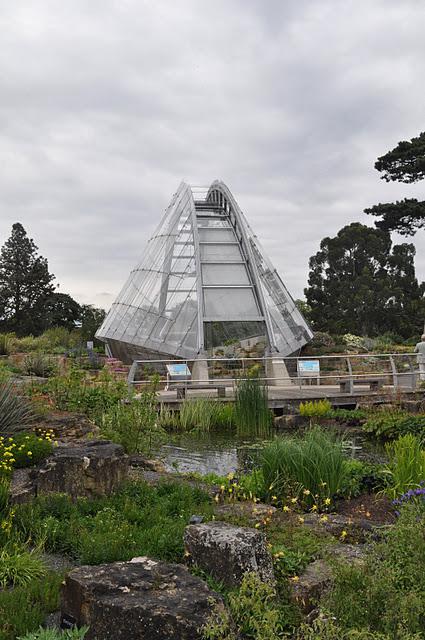 The Davies Alpine House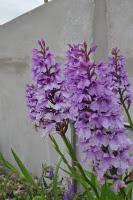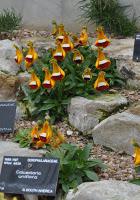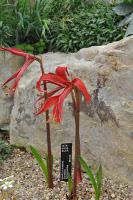 Caceolaria uniflora, Sprekelia formosissima & Dactylorhiza foliosa (Left to Right)
One of the most striking features in this section of the gardens; the Alpine house is the third version of it's kind at Kew since 1887.  It measures in at 16 metres long and 10 metres high at its apex and is by no means your typical alpine house.  With automatically operated blinds and low iron glass attached by high tension steel cables, the house is not only striking but functional as it ensures maximum light transmission whilst also providing shade if needed.  It also boasts a very clever ventilation system that draws air in from around the house, cools it via an underground concrete labyrinth and then pumps it in to the house maintaining the air temperature and air flow at an optimum level for its Alpine inhabitants.  The house itself houses around 200 plants that are rotated regularly to create a display brimming with interest.  When discussing past alpine houses at Kew Richard has said that plants would look straggly from the reduced light after a two-week stint on display.  Now, they thrive in the more favorable conditions and return to the Alpine Nursery looking as healthy as when they left.  A tribute to it's excellent design.  The Alpine house is also home to some of Richards most loved plants – Dionysias.  Interesting plants closely related to Primulas, Dionysias are difficult to maintain in cultivation due to their propensity to rot in our climate but with protection from the alpine house and some professional care Kew has a great collection and this is only set to grow in future years.  Many accessions of Dionysia are quite old and arrived at Kew well before Richard was employed and they have been propagated from cuttings since.  The team continue to look for new additions, especially if they come with information about where they were collected in the wild.  Species plants are of more interest to Richard than hybrids as he says "this makes the collection more useful to researchers working on natural habitats and the plants that grow there". Richard and his team have obtained Dionysia seed in recent years from the Royal Botanic Garden Edinburgh and Gothenburg Botanical Garden, such as Dionysia mozaffarianii - a relatively new species, only described in 2000.
Continuing our walk through the gardens we passed the Jodrell Laboratory and a sculpture by Charles Jencks entitled 'Bootstrapping DNA'.   We entered the Alpine Nursery where I was privileged to have a look at what goes on behind the scenes. The nursery itself is a mixture of glasshouses, poly-tunnels, raised beds and mobile benches, each with its own individual purpose and plant collections.  Two national plant collections are held in this section, Juno irises (Iris subgenus Scorpiris) and Tulipa species, see Richards book on the latter here, and these sat under a structure giving protection from the elements ahead of their dormancy.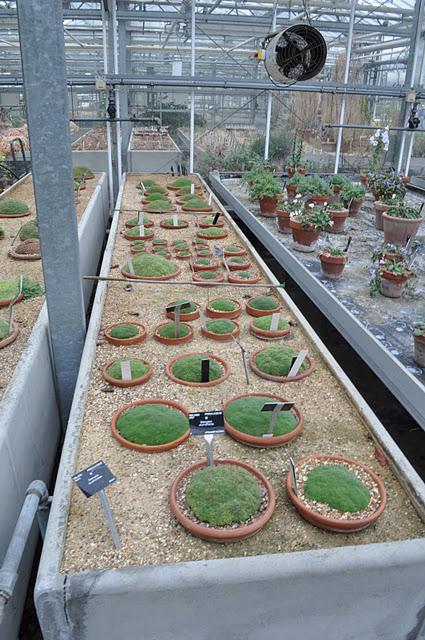 Behind the scenes: Dyonisia inside the nursery glasshouse
The largest of the nursery glasshouses is separated in to five zones and houses a wide variety of plants and bulbs that are largely destined to go on display in the Davies Alpine House when at their very best.  All the plants here are grown in clay pots and plunged in to sand beds or placed on benches, which allows for easy transportation and enables the gardeners to grow each plant in the soil specific to its requirements. The Arisaemas housed here were exquisite and as when walking through other areas of the garden, I was making a mental wish-list of plants, however unachievable this may be but that's what wish-lists are for I guess?  Dionysias had a couple of dedicated benches all to themselves and it was really interesting to learn more about them and how they are propagated.  The seemingly sturdy cushion-like plants are in fact rather delicate and easily damaged through touch or from moisture, which causes plants to rot.  This is understandable when you think that these plants originate in Iran and Afghanistan growing on limestone, often vertically under rock overhangs.  Some of the larger plants in the nursery were beautiful perfect mounds and when I discovered that it takes around three or four years to grow plants to the size of a golf ball I began to learn that this is a serious labour of love. Dionysias are at their best in early Spring and bloom in various colours producing large cushions of individual blooms.  I for one can't wait to come back and visit again to see them in bloom.
If you didn't know already, Kew has been peat free for nearly 15 years and whilst visiting the potting sheds it was great to see what growing mediums were used.  The plants at Kew are exquisite and act to reinforce that growing plants without peat does not compromise growth or flower quality. The main alternative used by the team is coir mixed with loam, sand and grit or leaf mould, depending on the requirements of the plant with some plants, such as the Dyonisias, requiring a 50% grit mix.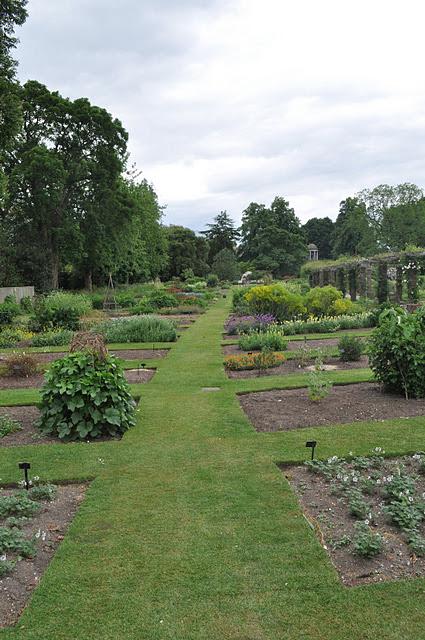 A view over the order beds up to the Temple of Aeolus
We finished our walk around the garden at the Bonsai house at the far end of the order beds.  As I made my way down the beds under the rose covered pergola I sat for a moment underneath a heavily scented climbing rose taking stock of the information and gorgeous sights I'd been privy to. 
Kew is a great day out and I would urge anyone to visit.   Right now several Cardiocrinum giganteum are in bloom in the woodland garden, followed by Roscoeas in splendid white, yellow, purple and red blooming in the Davies Alpine House and the rock garden is punctuated with clumps of Himilayan Primulas (P. belleyana and P. secundiflora).  For more information about what's on at Kew please visit the homepage here and you can also follow Richard Wilford and his team on their regularly updated blog here.