The last time I was in Paris was August 2008, I stumbled across La Maison de la Truffe in the beautiful Place de
La Madeleine
. There I was drooling uncontrollably at the menu and eager to have a truffle "foodfest" when I was dramatically pulled away to our next appointment. Since then, this restaurant has been etched in my memory and I promised myself the next time I was in Paris, I would treat myself!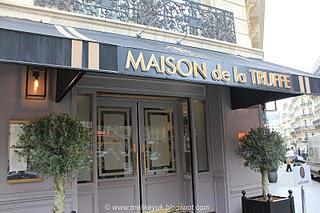 Outside Maison De La Truffe, Rue Marbeuf
Maison de la Truffe, a family based business, was founded in 1932 to directly provide its customers with a way to purchase and sample all varieties of truffle and truffle products. In 1978, a new owner, and a chef, Guy Monier, added a tasting room so that the gourmets and truffle enthusiasts of Paris could meet and dine together.What a fabulous idea!
Following the acquisition of Maison de la Truffe by the Kaspia group in 2007, and a revamp to the restaurant and product lines, the 
second restaurant of Maison de la Truffe  opened up near The Champs
-
Élysées.
Similar to Place de La Madeline, La Maison de la Truffe in Rue Marbeuf doubles up as a shop selling luxury truffle related products. The restaurant is very neutral in colour; grey and taupe are the dominant colours with very clean lines and pictures showcasing the different truffles featured on their menu.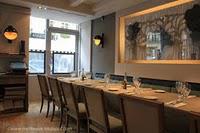 Neutral decor in La Maison de La Truffe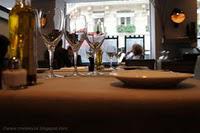 Bottle of White Truffle Oil on every table
We arrive at 1pm for lunch with a few tables occupied.
The menu has a nice touch as it gives a bit of history about the restaurant and an overview of the characteristics of the different type of truffles sourced for the restaurant.
We start off with an
amuse-bouche
of mushroom tapenade and croutons. This has a pleasant aroma of truffle just enough to whet the appetite! Ah...we have finally arrived!
We both order the Carpaccio de Boeuf, Roquette et Parmesan ( Beef Carpaccio with Rocket salad and Parmesan shavings).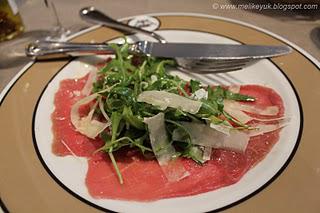 Carpaccio de Boeuf, Roquette et Parmesan
As you can imagine, the Beef Carpaccio is "melt-in-the-mouth" and works well with the peppery Rocket and the saltiness of the Parmesan cheese. You can definitely taste the truffle, but I add a bit more of the white truffle oil that is helpfully placed on the table just to heighten the truffle experience! All in all, a good starter; tasty, fresh and light, leaving enough room to fully indulge in the next course.
For the main course; I order 
Noix de Saint Jacques Bard
é
es de Lard, Creme de Chataigne Truff
é
e et son Ecras
é
e de Pomme de Terre.
(Scallops wrapped in Bacon finished with a Truffled Chestnut cream and served with crushed potatoes and seasonal truffle).
Hubby orders:
Risotto
à
laTruffe de Saison (
Seasonal Truffle Risotto).
When the main arrives, I can't wait to get started!
A very generous serving of 5 scallops wrapped in bacon – served with what appears to be more of a 
pur
é
e 
or mashed potato rather than crushed potatoes but I am not complaining. They work really well together! The sweet nuttiness flavour is bursting from the scallops which are enveloped in salty bacon heaven. The juices pouring from the meat run into the smooth textured, buttery, creamy and truffled mashed potato – YUM!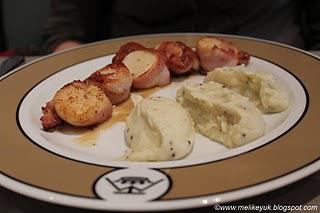 Noix de Saint Jacques Bardées de Lard, Creme de Chataigne Truffée et son Ecrasée de Pomme de Terre
I am really enjoying this dish but I am equally keen to try my partner's truffle risotto and with not much begging, I am rewarded with something delightful!
What can I say? It is wonderful! Rich, creamy, moreish, unctuous and velvety. I can only remember tasting a truffle risotto of equal standing and that was at Raymond Blanc's Le Manoir Aux Quat' Saisons.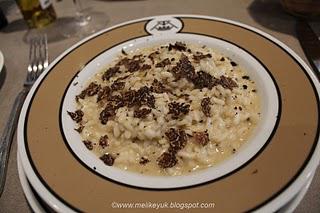 Risotto àlaTruffe de Saison
The main courses are incredibly filling, so unfortunately, there is no room for dessert (although, I was tempted by the Sable aux Poires et Pralin
é
) and we finish off with coffee.
Our lunch of two starters and two main courses with sparkling water and coffee cost us 107
€.
I am so glad I included a visit to La Maison de la Truffe on my last visit to Paris. The menu is so varied and the food is of a very high standard that it is definitely worth a second visit!
I notice they have restaurants in Brussels and Taipei and are opening soon in Zurich and Geneva. You lucky people! Surely there must be demand in London.....please?
Oh! And I can cross item 5 off my Food and Drink Wish List!
If you are a fellow truffle fan and are in Paris, why not take a trip to:
La Maison de la Truffe
Reservations can be made on line 
at 
http://www.maison-de-la-truffe.com/
Tell them MeLikeyUK sent you!
Enjoy x