The images were very kindly shared by wedding photographer Simon Kemp from Hyde End Photography. I loved the images and the style of the day – there are lots and lots of lovely wedding ideas here for you! Beautiful bride Caroline sent me the best wedding report too – so I'll leave the writing to her (she's brilliant – she won't witter on like I do…)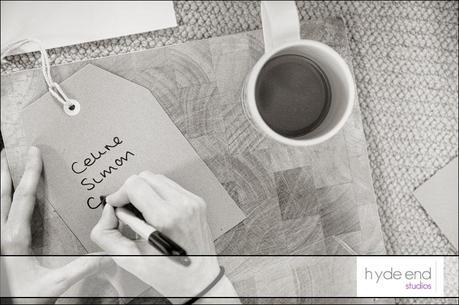 "Our main aim for the day was for all our friends and family to have fun. My vision was for a vintage style wedding with the feel of a village summer fair. Although we had a traditional church wedding we wanted to make it as relaxed and casual as possible. The wedding was held in the village where my Mum and Stepdad, Bern, live. A marquee was erected in the field next to Mum's house, with the village hall enlisted for the entertainment and mum's garden for the reception drinks.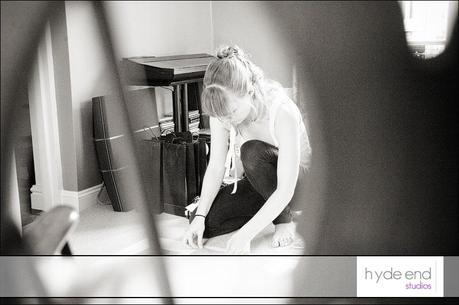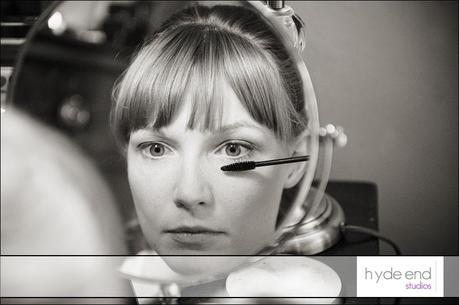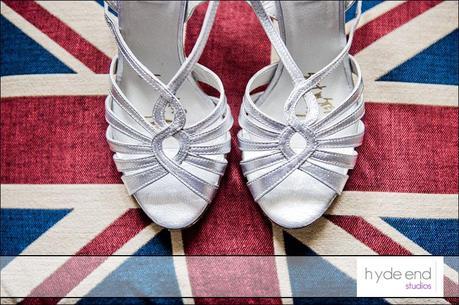 My shoes were
Marta Jonsson
. My
Dinny Hall necklace
was a present from Adam a few years ago – I thought the hearts and the sentiment were right for the occasion! My diamond stud earrings were a present from my Aunty Helen on the eve of our wedding, and my bracelet was from
Father Christmas
(Mum) last year. I didn't want to over do the jewellery with all the detail on the dress.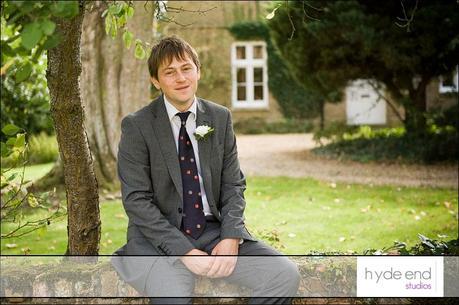 Adam wore shoes by Loake, tie by
Paul Smith
, suit by
Mayfair
(altered by Nana!).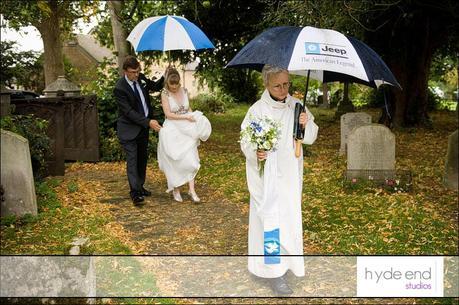 Our vicar, Mary Jepp, runs a tight ship and accordingly the ceremony went without hitch (unless you count Adam concentrating so hard on getting the ring on my finger he forgot he had more lines!)
She gave an entertaining address – an account of the 24 hours running up to our wedding. It transpired that the holders of the key to the church safe had gone on holiday and Mary was unable to get the legal marriage documents out… which could have resulted in cancellation of the wedding!
Needless to say, they managed to crack the safe in the end, but Mary and my Stepdad had been up at all hours during the night (think Da Vinci Code, but swap the glittering streets of Paris for the dark country lanes of deepest Cambridgeshire, infiltrating the Louvre with tripping over the cat whilst tip-toeing through the kitchen). Somehow Bern managed not to let on to the rest of us what was going on. We were all preoccupied with mere trifles such as the table plan and the weather…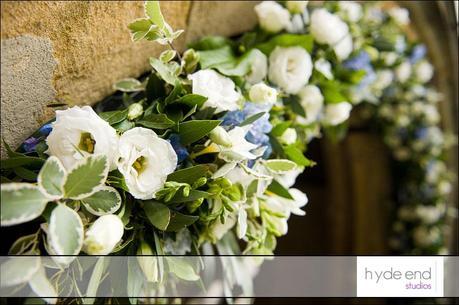 The church is quite big for the village it serves, and very old. It dates back to the 13th century, and the three species of bats in the rafters are permanent residents. Our 65 guests fit easily into the pews making quite an intimate setting with all the candles lit.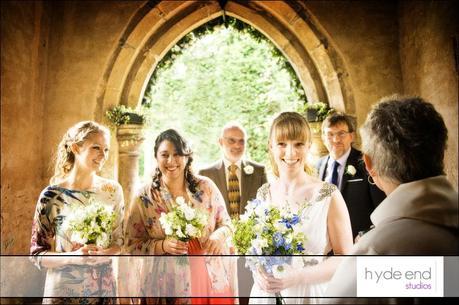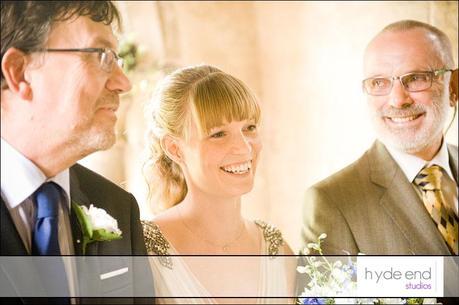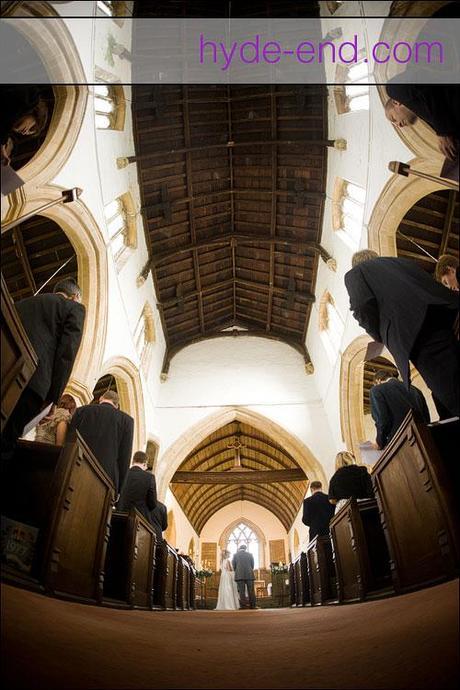 Music was a massive part of the ceremony for me, and our organist, John Newman, did a great job of blasting out the hymns as well as coping with my idea for a choir…. Our good friend Nick Roberts had the unenviable task of taming a gaggle of my school friends and a few other close friends into singing the anthems during the register signing. Nick also managed to wrangle a string quartet from our assorted friends and relatives to play Faure's Pavane as I walked down the aisle with my Dad and Stepdad. (An aside to anyone else thinking of having a father on each arm – how will you hold your flowers??) My brother, Tim, read an appropriate passage from Genesis 2 about Adam and his rib. Adam's Mum, Diane, read a poem I'd written for Adam in the run up to the wedding – there wasn't a dry eye in the house apart from the rabble at the back who played 'mobile phone roulette'. Typical.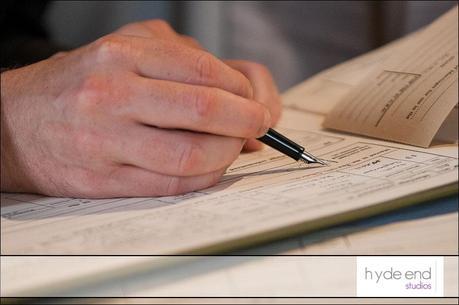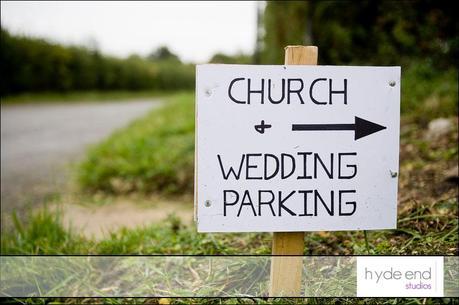 After the service Adam and I walked back to Mum's house with all our friends and family following close behind. The sun shone for drinks and canapés in Mum and Bern's immaculate, bunting-bedecked garden. No hedge, wall or tree was safe from the metres and metres of bunting that my Mum and Nana slaved over for weeks.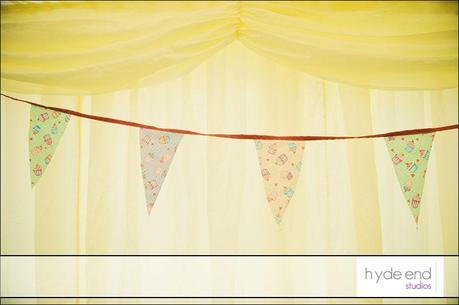 The marquee was decorated with more of Mum and Nana's bunting which laced the ceiling and walls.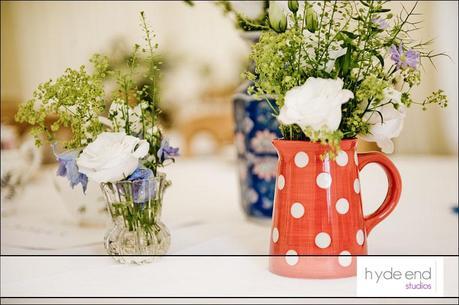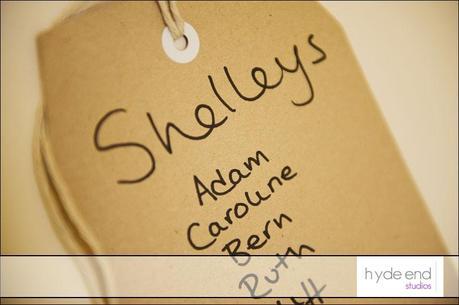 The tables were set with a trio of vintage crockery, assorted vintage jugs and vases with loose posies of flowers, and my special love-heart sugar cubes (they all rolled their eyes when I presented this particular idea….some people have no vision!)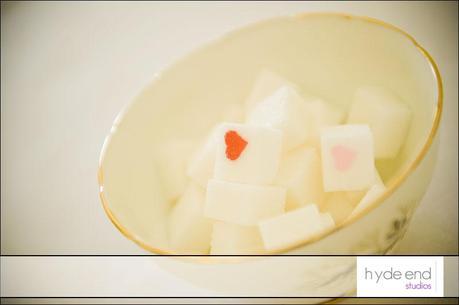 The cake was baked (and doused in brandy) by Nana, and iced up in our family's hometown of Kendal.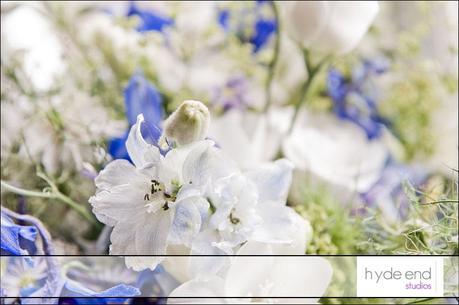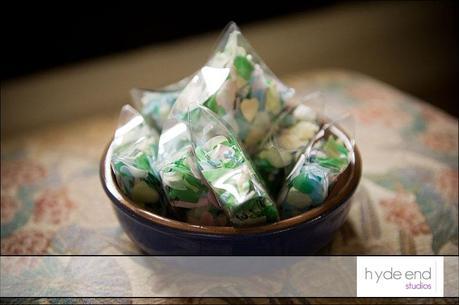 One of my bridesmaids, the incredibly talented Lara, finished the tables by drawing the table name cards and decorating the luggage tag place names, giving the tables a really unique, homemade look which is exactly what I had in mind.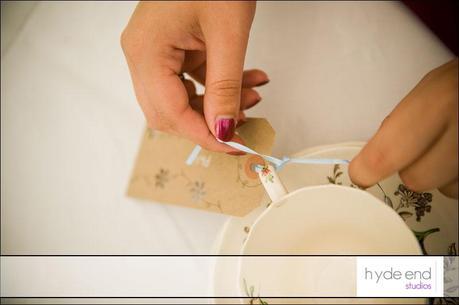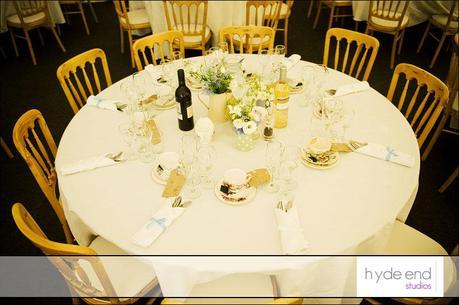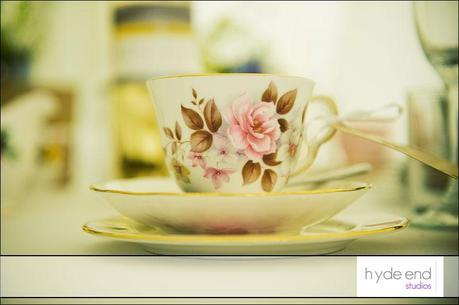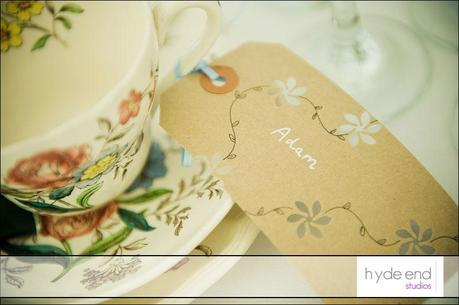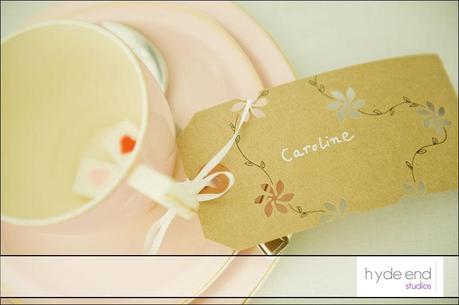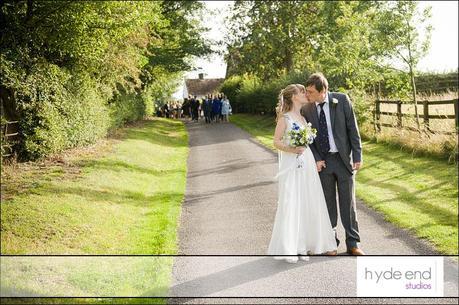 My dress was designed by
Jenny Packham
, it's called 'Lisette'. It was sourced for me by Pantiles Bride in Tunbridge Wells.
My most memorable wedding day moment?
Walking out of the church, hand-in-hand, to the clapping and cheering of our family and friends.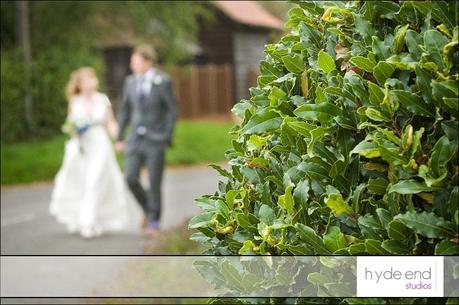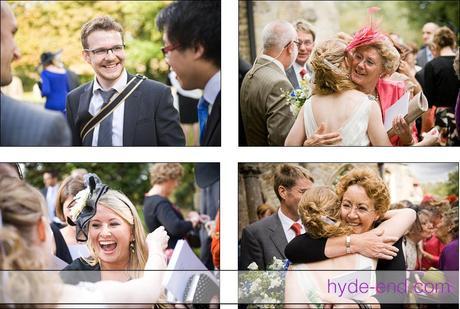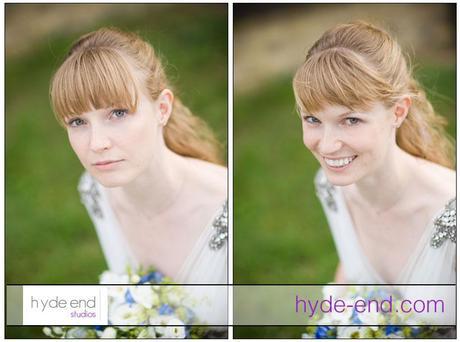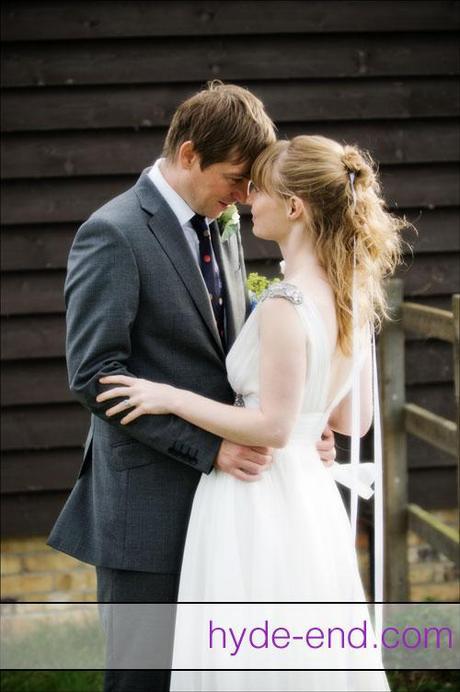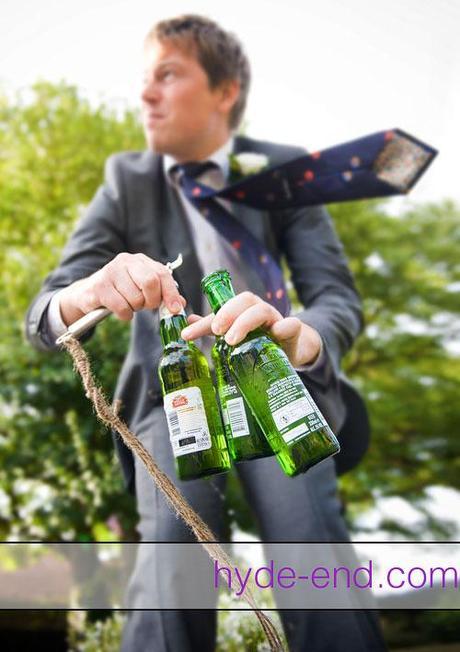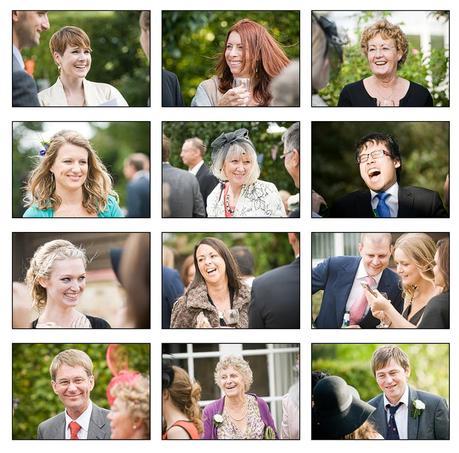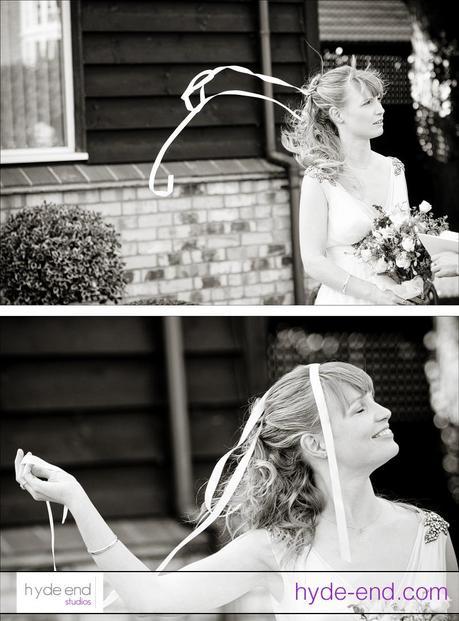 What advice would I share with English Wedding blog readers?
Don't put too much pressure on yourself to make the perfect day. Take one thing at a time, and it will all come together. You won't realise until afterwards, but on the day you couldn't care less about the details – it all goes by so quickly you won't even notice! As Mary told us, repeatedly, 'Whatever happens, you will leave the church married.' Granted, she said that before the church safe incident…

Our Master of Ceremonies (good old Bern) called everyone into the marquee, and the speeches started. We decided, mainly for Adam's benefit, to get the speeches out of the way so that all the boys could eat their meals without the terror hanging over their heads.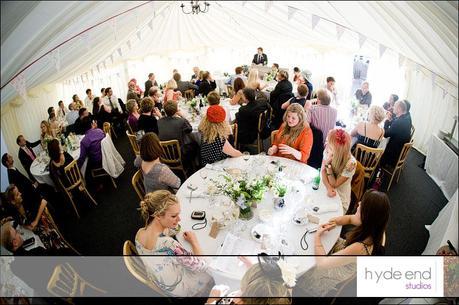 Twisted Karaoke provided the evening's entertainment in the village hall which had been decorated with yet more bunting and many candles in jam jars. The band are such incredible musicians that even Adam and the boys' rendition of 'Bohemian Rhapsody' sounded great (rose tinted glasses? Or that glass of rosé?). A spontaneous first dance took place to Celine (maid of honour) and Catherine's (honorary bridesmaid) tribute of 'Sweet Caroline'. The karaoke went down a storm and everyone got involved which was, perhaps, the true theme for the day.
Caroline and Adam's recommended wedding suppliers
Simon Kemp of Hyde End Studios, of course, for the fantastic photos. I couldn't have hoped for better photography, he really captured the feel of the day. To Simon we are very grateful.
Flowers by Nicola at Event Flowers who took a sketchy description of my ideas for the bouquets, table decorations and church flowers and brought them to life.
Olivia Yabsley who supplied the vintage crockery which she had collected for her own wedding.
Elgoods Brewery, Wisbech for their fine ale.
Cake icing by Debbie at The Icing On The Cake, Kendal, Cumbria.
All Undercover who supplied the marquee.
We cannot recommend our caterers."
Thank you…
Thank you to Caroline and Adam for featuring on English Wedding blog. A really lovely couple, and I'm sure you'll agree Caroline's a really beautiful bride with a talent for sharing her story! Many congratulations and best wishes to both of you! xx
Thank you to wedding photographer Simon Kemp for sharing the images of this beautiful wedding day with us all. Find out more about this talented Berkshire wedding photographer at www.hyde-end.com
Wedding Photo Booth (Reading & Berkshire)
I absolutely have to share Simon's wedding photo booth with you too. When he first contacted me, it was with a view to sharing his photo booth images on the blog. Being a greedy wedding blogger I had to have a real wedding feature instead! But I urge you to have a look at the wedding photo booth page on his website.
It's a hundred times better (and cheaper) than having a regular sized passport style photobooth set up for you with a box of wigs, glasses and hats, and a lot bigger than the standard cupboard type booth. Most importantly of all Simon is there photographing everyone personally rather than relying on an automatic button that your guests can push!
Now this all sounds very sophisticated… but it doesn't mean your wedding guests can't be cheeky, naughty, a little filthy and exceptionally creative in Simon's wedding photo booth. Have a look! (It's safe for work, pretty much – unless the boss can actually see your screen…)
hyde-end.com/photobooth
Twitter: http://twitter.com/hyde_end
Facebook: http://www.facebook.com/simonkemphoto
iPhone Blog: http://simonkemp.tumblr.com/