Since the early Noughties, a new fashion has been gaining popularity in Europe. It is causing distress in many council chambers,  especially those in major cities.  It ruffles the feathers of Heritage champions more than pigeon droppings and is causing mathematical consternation among civil engineers.  It is an outward expression of a love tryst and it threatens to destroy many of the historic bridges that traverse the great Rivers in the Northern hemisphere. From the Parisian Pont de l'Archeveche to the Venetian Rialto, European bridges are being weighed down by love. And the problem is infectious.  It has begun to spread worldwide. 
It isn't a disease or a natural phenomenon. The problem is man made. Sweethearts are declaring their need for a lasting love relationship by engraving their initials on a padlock, locking it to a bridge and then throwing the key into the water so that the lock cannot be removed. Love-locks are so contagious that campaigners are trying to stop people attaching them to bridges in an attempt to stop the destruction of historic landmarks. It is said that they not only detract from the beauty of many historic bridges but also the excess weight is a serious problem on ancient structures. 
To some they are unsightly litter. 5,500 padlocks were recently removed from the Ponte Vecchio in Florence because they not only caused an aesthetic problem but were scratching the metal structure of the historic bridge. In Edinburgh, the city council decided to capitalise on the trend by allowing lovers to buy padlocks and attach them to four panels on the Forth Road Bridge, raising £10,300 for the Queensferry RNLI.  In Gretna Green, a traditional place of elopement for lovers, couples are welcome to attach a padlock to the Courtship Maze. 
The recent surge began in Rome on Ponte Milvio, following publication the novel, I Want You, by  Federicco Moccia.  The idea of a love-lock is featured in the movie, Now You See Me, starring among others, Woody Harrelson, as one of four street magicians recruited by an unknown benefactor to amaze the world.  I won't spoil the plot for those who haven't seen it.  I thoroughly enjoyed it. 
The origin of love-locks dates back to World War One and began because of one person's broken heart...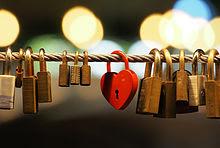 Love Locks
Once upon a time in Vrnjacka Banja,
Nada, a maiden pure and true,
fell in love with Relja.
A handsome Serbian officer,
he swept her off her feet,
soon betrothed, they would often meet
upon Most Ljubavi, The Bridge of Love,
in this picture postcard town.
But as they planned their nuptial feast,
The Great War began,
Relja was sent away to fight, like every other man.
As Nada waited patiently,
she sewed her wedding gown,
nimble fingers sewing prayers
for Relja's safe and swift return.
Nada's love grew every day for her Relja far away.
But as the tales of Homer tell, as men so often do, 
he forgot his promised love,
falling for another beauty, on the island of Corfu.
Poor Nada could not bear the pain,
her heart was torn in two,
her wedding gown, a funeral shroud,
her fate a legend that soon grew, until
to save themselves from Nada's fate,
young women of the town,
engraved their own and lover's names on padlocks,
locked them to the fateful bridge,
they threw away the key.
Love-locking hearts together, for all eternity.
Now so many bridges are embellished in this way.
Lovers of the world, it seems,
believe even today,
that by this inter-lock of names,
they bind themselves together,
so their commitment will remain.
But padlocks are mere metal,
they go rusty over time,
and bridges begin to fail under the excess weight,
so the locks are loosened, forced apart.
Does removing them from their appointed place
change the lover's fate?
The tragedy in all of this,
a truth poor Nada knew,
no lock is ever needed to hold a heart that's true.
Thanks for reading.  Adele
Email This
BlogThis!
Share to Twitter
Share to Facebook
Reactions: