Although I have been gardening for many years, for some inexplicable reason it was only last year I decided to have tulips in pots on my patio.  I only had a couple of pots in 2015 and was so delighted with them, I went tulip bulb crazy last autumn and had a bit of a spending spree.
Now here are a few salutary lessons I have learned:-
label the pots as you go, not once all 6 are planted up, especially if your memory is not that good;
double check you have written the correct names on the label, and put them in the correct pots;
make sure you have used an indelible, waterproof pen, if the name washes off it's a long time between planting in October to flowering in April;
keep the bags your bulbs came in, they are useful and sometimes a necessary reference to use.
Some of you reading this may well be tutting and thinking the points above are elementary.  However, points 1-3 will give you an idea of the problems I am coming across now and thankfully I did keep the bulb bags (point 4).  At least I can see what bulbs I bought and match them to the photos.
There are a few pots that have left me scratching my head.  I have some tulips that are not supposed to be where they are, not that it matters too much, it's a pleasant surprise what does appear, even though not as planned and some pots I have no idea what the tulips are.
My first surprise are the David Dolmoney bulbs, purchased through Waitrose Garden on-line.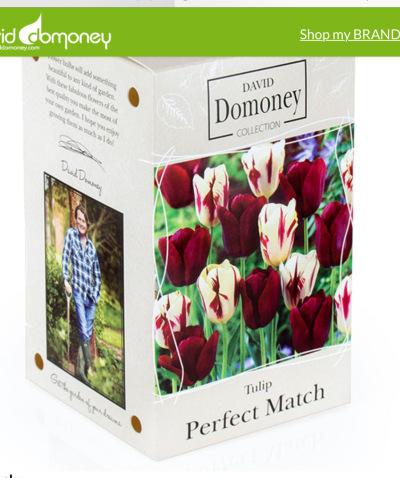 This box contained Ronaldo, described as a deep burgundy and Grand Perfection, described as a red and white ripple tulip.  Even the box shows Grand Perfection as a creamy color with a burgundy stripe.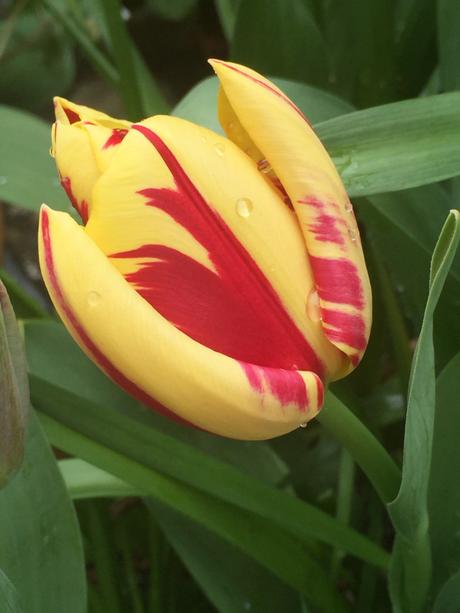 Great Perfection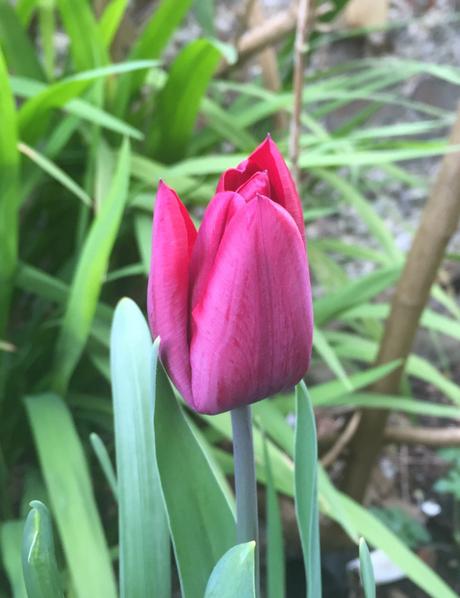 Ronaldo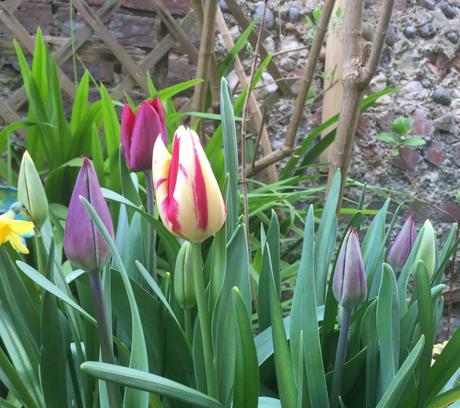 Great Perfection and Ronaldo tulips 2016
You will see immediately from the photos above, that I have yellow and red striped tulips. It was only when I took to Google to check out Great Perfection, I saw that the majority of them are yellow and red, although there were a few photos of cream and burgundy striped tulips, which I found a bit confusing to say the least.  All said and done, I am pleased with the outcome despite not what I was expected.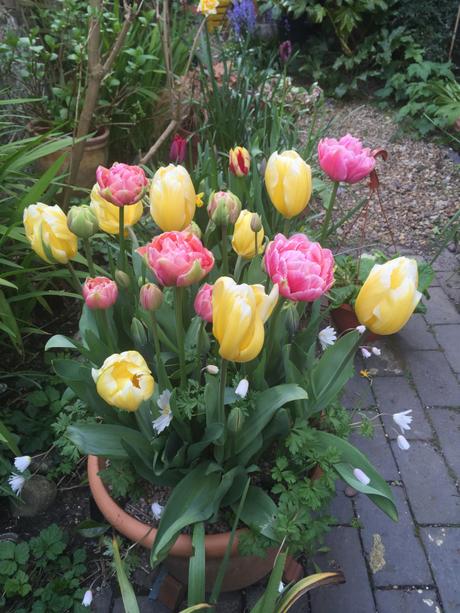 Sweetheart and Angelique with white Anemones
Above is anomaly #2.    In this pot I planted Sweetheart, Princess Irene and Menton, together with white anemones as under planting.   What has come up are the very pretty lemon and white Sweetheart, and surprise surprise, pink Angelique!  Whilst I am more than happy to see them, and the combination of the yellow and pink is beautiful, I am wondering where the Princess Irene have got to.  The peach coloured Menton, being a late tulip, are yet to make an appearance.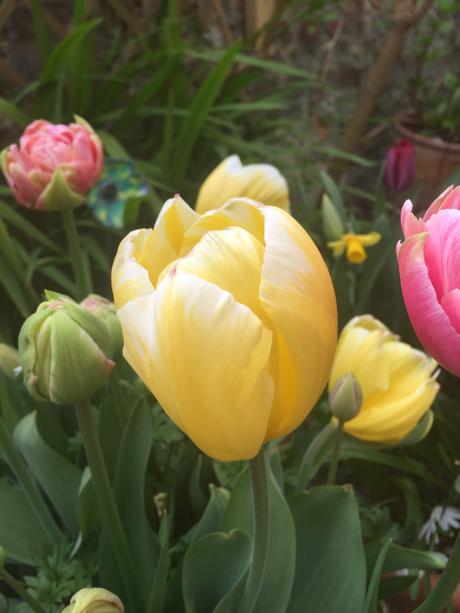 Sweetheart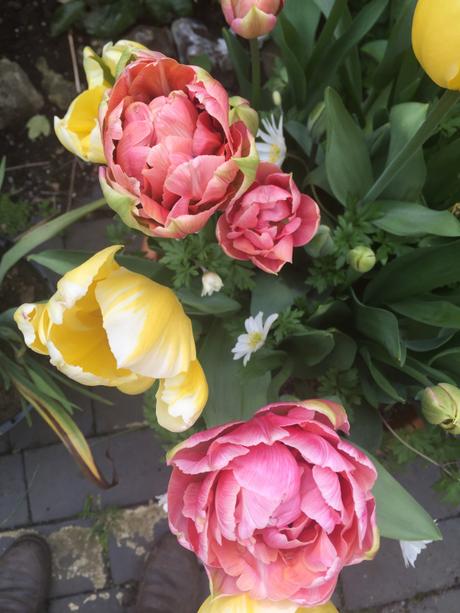 Angelique
Pot 3 has the labels, Havran and Golden Artist.   The Havran are coming out slowly with, fingers crossed, Golden Artist, a ruffled golden-orange with green and hints of sunset-pink about to appear soon.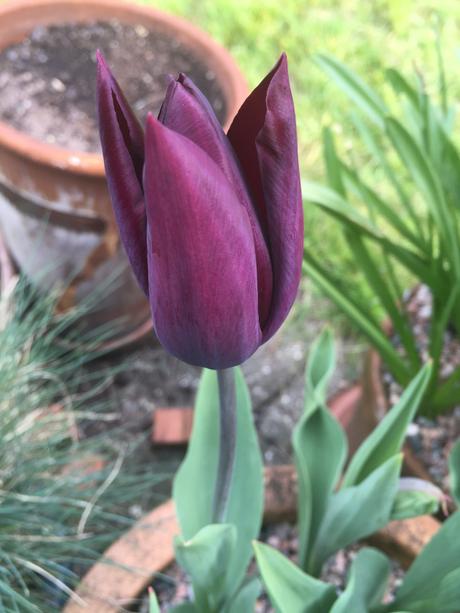 Havran
In hindsight I am not sure if the mix of Havran and Golden Artist will look aesthetically ok and I'm beginning to wonder if I should have put Black Parrot with the Havran.  I will make a decision for next years planting when Golden Artist is out, the contrast may look good.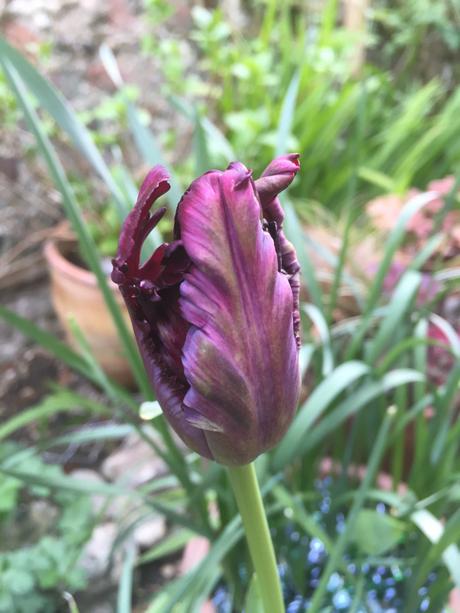 Black Parrot
The Black Parrot are planted with Blue Parrot which are yet to make an appearance.
Now, below is anomaly #3 – the tulips I thought were Red Impression, although I couldn't see the black base to the flower which it's suppose to have, are in fact  Seadov.  I know this now because this afternoon I found a white label tucked very deep into the pot with Seadov written very faintly.  This means the other unlabeled pot is Red Impression.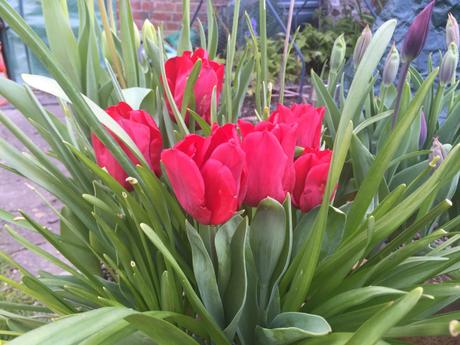 Seadov
Here is the biggest anomaly of them all!  If the pot next to the Seadov are Red Impression, how come I have a tulip that looks very like it could be China Town or Groenland, as suggested by Harriet Ryecroft on Twitter after I posted a photo and asked for assistance.  Considering the number of gardeners I follow on Twitter, I was disappointed that only two people came up with possibilities.   It is definitely a Veridiflora but doesn't really look like either of the two suggestions – what do you think?  I didn't buy either of these tulips, but although it doesn't fit my criteria of what a tulip should be, I quite like it, I think.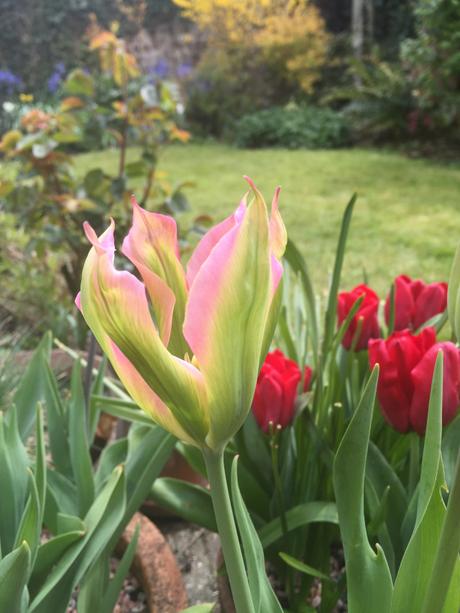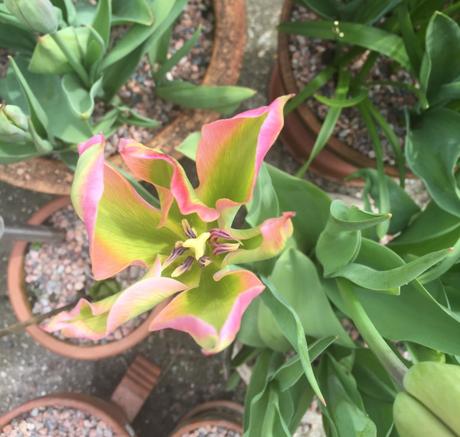 It could, of course, be a rogue bulb and Red Impression is just waiting to burst into colour.  I do hope so, I was really looking forward to a pot of striking red lipstick coloured tulips.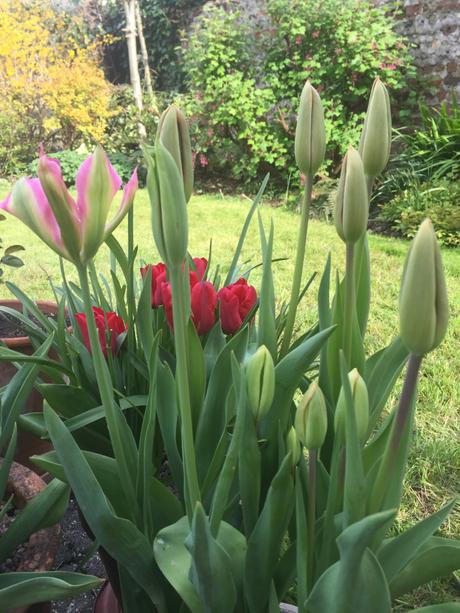 Finally, there are a couple of pretty pink tulips flowering in the raised bed.  I do recall having a few bulbs left over and scattering them in this bed, but these don't match any labels, so a spot of head scratching again.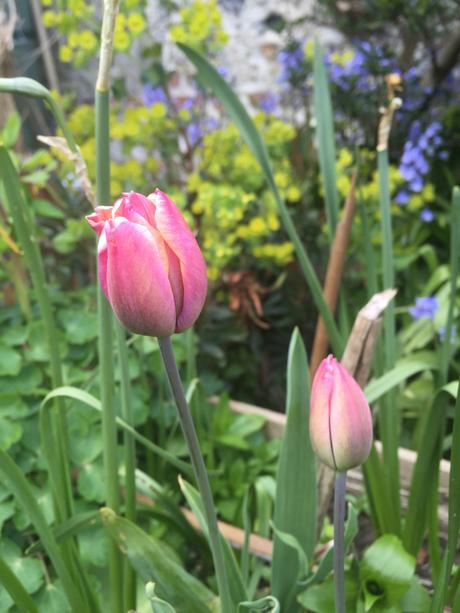 Gardening, like life is a funny old thing and unpredictable, but exciting.