I'm not that old, but I feel like I've been listening to A-Trak for practically my entire life. As soon as I started sampling what electronic music had to offer, I started sampling what A-Trak had to offer. Back then, it was always a lot, and it's just as much– if not more– now.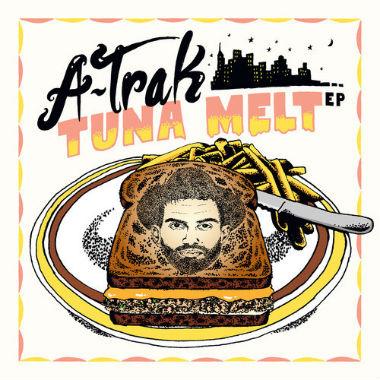 A-Trak isn't that old, either. At the age of just thirty, Montreal born Alan Macklovich has one of the most storied careers of any DJ around, including having won the DMC World DJ Championship– yup, that's a thing– at the age of fifteen (making him the youngest ever). With such a promising beginning, it's not too surprising that he later became Kanye West's personal tour DJ. Along with Armand Van Helden, A- Trak is also one half of Duck Sauce. They're the duo responsible for "Barbra Streisand," the ridiculously silly disco-house hit that probably shouldn't have been so good, but actually was. In fifteen years, A-Trak hasn't really missed a beat.
On his latest Ep Tuna Melt, A-Trak collaborates with the likes of Tommy Trash, Swedish group Galantis, and Los Angeles duo GTA. Tuna Melt just may be the perfect name for this pithy, powerful, four-track collection of songs. Both things– the EP and the classic diner sandwich– are just a tad on the side of kitsch, yet ultimately delicious and democratically loved. Have a listen, then think about it.
Start with the EP's title track, the rave-worthy "Tuna Melt." Featuring the classic house slow build, it starts quite slow before erupting into an aggressive, pulsing, "dance or die" beat. The track names on Tuna Melt aren't exactly subtle, and that's no coincidence– "Landslide" and "Jumbo" follow "Tuna Melt" on the path towards EDM heaven. The latter is slick and choppy, like an itch you can't scratch. The former is a delicate, danceable hybrid between nostalgic 90s house and decidedly modern dub-step.
I love the concept behind closing track "Disco Nap;" it celebrates the much under-appreciated activity of the pre-clubbing power nap, which usually takes place between 10-10:30 PM (post-dinner, pre- pre-gaming). Fittingly, the free, open, and fun "Disco Nap" is the perfect soundtrack (just don't play it while everyone's trying to sleep).
The Tuna Melt EP is the perfect, and logical, next notch on A-Trak's belt. He's been at it for fifteen years, but here's to fifteen more.

4 / 5 bars