While stranded in LA due to a recent ice storm in the mountains that forced me to evacuate my home, I was asked to write a Burns Night poem for a collaboration with Bruichladdich. The original didn't pass the legal muster, but I really enjoyed it and so I decided to share it here along with the Bobby Burns cocktail I made to go with the evening.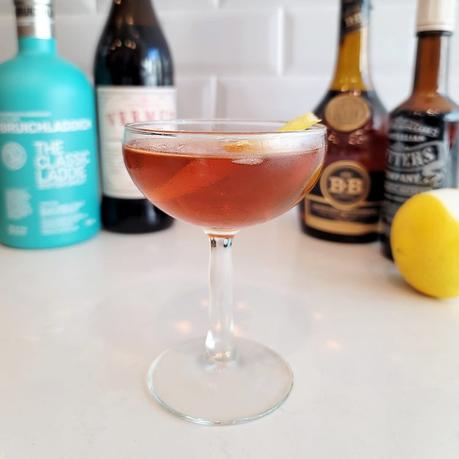 And in case you were wondering, the shorter, approved, one did go live and you can check it out here. I hope you all have a wonderful Burn Night and if you make a Bobby Burns let me know or tag me in the photo. I'd love to see it.
Cheers!
A TOAST TO FRIENDS
When the power goes out
and the iced trees are fallin'
and the wind is howlin'
it's nice having friends to be a callin'
The outside temp was 20, the inside 30
and without them I would surly have froze.
It would have been gruesome and slow
probably starting at my toes.
Then up the shins and calves and legs
to the middle section goin' on up the chest
and sides, down the arms and stiffenin' the neck
though know I would have died drinkin' only the best.
And because of that, final piece to turn to ice
would be my tummy – kept warm with whisky.
I'm sure my dog would have survived just fine
though I do wonder if she would have missed me.
But fortunately none of this came to pass
because of good friends who let us crash
on their best couches and guest beds
asking only I share my whisky, never my cash.
So here's to great friends
they help the time in this life pass
and if you're lucky they make it fun
even if they are a huge pain in the ass.
Love you all, Happy Burns Night!
View this post on Instagram

A post shared by The Whiskey Jug (@thewhiskeyjug)