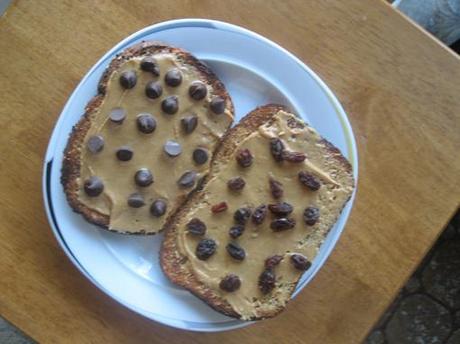 Hey Blog Friends! Breakfast this morning was obviously a little of a rush. Two slices of whole grain toast with sugar free peanut butter one with chocolate chips

and one with raisins. Plus the chips melted a little because the toast was so warm… yum-o.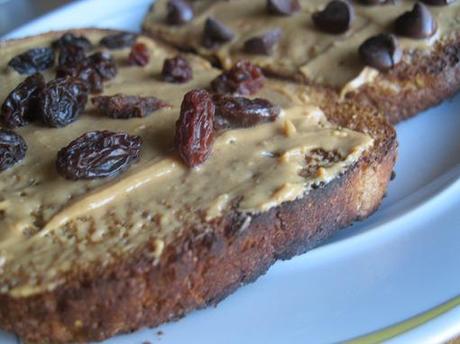 Lately I've been putting a lot of focus on healing from binge eating. And I realized that since my senior year of high school I've either been on a diet, thinking about the next diet or feeling like I'm failing because I'm not dieting correctly.
Now, I've tried "not dieting" before but never the right way. For the last week I've just ate what I wanted and I haven't allowed myself to feel guilty. I'm learning to be happy with my body how it is, not disgusted by it, and that it's okay to be a little squishy. Most people are.
I only have one eating rule while doing this… don't over eat! I'm trying to eat what I want and not feel like I need to measure out my food or keep a mental tally of calories. When I'm hungry I eat a meal, when I'm not I don't eat unless I have a craving and I really want it. Yesterday I really wanted a cookie and normally I'd play this long drawn out mental game between me and my mind about not eating that cookie, I'd probably end up eating it and then I'd be so strung out after and upset that I would consider the day a failure and shoot eating caution to the wind.
Basically the most important thing to me right now isn't necessarily health, it's just healing from this mental problem I've had. I don't want to lose control with food anymore and finally something is working.