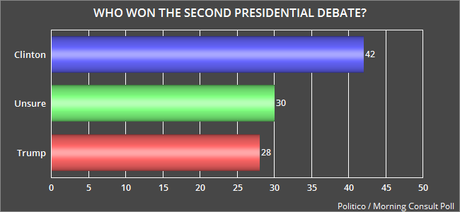 A third poll has been released on the second presidential debate. It is the Politico / Morning Consult Poll -- done on October 10th of a random national sample of 2,001 registered voters, and has a margin of error of 2 points.
We have already seen that the CNN / ORC Poll had Clinton winning the second debate 57% to 34% (a 23 point margin) and the YouGov Poll had Clinton winning 47% to 42% (a 5 point margin). The Politico / Morning Consult Poll has Clinton winning 42% to 28% (a 14 point margin). The three polls may disagree about how big the Clinton win was in the second debate, but they all agree on one thing -- Hillary Clinton was the winner.
The poll also shows that 44% of debate watchers came away with a more favorable opinion of Hillary Clinton and a less favorable opinion of Donald Trump. In short, Trump didn't win any new voters in that debate.
But perhaps most devastating is the bottom chart. About 51% consider Trump to be a racist and 60% consider him to be a sexist, while only 18% think he is a good role model. Those are devastating numbers, especially considering that Clinton and Trump are equally considered to be out of touch with ordinary Americans and equally considered to be strong leaders.
I thought it was interesting that while Clinton is considered to be liberal by about half of the poll respondents (51%), Trump is not considered to be conservative. Some want to pose this election as between a liberal and a conservative, but only 37% consider Trump to be a conservative.