I had been looking forward to this weekend for over a month. In fact, I had been looking forward to this weekend even before I booked the trip. I knew we would do it. It was going to be hellishly expensive, it would involve an incredibly boring drive with two very annoying children in the back, and when we got there, it was going to be so romantic we were going to wish we had left the children behind. But it had to be done. Liwa is the ancestral home of the founders of the United Arab Emirates (the
Bani Yas
tribe). It is an authentic oasis. Romantic, historical, Laurence of Arabia, home to Bedouins, and a landscape of sandy mountains carved by time, resting on the edge of the 'Empty Quarter' - a land nobody can live in.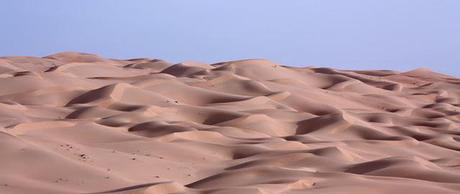 Liwa is not a town. It is in fact the name of the strip of oases that run in the shape of a crescent moon, right on the edge of the UAE/Saudi border, an hour and a half inland from Abu Dhabi (it's about 190km on an 80km/h road, but who's counting). There are about 39 settlements in the area (some too small to really call villages), and historically the area has survived on very traditional Arabic farming - dates and camels. There are also many drip-irrigated fruit and vegetable farms now in the area. (in fact, the Abu Dhabi Organic Farm I spoke of in a previous farm is on the road towards Liwa, but much, much closer to the city). It boasts the largest dunes in the UAE, and in fact,
at 300m, there are dunes
close to where we stayed that are among the largest in the world. So it has always been on the trail for crazy dune bashers and desert lovers.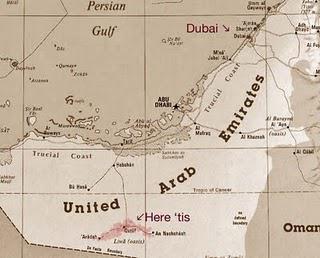 The drive is beautiful, but repetitive. There is something so calming about staring out the car window at the dunes, that roll just like a surging ocean. They get larger the further away from the city you drive, and the color changes - beginning with an appearance like a beige minky velvet blanket crushed and thrown over pebbles, then giant fuzzy apricots, and finally, rusty sunburned mountains - mammoth but fragile, soft to the touch, and able to be blown to smithereens by a breeze. The sand has a texture to it that can be seen easily - it's not just one color - the borders blend over the tops of the dunes, making them appear wet or be-shadowed. And the desert is not empty. Farms sprout between the dunes, some just a gathering of palms around a water tank and a shack, others seeming to produce fresh harvests of shiny white Land-cruisers as well as hundreds of palms and wandering camels.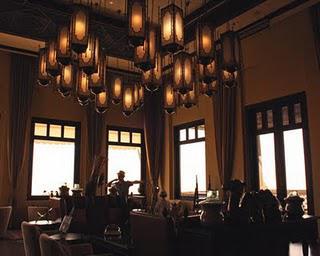 I booked us a 1-bedroom suite at the
Qasr Al Sarab
, which sits at the close end of the Oasis (ouch - 1800AED per night +10% service charge and 6% tourism fee). I had been given the heads-up by a friend, NOT to book the standard rooms and ask for them to be adjoining, because they don't adjoin - you can only book the Deluxe Terrace King rooms when you are traveling with children, and they are nearly as expensive as a suite. So I figured I could lie on the form, only say one child is coming (limit in the room is one child), and bring a 'ready bed' to pop on the couch for the other. Despite booking online for 2 adults and 1 child, the booking processed with only 1 adult, and so of course, we arrived only to find the one bed in the room. Fortunately they were lovely enough to go and organize one for us pronto, and then charged us 350AED plus 16% per night for it! Fortunately again, I did not ask about this earlier, or it would have put a sour taste in my mouth for the duration.

Pre- and post-shamal views from the stairs near our room
The resort is stunning. It melds perfectly into the landscape, dwarfed by the size of the dunes. It is not until you are within it that you realize its size - it has several wings, parts that are 5 stories tall, an entire separate pavilion (probably to get away from me and my kids), and yet it is still subtle. It's very cleverly done. The rooms are beautifully furnished, with magically comfortable beds, cloud-like pillows, and everything you could ever want. The bath is so enormous, the entire family were able to get in at once, much to the amazement of Goldilocks, who giggled so much he got bubbles up his nose and had to receive a semi-resuscitation attempt by Mummy.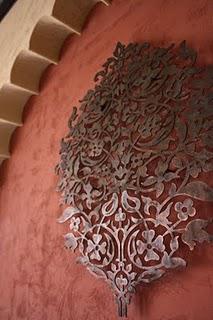 Night one involved drive then an immediate dip in the pool, then drinks at the poolbar, then dinner then a refreshing nighttime dip, then bed. Day two involved a quick swim, then breakfast then back to the pool, then lunch - but just as we were about to make a much needed trip to the pool, the desert did something very naughty and untimely - it whipped itself into a
shamal
, dumping what appeared to be half of Saudi Arabia into my eyes, ears, nose, mouth and cleavage. Our liberating walk over the dunes, our camel ride into the sunset was off. We did not see the towns of the Oasis. We did not feel the beating heart of the United Arab Emirates. We did what everyone seems to do in this part of the world. We experienced the harsh wild nature of Arabia from the comfort of our double-glazed, air-conditioned, luxuriously appointed, five-star hotel room.
Fortunately, the kids club has a pool table, and so we were able to keep ourselves entertained for the afternoon, but considering this hotel is in one of the harshest environments in the world, there was surprisingly little to do inside. Even dining was limited - we didn't want to subject ourselves to another buffet after gorging ourselves at breakfast, and did not feel like braving the walk to the poolside restaurant, but were turned away from the fine dining a la carte Suhail restaurant, because they did not allow children. They were finally flexible enough to seat them, but not flexible enough to find something the children would happily eat. We ended up back in the room for some exquisite room service food, and to watch 'Tangled' for the umpteenth time, because the wind had knocked the sattelite out and - shock, horror - there was no TV. Maybe if only the kids had not been there....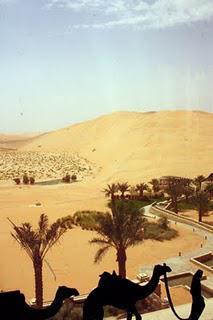 For those who have been to Bab al Shams (A Jumeirah hotel in the desert about 45 minutes drive out of Dubai that has been around for several years), this fairly new Qasr Al Sarab has a feel very similar, and it's hard not to compare them. In both, the architecture and furnishing is opulently Arabian to the extreme. They contain artful lighting - the most impressive collections of moorish lights you can imagine. There isn't a seat inside that is not covered with leather, silk or velvet. Water features trickle within earshot no matter where you stand, and every window frames a perfect scene like a piece of art.
But it's a big drive - is Qasr al Sarab better than Bab Al Shams? Yes and no. The pool at Bab al Shams is more beautiful, the size of the resort more comforting, with smaller nooks and shady corners to retreat, and it's a little more rustically furnished (but that expensive kind of rustic, if you know what I mean). It is closer to Dubai, and cheaper, although I don't believe it is any less luxurious. But the Qasr has a remoteness that may appeal to some - the irony of toasting to the nearby Saudi Arabian border with a glass of icy Veuve cliquot was not lost on me. The desert is the red and rolling desert of movies, whereas Bab al Shams is beige and flat. There is no traditional exotic outdoor restaurant like Bab al Shams' al Hadheera restaurant to be found at the Qasr al Sarab - only a pool-side restaurant, but they counter it with the fine dining Suhail with it's majestic private dining room
And the biggest problem? The total bill including all food etc. was over 7600 AED for two nights. We didn't go to the spa (590 AED + 10% service minimum charge for a massage), or dune bash, or even ride a camel. That's just bed, food and drink. So would I go again? No. But that's easy for me to say, because I've already been, and I can't help compare it to other cheaper and more exhilarating desert experiences, and I left feeling that I had been let down culturally. Like so many other hotels in the UAE, the hotel is so plush that the inclination to venture outside of it is gone, and the surrounding sights sometimes just don't fit with the level of luxury that exists inside the hotel. I feel I could have paid half the price to stay at a place in Dubai. But saying that, my husband loved it, and would happily return - I guess it's all a matter of taste, and after that shamal, all I can taste is sand and the sour flavor of an empty wallet.Leave me a comment and make my day...