As you might have read in one of my earlier posts, I went to NYC's Catalpa Festival this past weekend. While there is a great deal of debate over whether or not Catalpa can survive as NYC's "destination festival" and become one on par with Chicago's Lollapalooza or Indio's Coachella, there is one thing that Catalpa nailed: sponsorships. 
Catalpa had so many sponsors in so many capacities that it was hard not to be bombarded with advertising during every moment of the festival. Jeep had its own side stage; Absolut vodka had an art lounge; Got2b hair products had a "confessional" booth; Heinekin was just about the only beer you could find within a mile radius. Their signs were splashed everywhere, and their logos covered every piece of paper Catalpa handed out. Everyone, it seemed, wanted to be on the Catalpa bandwagon. Catalpa's festival goers were the ultimate audience.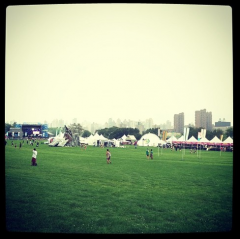 The clouds started rolling in at Catalpa early Saturday morning. Midtown Manhattan served as the festival's backdrop. (Photo by Katy Coduto)
What many of the sponsors weren't prepared for was terrible weather, which especially plagued the festival on Saturday. It rained throughout most of the afternoon, including a deluge around 4:15 that turned the entire festival space into a mud pit and left many a festival attendee soaked through.
Jeep was prepared for the rain. They had a massive tent set up next to their side stage, and the tent was an impressive stunt even in nice weather. It featured two Jeeps stacked on stereos, television screens demonstrating different Jeeps, couches and chairs where festival goers could relax, and a bar near the back. Two messages were present in the Jeep tent: First, Jeeps are awesome vehicles that you should drive because, well, here's a demonstration. Second, Jeep cares about your comfort at this festival. Jeep basically reminded attendees that while they were there for you to test their new products, they also wanted to be more than just another car to you.
They completely delivered on this when the rain started. Jeep let as many people as possible jam into their tent to avoid the rain. No one got kicked or pushed out. Even at its most crowded, the Jeep tent let more people in. And the volunteers in the tent made the most of their captive audience. They blasted music, and they went around to shivering individuals and talked to them about test driving Jeeps. However, they weren't overly persistent. When I told them I wasn't interested, they just let me be. Didn't ask me to leave, didn't try to get me to drive anymore. Jeep had it figured out.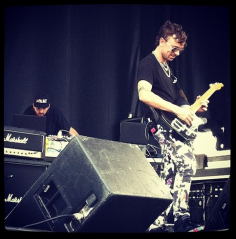 British band (and one of my personal favorites) The Big Pink perform on the Jeep Stage. Other acts on this stage included A$AP Rocky, Umphrey's McGee and the Dirty Heads. (Photo by Katy Coduto)
On the other side of this, though, is Samsung, who had an apparatus set up in the middle of Catalpa in support of their Galaxy 3. First of all, Samsung had a semi-lounge set up around their apparatus. The lounge featured chairs and umbrellas, which were dismantled when the rain started. Everything else was contained in a trailer that was composed of 100% metal (or so I was told by one of the guys working in the trailer-thing).
The minute the rain started, all hell broke loose in the Samsung world. I actually tried to take cover first in the Samsung area, but I just couldn't take it. First of all, the sales rep was an annoying, sexist pervert who decided he needed to hit on every girl in his captive audience. While hitting on us, disregarding any and all male partners, he also tried to push the Samsung phones. Okay. No. Then, a man who maybe was this guy's boss or maybe not, came stomping into the trailer and informed us we needed to leave because, if lightning hit the trailer, it was going to explode.
Now, I'm not saying I don't believe that if lightning strikes metal it's going to be a disaster. It's probably going to be a dreary situation. But this guy was one of the rudest, most unfortunate people I ran into all weekend. He didn't ask us to leave; he didn't calmly explain that he was concerned about the safety of the trailer. He literally told us we needed to leave the potential explosive ASAP because he was just not having any of that mess on his hands. HE HAD PHONES TO PROTECT, OKAY?!
But he really didn't handle the situation well, especially when faced with nearly fifty people looking for shelter. Telling people they're going to die in your trailer isn't exactly encouraging. And, as an electronics retailer, shouldn't Samsung know better than to create a 100% metal trailer that's going to sit outside in the middle of an open field where storms might happen to come by? (If that was even true?)
After this weekend, I'm ready to buy a Jeep (or at least consider it). However, I also know why I own an iPhone and not a Samsung. Apple, in all of my interactions with the company in any capacity, has always maintained a degree of professionalism that I respect and even admire. Samsung had a captive audience and blew their chance with an undertrained salesman and a manager who was more concerned about his phones than his consumers. There's a right way to do sponsorships and a wrong way, especially at a music festival in the rain.
Jeep nailed it. Samsung ultimately failed.