I am going to be very honest and own up to being much more of a sunny day gardener. Cold, grey, winter days do not have much of a draw for me. However, getting the allotment up to scratch might mean I'll have to shake myself and venture out on days when the sun doesn't shine. Today was cold and windy but a beautiful sunny day, so I packed a thermos of coffee, a cereal bar and spent 3 hours on plot 52a.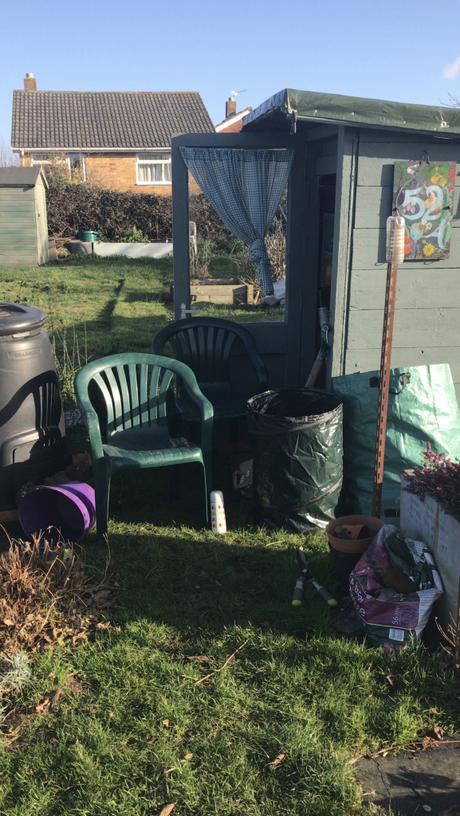 I have so many ideas of what I want to do and have to remind myself that I can't do it all in Year 1. I am drawing up plans and to help me with this I tried a couple of apps, Veg Plotter and Garden Grow Planner, neither of which really do what I want. The Veg Plotter only has vegetables to drop into the planned beds which is frustrating as I want a garden flower area. The Garden Grow Planner, doesn't have sheds and water butts etc to drop on to the plan. It may be I am doing it all wrong but I'm going to revert to graph paper, a ruler and coloured pencils.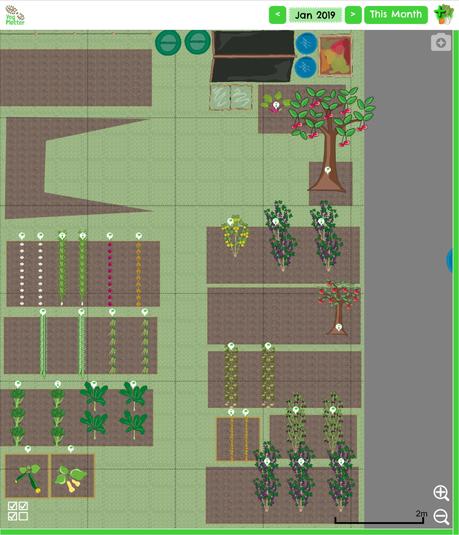 In the meantime, above is my Veg Plotter plan showing the fruit bushes already in-situ and vegetables I want to grow in 2019. Frustratingly I can't see how to label things. The two top left beds are my flower garden plan, I want to join three of the 1×3 meter beds and make a curved grass area.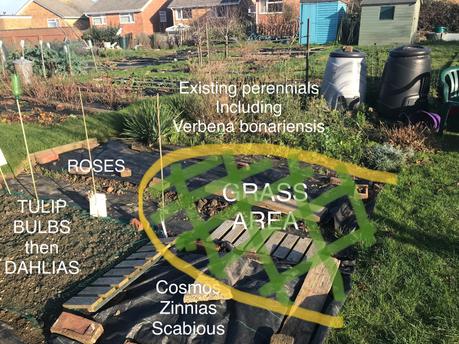 Until I have bought my paper and crayons, I've made a rough plan of my garden area using the photo editor on my iPad. It gives an idea of what I envisage for my flower garden. The tulips I planted before Christmas, no sign of anything yet, but it's still early days. I'm not sure what perennials are in the top bed but will also use it for my cutting flowers.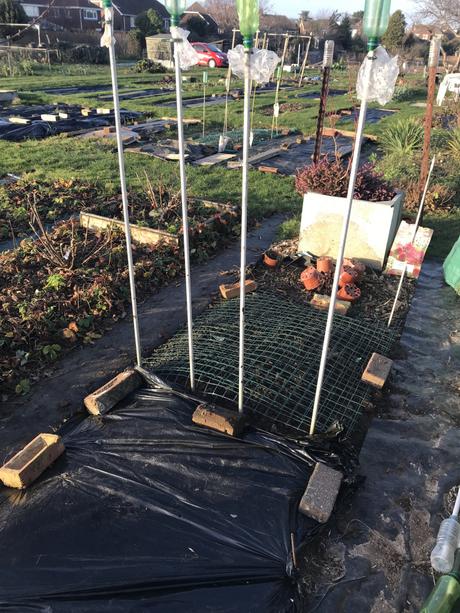 Today, I dug over a few beds including one nearest to the shed. Here there is a rhubarb (next to the gray container), I've covered the emerging leaves with flower pots until I get some manure to protect them. I had a bag of mixed alliums Purple Sensation, Christophii, Sphaerocephalon and Nigrum and, although a little late, I have planted them in rows height wise with the Nigrum bulbs around the edge. I then covered it with some plastic trellis I found to deter visiting night animals from digging them up. The other half, I weeded, dug over and covered with black plastic. I might plant lavender bushes here.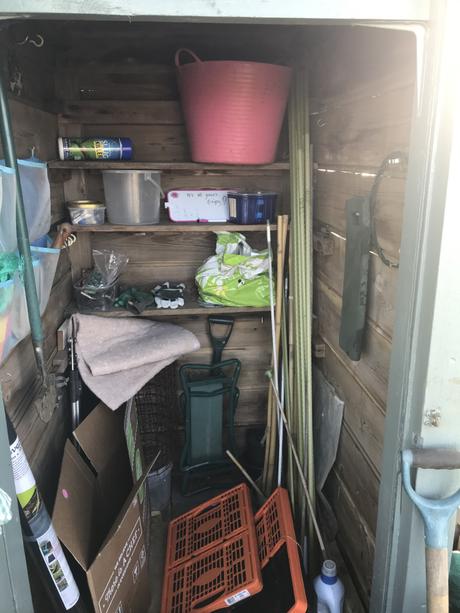 The dinky shed needs a few more shelves and brackets to keep it tidy. I've been watching YouTube videos from allotmenteers and have fallen in love with the way some sheds are decorated into mini-allotment homes. My plan is to buy some Cuprinol and paint the inside cream, to lighten it up. A small camping stove and kettle will be added along with a couple of pictures and maybe even some bunting. I've seen a wonderful idea of making a decoupage out of seed catalog photos to paper the walls – the effect is stunning and unusual. You can see photos of his floral shed posted by @cavershamjj on Twitter.
I returned home, cold, stiff and a little achy but it's been a holistic few hours, which is what owning an allotment is all about isn't it?