P.S- this was reader requested post and I will be more than delighted to discuss any other trend  you've been curious about. 
These adult version of kids onesies, seem to have taken the fashion scene by storm. A one piece closet wonder, that needs little or no effort styling and can be easily taken from day to night.  It might not be suited for the corporate world but those who work in a more casual environment, can wear it with a blazer/cardigan  atop to make it more work wearable. .  As a trend-stricken blogger, I have worn these in a plethora of fit and styles and have to admit that I am addicted to this closet wonder.  
Continue scrolling to read the rundown, that entails not only why I wore it but also how it would work for different body types.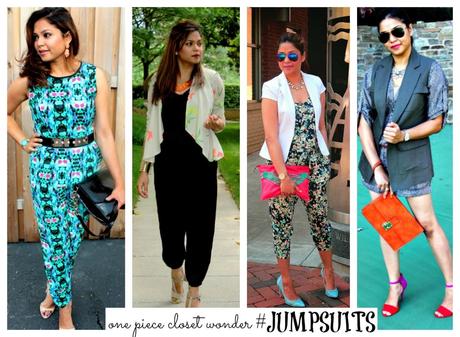 LOOK #1 ( seen here) 
A printed piece with a cinched waist and in an ankle length is a must-have in every closet. It is sleek, slimming, elongating and works on all body types. Stick to an all over same print that is not so over the top. When wearing a printed jumpsuit, keep the accessories minimum.  A sleek chain necklace or a pair of dangly chandelier earrings,  just as in my look,  is all you need to pull the look together. Since the whole look is so busy, keep the shoes neutral and less fussy. 
Shop for printed jumpsuits
LOOK #2 ( seen here )
A monochromatic (one color ) jumpsuit is not only slimming but also a game-changer for vertically challenged ladies. Look for one that has a structured waist, some feminine details like frills or lace inserts, and preferably with a narrow leg. A wide leg could be forgiving in balancing a heavy upper body. But if you are petite a full length, tapered leg outdoes any other kind in building up height. When it comes to accessorizing,  options are endless with a plain palette ( your jumpsuit ). Like in the look above I am woring a neon necklace and a printed jacket to add some visual interest. Same rule applies to the shoes, wear any type, any heel height....it's still a win-win !
Shop for monochromatic jumpsuits.
LOOK #3 ( seen here ) 
Talk to me about these cropped leg jumpsuits, that I can write page after page in their praise. A calf-length silhouette not only  draws attention to your thin limbs but also helps balance body proportions. I might sound a bit obnoxious and offensive if I say that these help to give the illusion of shorter legs by breaking the continuity. I agree that people die to have lean longer legs,  but being one, to be  blessed with longer legs and shorter torso, I am always on the lookout for pieces that help me balance this body disproportions. I agree I am a weirdo to say that, but that's how I look at it . Whatsoever a cropped jumpsuit works, pretty much on every body type but if you are exceptionally short, steer away from these as they tend to break the continuity and make you look shorter.  There is no special accessory/footwear suggestion for this one, so go ahead and wear what you like. 
Shop for cropped jumpsuits  
LOOK #4( seen here ) 
A shorter style that hits mid-thigh is guaranteed to keep you cool and stylish in the warmer weather. This one works on everyone and there is no rule of thumb of wearing this. Have fun in printed styles, go strapless, try sleeveless, cutouts and all that you wish for. Layer it, as in my look,  for cooler nights or wear them by itself , they are all occasions appropriate. Go for a bolder look with accessories and sexy shoes are a must. 
Shop for cropped jumpsuits. 
Hope you enjoyed reading this. 
Have a great day and thanks for stopping by .
XO