This one is for the coaches out there who are searching for ways to pick up the tempo of their games and practices.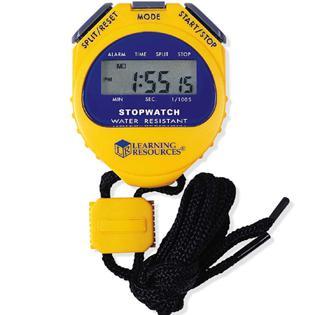 A must for any coach
A stopwatch is a great way to help players go from good to great in many areas of the game.  Players get used to performing at the speed in which the game is played at their current level.  A stopwatch enables them to practice and play at the speed of future levels.  It also allows coaches to demand respect for how the game should be played and gather data in the process of doing so.  Much of this advice and the examples that follow come from a friend of mine who is the head coach at

Mississippi State

.  He spoke on the topic at a coaching seminar.
The following are situations where coaches can use a stopwatch to time players and/or monitor the progress of their team as a whole.
Running on and off the field as a team.

Individual times for players on and off the field.

Time between pitches.

Time between innings.

Outfield release times. (time between the catch and the throw)

Infield release times.

Ground balls. (contact point to 1st baseman's catch)

Double plays by infielders.

Home to 1st double play. (1-2-3)

Pickoff plays.

1st to third base running.

2nd to Home base running.

Relays.



Catcher pop-times.
A good idea is to establish a baseline for times on and off the field, in-between pitches, etc. and have someone (a manager or guys on the bench) record how the team and/or individuals are progressing.  Telling a kid he is doggin' it might invite a conflict.  Showing a kid that when he was hitting well he ran a 4.2 to first base but now is coming in at 4.6 during his slump has much more power.  It also allows you some opportunities to say something like "Ryan hit a one hopper back to the pitcher and could have just pouted and jogged down the line but he beat his best time to first!"  There are endless ways to utilize a stopwatch.  Give it a try.
To get an idea on various running times and ratings, the following chart was given to me by a Pirates scout a few years back.  You can see how your players stack up both as runners and as defensive players trying to get these runners out.
Description60 yardsHome to 1B L/RSteal 2nd
Superior6.4 or under3.7/3.83.00
Outstanding6.53.8/3.93.05
Well above avg6.63.9/4.03.10
Above avg6.7/6.84.0/4.13.15
Average6.854.1/4.23.20
Fair6.94.2/4.33.25
Below avg7.04.3/4.43.30
Well below7.1/7.24.4/4.53.35
Poor7.3/7.44.5/4.63.40
Inferior7.5+4.6/4.73.50