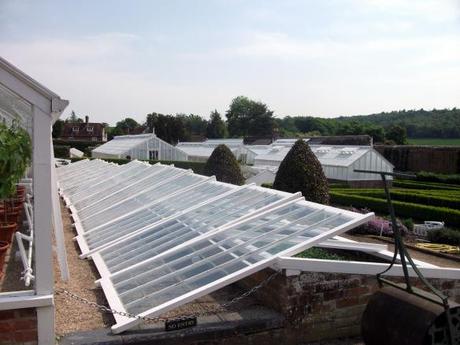 After some deliberation as to whether to visit the Grow Your Own Show at Loseley Park in Guildford or West Dean Gardens, near Chichester, my friend and I decided to go to West Dean.  We thought that the GYO show would be packed full of people on a Bank Holiday and both felt we were in need of a quiet and tranquil Sunday.  Also she has never been to West Dean Gardens.   Whilst I have been many times over the years, I have never visited in the Spring.
The Gardens are part of the West Dean Estate sited on the Sussex Downs, with the River Lavant running through them.   They feature a walled kitchen garden and 13 renovated Victorian Greenhouses.   Because of our unseasonably warm Spring this year, everything was very advanced, even more so than our own gardens due to the sheltered nature of the walled gardens.
I took far too many photographs, my poor friend was very patient as I kept stopping to snap away at various angles.   It has been very difficult to sort out the few photos to give you a taste of what a lovely garden it is.
As we headed towards the greenhouses, we walked through the middle of the Kitchen Garden, known as the central flower bed, planted using a purple scheme, with Alliums, Iris.  When I have visited in other seasons, it has been different colours, the most striking season being mid-Summer when it becomes the hot border, with oranges, yellows and reds.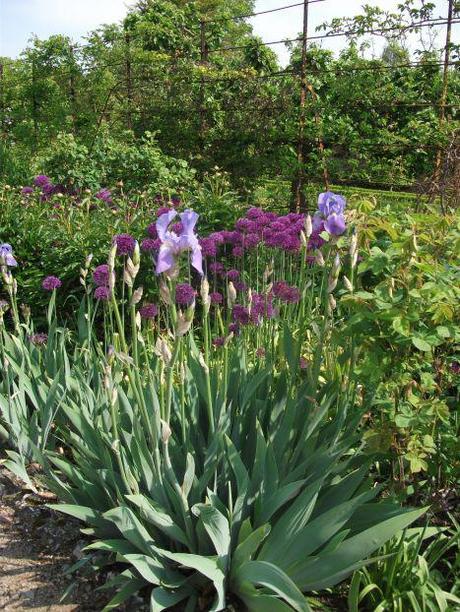 I have always seen the greenhouses when they are bursting with tomatoes, vines, melons, peaches, and nectarines to name a few.   It seemed strange to see them almost empty, and those that did have anything in them were at the starter stage.   We could see the bare bones of the wires and rigging that they use to train their plants.   Some of  tomato plants were being trained at an angle towards the windows and back again.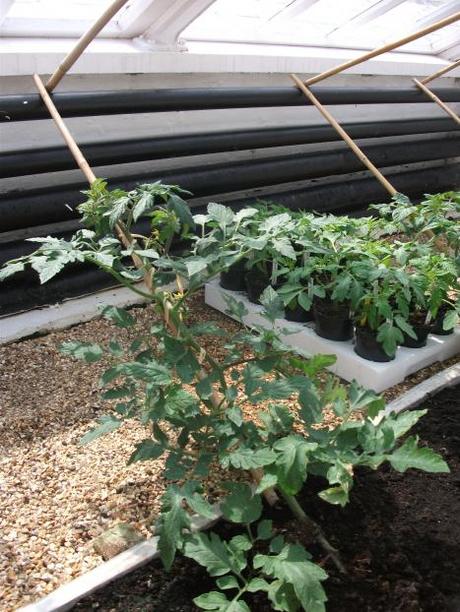 We went into one greenhouse, which had cucumbers, but didn't stay there long, it was like walking into a sauna so we left rather rapidly.   Both of us were a little surprised at the heat and wondered why it was so hot.  I have grown cucumbers outside so I know they can tolerate cooler climates.   It's times like that you want to find someone to ask why this is so, but there was no one around.
The Orchid house was the next on our list, still humid but not nearly as hot as the cucumbers.  There were so many beautiful flowers, a haven for photographs, but I have chosen just two.  One of the things I like about West Dean is that they label everything, well almost everything.  This very pretty pink orchid, didn't have a label so I can't tell you what it is.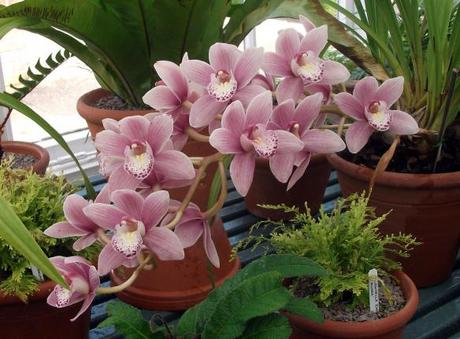 As we walked down through the greenhouse we were hit with a breathtaking perfume.  Like a tracker dog, I started to sniff all the plants and soon located this unusual white orchid, which did have a label.  It is a coelogyne niditt.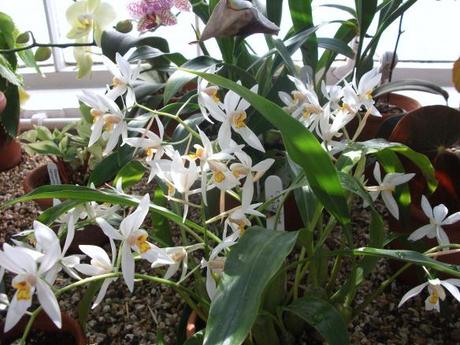 The Cutting Garden, which is resplendent in the Summer, with every type of flower you can imagine, was bare save for a few rows of tiny little plants.  One of which was a row of Rudbeckia.  How did they manage that?  Clearly sown in situ and not a slug or snail in sight. The stakes are where the dahlias grow, so I wonder if they are getting ready to plant them soon.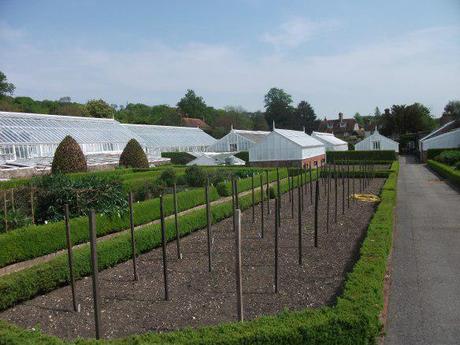 Alongside the greenhouses, there are a number of brick built outhouses and potting sheds, packed with  information about the garden, including the Kitchen Garden planting plan for 2011.  Some of the outhouses are used for museum displays, with items such as old lawnmowers.  I loved the potting shed with the dusty terracotta plant pots laid down in rows and a variety of old wooden gardening tools.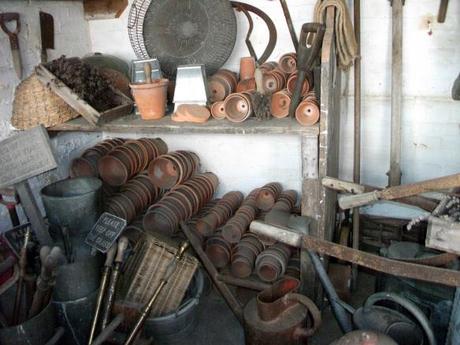 The Kitchen Garden was full of vegetables and fruit.  The strawberry plants had little strawberries on them already and all the soft fruit were heavily mulched with straw.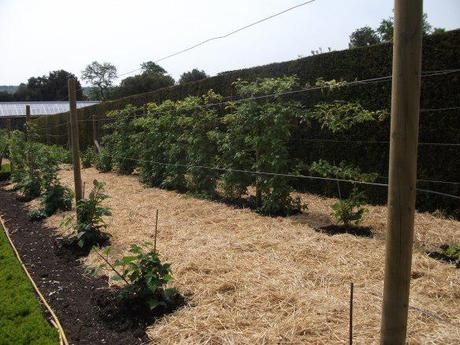 I thought these rhubarb forcers were just asking to have a photograph taken, aren't they great!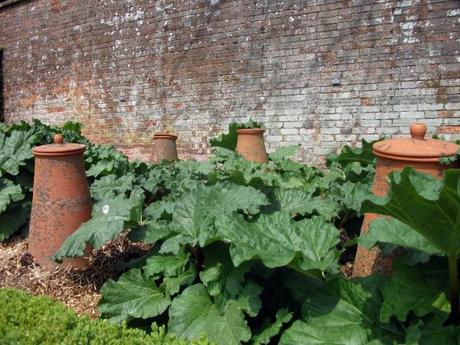 After almost two hours just wandering around a small part of this great and interesting garden, we stopped for much needed lunch.
Duly fed, watered and rested, we headed off towards the other part of West Dean Gardens.  This has the Sunken Garden, Arboretum, and the Spring Walk alongside the River Lavant which meanders through the garden.  Most spectacular is the Edwardian Pergola, over 100 metres long.  It was covered with a variety of Wisteria, some nearly over, but this one was thick with flowers, filling the air with a heady perfume.  In the Summer, various ivies grow over it.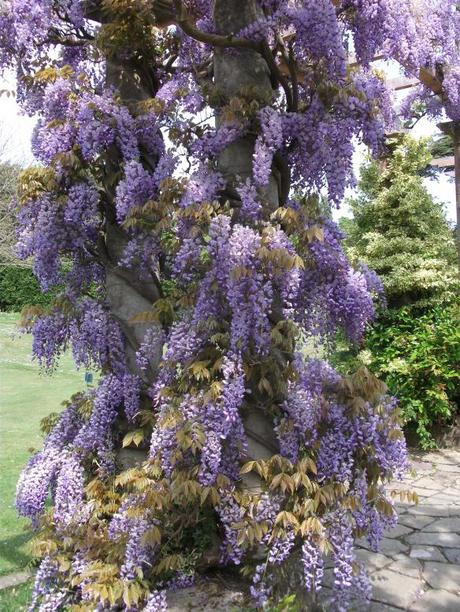 We had spent almost 4 hours at West Dean and could have been there longer.  As we turned to walk back towards the car park, I had to take a photograph of the bed of Lily of the Valley in the Spring Walk.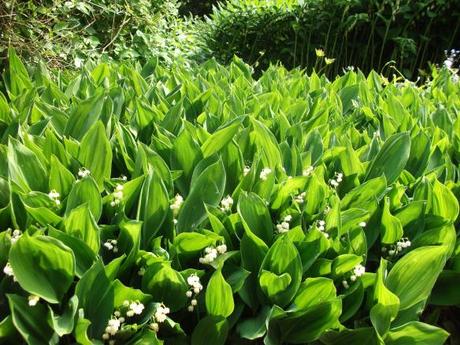 I took great pleasure in introducing my friend to West Dean Gardens and being able to share it with you too.  I love this garden which is different every time I visit and am looking forward to another visit in the Summer.