At 4.30am today, an email arrived for me that completely unravelled my plans for the next two months.
Ethel* (
*not her real name
) was withdrawing all her childminding services due to being insufficiently equipped to care for Isobel.
She was meant to start today. I am now having to ask my mother to take Isobel off my hands for a few hours so I can sort out the whole sorry mess.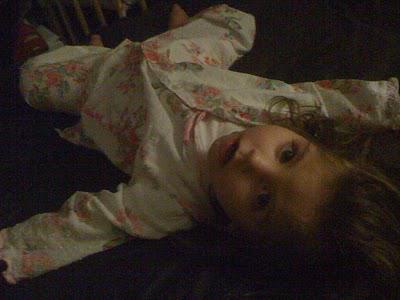 I am frustrated, exhausted and beside myself with rage. Ethel was recommended as the only childminder in the whole of Aylesbury who could adapt to Isobel's needs. Why did I have to find out to the contrary, today of all days? I had to have a bath to try and calm down.
This is a perfect example of how society disables parents of disabled children. Ethel had asked Isobel's OT for equipment advice on Monday. She learnt today that she needed a specialist chair and a backwards-facing specialist car seat that would have been too big for the Polo that she drives.
The OT also felt that childminders were entirely unsuitable for Isobel as their responsibilities meant being in and out of their houses with other children, driving them to and from nursery. They would have risked neglecting their professional duty to give her intensive one-to-one attention.
On top of that, Ethel had no Manual Handling training, which would have enabled her to carry Isobel up and down two flights of stairs to the other child's pre-school on the same day. She had already tried to reschedule the other children in her care, when in fact - according to the OT anyway - Isobel would have been much better off with a home-based carer or nanny instead.
This is a huge chunk of information that I could have benefitted from a long time ago. The OT already knew what my daughter's needs were; she knew about my other commitments. I am about to make a film! Why did she not consult me about my options there and then?
We do not even have the space for a nanny. Our housing association are being very lax about their obligations to rehouse us - and they already know about Isobel's CP and how overcrowded the flat is with all her equipment. Regardless, they will only answer my questions once at a time - and very briefly too, occasionally throwing in terms designed to confuse us, thus protracting delays to the house renovations already caused by their own indecision over disabled adaptations recommended by another OT last October.
Can I have another setting for my photos of Isobel please? It's a valid question. She may not be house-bound all of the time, but she may as well be, given the suggestions made so far by her therapists. She does not deserve this; this pretty, little girl brimming with such joie de vivre. Why isn't she being allowed to showcase her personality? Does she not need to be around other children regularly?  Why isn't there a childminder who can give her that opportunity?