Spurred on with a new lease of life I had an idea that I would post a comparison of what was/is in the garden over the years I have written my blog.   To my surprise I have only a couple of posts from this week in the past and none of them are to do with the garden, so that idea was knocked on the head.   What I did notice was the second/third week in January, since the blog began in 2011, invariably had snow or was very icy, so maybe we will have a cold winter in 2016 before spring arrives. 
An icy  blast is certainly going to shock all the plants that have been fooled by the unseasonably warm weather.  In the front garden the snowdrops are out and the forget me nots have reseeded themselves everywhere!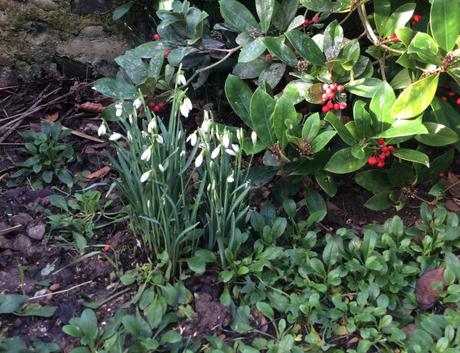 The tulips and daffodils (tete a tete) are coming through and the day lilies are producing lots of new leaves.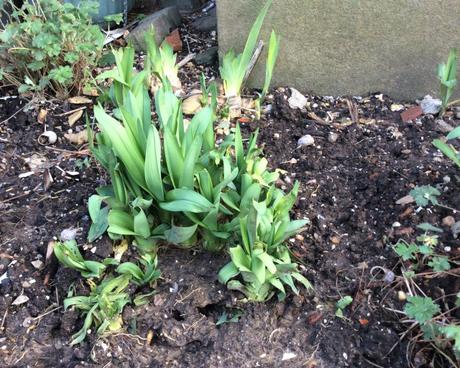 In order to protect the bulb shoots from the window cleaners, who have no regard to anything in flowerbeds, I have placed some flower supports.  I hope it works, in previous years they have just trampled over everything!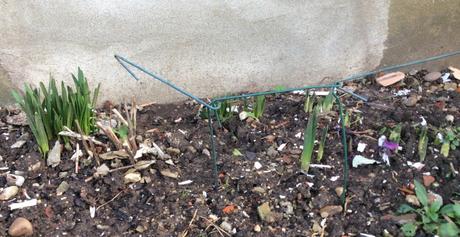 We have had so much rain the back lawn squelches under foot, and the grass continues to grow with little chance of getting the mower out.  The north facing border always ends up with standing water and there is a bare patch of lawn which I have tried, without success, to reseed on a number of occasions.  I have decided not to bother anymore and will turn it part of the flowerbed.   After I took the photo below I spiked the bed with a fork with the hope that it will drain.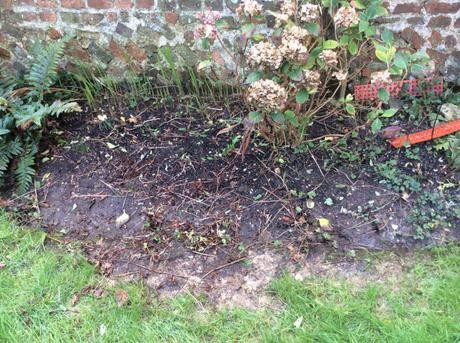 The summer jasmine, which sadly didn't flower last year, is covered in buds (far too early) and I hope that it doesn't succumb to any impending frosts. It won't be warm enough however to make the most of the wonderful perfume is exudes on a balmy June evening.  I'll have to bring some sprigs indoors to enjoy it.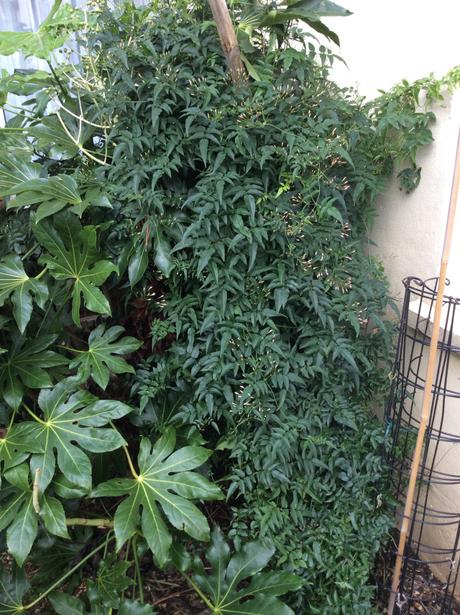 Finally, all my spring pots were planted up before Christmas and I moved them so they can be seen from the kitchen window.   There are some very tiny shoots in some of them and one pot is very advanced.  It is the only pot that is not labelled up, (it would be!), but I think they are early narcissi.  Sometimes it's quite exciting guessing what is growing.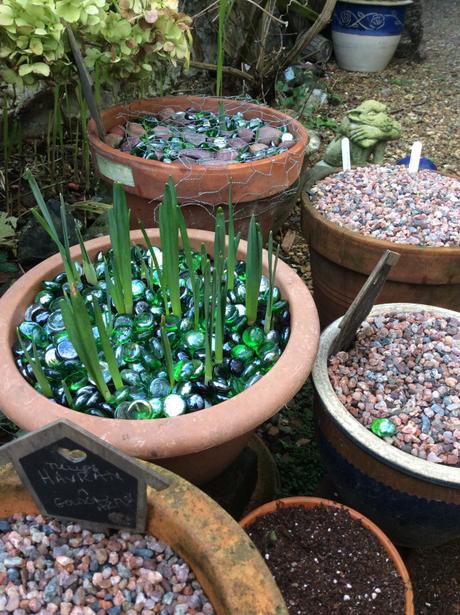 We all know that in the winter cold wet days are usually mild, with sunny days bringing cold weather.   We need a bit more sun now with freezing temperatures to kill off the bugs, slugs and snails in the garden and there are very many people in the UK praying that we have no more rain for quite  while.   Maybe my next post will have snowy and ice photos!