Almost a year ago, my friend Stephen, who is an obsessive film collector and cinema lover, showed me a film he bought off the internet a while back. He didn't love it, but thought it would be the sort of thing I'd like. It was four hours long, and I watched it over the course of one hot Sunday night. I remember the night clearly, but the film has started to fade in my memory. It was by a talented Taiwanese director who died at a young age a few years after completing his masterpiece Yi Yi in 2001. The director was Edward Yang. The film was A Brighter Summer Day (1991).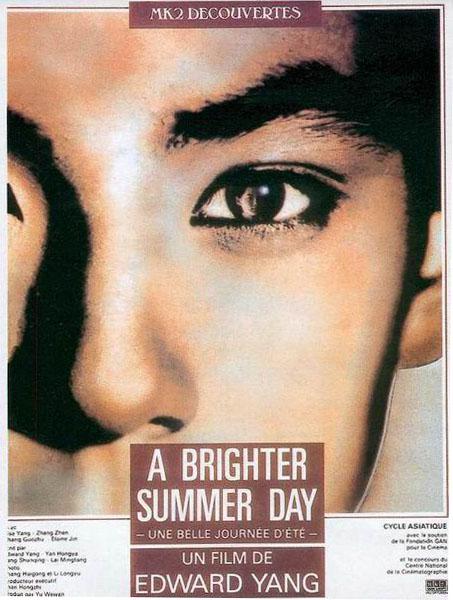 A beautiful epic of Asian cinema, and one film which is undeservingly difficult to find, I didn't appreciate it at first, but after a while of mulling it over, I began to really like it. However, a few months later, my friend sold the DVD online and it was gone. Odds are, it'll be a while before I see it again, if I ever get the opportunity to at all. Despite this, I feel incredibly grateful and privileged to see such a rare film. I pray that one day Criterion will release it like they did Yi Yi, but I have no high hopes for that. Not only does it have one of my favorite film titles, it's now become one of my favorite films of Asian cinema.
Anyway, I'm here to ask if any of you have seen it, and if so, what you thought of it. If you haven't seen it and would like to learn more about it, it is included among the well-known 1001 Movies You Must See Before I Die.
ALSO, for those who haven't seen it and feel like they've wasted their time here, let me know in the comments some of your favorite very rare movies, or perhaps a movie you've seen once a while ago and would really like to see again; even better if it's a rare one that's hard to find. Thanks!