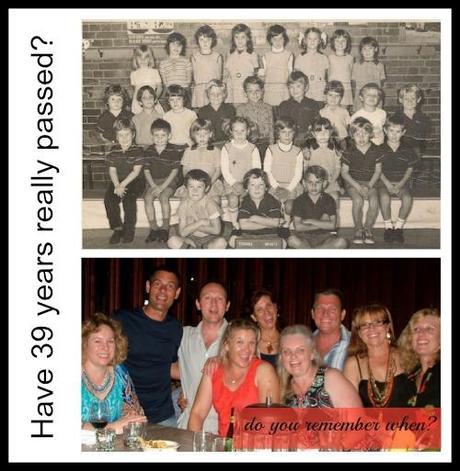 Yeronga SS Class 1A of 1974, then … and now!
The story of our school reunion
… how time has flown
Once upon a time, at a little suburban state school in inner Brisbane, a group of wee little scallywags started their educational journey in class 1A. Mrs Williams was the teacher, and we kiddies adored her. It was the year of the big Brisbane floods – 1974 – and it was the year we set out to remember at our school reunion last week.
In '74, this group of youngsters were not yet to know that they would form the core of a class that would travel through the rest of primary school together. Others came and joined us during times of merging classes but we were never torn apart – maybe there was no fair way of splitting such awesomeness? Maybe none of the other teachers wanted us? Who knows?
One thing I am certain of though, is that the re-connection which was formed last Friday night is here to stay. The shared memories of innocence and youth seemed tangible and, although difficult to describe otherwise, the mood was electric. You know how much I was looking forward to it?? Well, the high expectations were exceeded tenfold! It's true – who would have ever thought that a simple school reunion woud be just so damn good? It was so very different from high school reunions, which by default carry a level of adolescent angst, as the childhood friendships formed during early school days were so free from teenage drama and crap.
Ten of us made it and, with no word of a lie, we were all ready to leap out of our skins with excitement. It was amazing that with so much time passing since the end of Year 7 in 1980, that so much happy energy could be generated, no awkward, no uneasy just much joy and heaps of fun! Boys and girls, growing up, now men and women seeing each other again, but with glee, genuine interest and the most delight I've felt within a group of people for a very long time. After all this time we had stories to share, tales to tell and of course legends to relive. The conversation didn't waiver and it was l-o-u-d! In fact, I'm sure that the restaurant will not be welcoming us back anytime soon, but that's ok, for our next catch up in May we're off to Baz's house! But I digress …
30-something years is a long time, isn't it? I mean, it's the passing of decades, not just years, and with such passages of time comes marriages, families, children, divorces, business booms, business busts, illnesses, deaths …. living. There were stories of great life journeys to be shared, but no pressure to catch up on missed time, rather the true thrill of finding each other once again and each of us proclaiming, "ok buddies, where do we go from here?"
Of course in the week since, there have been countless emails, Facebook notes and text messages – we're onto the trail of others already. Time's on our side now and if you were at Yeronga SS between the years of 1974 and 1980, and if memories of Mr McNulty and Mr Macdonald make you smile, then don't worry, we'll find you!
What school reunion tales do you have for sharing? Do you love them or do they make you nervy?
A school reunion – when time flies
Because it's Friday, and Friday's are awesome, I'm again joining in with 2 fantabulous weekly Aussie blog link-ups!
Grace's Flog Yo Blog Friday and Bree's Flash Blog Friday.
These 2 gals host awesome Aussie linkups, so head over for some great blog reading!