By Petula Dvorak, Published: August 2
This is a story about judgments and the many ways people can surprise us.
It begins a couple of years ago, when I was covering a conference for gay and lesbian parents.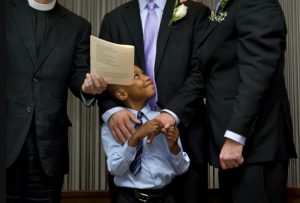 I met a gorgeous couple who looked more like models in a a Polo ad than parents.
"Do you have kids?" I asked, dubious because, really, no one looks that good when they have children.
"No, but we're interested in adopting. Or maybe becoming foster parents," Kelly Vielmo told me.
Foster parents? I wondered what, exactly, these two impeccably groomed men thought foster parenting — any parenting — was like. We said goodbye, and I moved on to other interviews.
Two months later, I saw an interesting post online on a parenting discussion group.
"This morning on the Metro two different people whispered to me that I needed to get my foster daughter's African American hair maintained. (She is 5 1 / 2 years old.)," wrote Kelly, one of the glamo-guys I met at the conference. "Can anyone on this listserv offer suggestions as to where we can go?"
Whoa. They did it. He and his partner, Jack Montgomery, became foster parents. And I regretted being so dismissive of them.
A year or so later, I got an e-mail from them, inviting me to their wedding. And right before they tied the knot, they were planning on finalizing the adoption of three children, ages 2, 3 and 6.
Read Montgomery's wedding toast: To family
Double, wait, triple whoa. They did it!
They had an adoption ceremony in a D.C. courtroom, with about 40 people attending. The girls, Raine and Ravyn, were in matching dresses, and Cardel was dressed up, clip-on tie in place. Their priest came to bless the ceremony.
After it was all done, the judge stepped down and hugged everyone.
I'd already been to their Capitol Hill townhouse to meet the kids. The living room was filled with games, puzzles, desks and books.
The kids spilled out of Kelly's car; he had picked them up from camp, and Jack was home making tortellini, chicken and broccoli.
The dinner hour with three small children was remarkable for its calm.
Jack was honest: "Well, a year ago, someone would've been on the floor crying."
"Maybe one of us," Kelly shticked.
What's a family without some tears?
Forming their family wasn't easy.
Continue Reading the Complete Article on the Washington Post