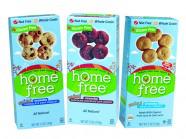 Think back to when you were a kid – all those lunch-room food swaps, cookies at little league games, and birthday cakes at parties. Baked goods made events more fun and brought your friends and you together. Now imagine being the only kid who couldn't take part because you have food allergies and the treats your friends eat could harm you. One in thirteen American kids have food allergies and must cope with always needing "special" food. HomeFree founder, Jill Robbins, saw how allergies affected her son and grew concerned for those being excluded. She knew there had to be a better way.
HomeFree makes baked goods that everyone can eat. Their cookies and cakes are made in their own dedicated facility free of peanuts, tree nuts, eggs and dairy, using carefully sourced and allergen tested ingredients. The only soy is soy lecithin (fine for most people with soy allergies, and only in some of the products).  HomeFree includes other special dietary needs as well such as gluten free, kosher pareve, non-GMO, and certified vegan.  HomeFree hopes to bring people together, regardless of food needs. This concern for inclusivity and allergen care extends to every aspect of the company. For example, after the earthquake in Japan, they joined two other companies in sending allergen free cookies to survivors. It makes such a difference, especially in a crisis, to know that food is safe to eat. They also donate to allergy related organizations such as FAAN (Food Allergy and Anaphylaxis Network), providing cookies for the kids with allergies to enjoy eating at fundraising walks.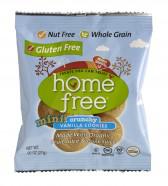 Education is another large aspect of HomeFree's mission. They host baking classes, and they give talks from reading and understanding food labels to working effectively and positively with food allergic families. They also consciously spread the word about food allergies, and of the importance of inclusion, to raise the bar of allergy awareness in the public and in the food industry. The company seeks to set a new standard of food that is safe and inclusive.
Just as HomeFree believes that food should be made better, they believe business should be done better as well. They became a B Corp to support the movement.  Robbins hopes that as more companies become B Certified, it will become culturally expected for companies to have and maintain a triple bottom line.
As their company grows, Homefree intends to maintain their high standards, increase their product line, and make it easy for kids of all ages to be able to go anywhere and have a treat just like everyone else. To learn more about inclusive snacks, better know HomeFree.