As Facebook friends will know, I had an incident with a local bus driver last Wednesday.
Bizarrely, my most vivid memory I have that day is a close-up of road tartar. Somehow, it all went so fast that the nanoseconds in between me banging frantically on the window and landing on the ground went missing. Luckily, the bump hovered just above the ground, untouched.
I hadn't heard the bus take off, with Isobel still in it, when I got off to assemble the pushchair. Of course I panicked. But what else could I do? The single-decker had steps divided by a rail, and was stopping right outside a local supermarket. Health and safety had already been compromised. (Going by the company's newer, adjustable-floor buses, I knew that model should have been decommissioned long ago.)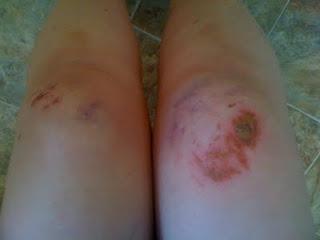 But instead of braking, the bus nearly took me with it, and in the resulting fall I grazed both my knees, as well as my left hand and elbow. My right knee later swelled up with the bruising. (See pictures as the injuries appeared yesterday.)
Slowly picking myself off the ground, I felt an incredible profusion of emotions. Wide-eyed shock came first, followed by faint hope as I searched for a possible glimpse of the stationary bus. Finally fear, and the eventual sense of desolation that Isobel was gone, hurt more than the pain on my knees.
"My daughter is on the bus," I cried. "My daughter is on the bus, can nobody see?" I had no idea how loud the roadside environment was - my hearing aid having failed me - but it was not particularly busy, and certainly not London. A hard-of-hearing older lady, who must have been in her late eighties, came up to help, but couldn't make out what I was saying.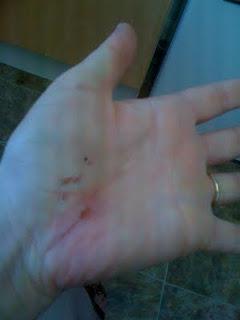 Despairing, I turned to the other side of the road where two men (father and son? Their blond curls looked so similar) approached from a white van advertising a DIY business. I couldn't understand the older man either, but decided to keep raising my voice an octave until he finally got the message.
Somehow I got myself into his van – I have no idea how, I was so sore – and we chased the bus into the next village.
By then the driver had circled the roundabout, and upon his return was pulling up right next to one of those quaint wooden shelters overhung by giant trees. Amidst the surrounding verdancy, I could see a long line of customers. As soon as the van parked I leapt out, shoved the queue aside and got on the bus.
"You stupid, stupid, STUPID man!" was all I could manage. "What were you thinking, taking off with my daughter like that? She is disabled – she cannot walk!" The other passengers turned to the driver in horror.
Did he just shrink in his seat, or was it fur-lined? His response was as pale as his eyes - "I didn't see anything" – but at least he seemed apologetic. I gave him one last glare as the DIY man placed Isobel in his van before driving us both back home.
I went to the police the next day, and put in a complaint to the bus company. I considered going to the press until I got word from the police that they had already interviewed the bus driver and his account had pretty much echoed mine. He had been honest. In that light, it was not in the public interest for him to be prosecuted, and anyway, the bus company had admitted liability should I wish to pursue compensation.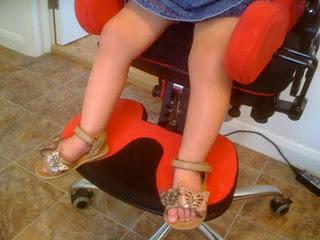 Certainly, until yesterday I wasn't able to care for Isobel properly. Getting on and off the sofa with her and a pregnant belly has been agony, and I have only today stopped going up and down stairs sideways. Miles had to take over washing duties as we had no bath support (Isobel still cannot sit independently). As for squatting to do her floor exercises – forget it.
At least, unlike mine, Isobel's legs are unscratched.
All this was clearly a knock-on effect of someone deciding to slow down the roll-out of accessible buses as a cost-cutting measure. The health repercussions for deaf and disabled people – never mind whole families - are just too great.
There is a bright side to the story. Coming down for breakfast yesterday, I was touched when I found these waiting for me in the sitting room.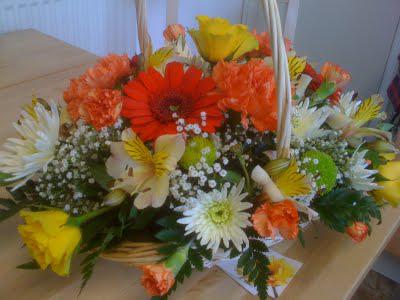 It was from the bus company.