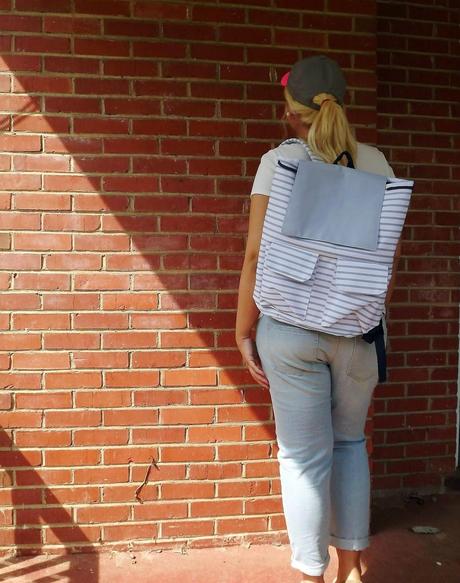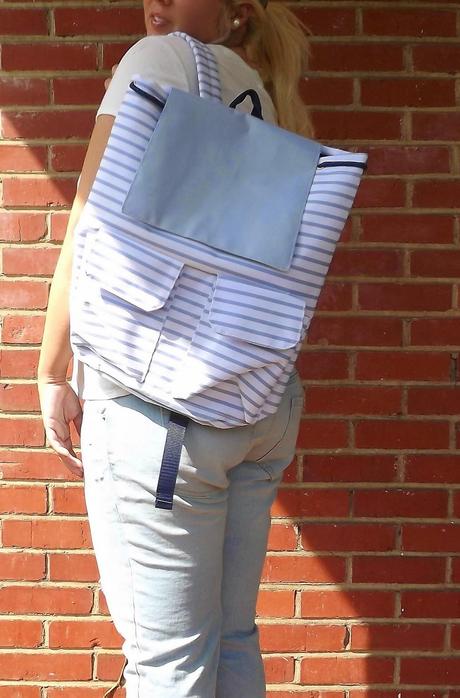 Outfit: Top- AEO, Boyfriend Jeans- Old Navy, Wedges- Target, Hat- J.Crew, Necklace- via Etsy, Rucksack- Shoplet Promos
A few months ago, I was contacted by Shoplet Promos, to do a review on a product. The product I chose just looked like me, just a different version of me (since I had never found myself to be much of a "rucksack" kind of gal.) When the bag arrived, the package was lighter than expected. When I was younger, every backpack and rucksack I had was heavier than this. The bag is lightweight and fits a good deal more things in it than I had imagined. I filled it with my "lake" essentials and took it out to Ivy lake one day, towel and all, I even used it as a library bag to store my laptop and books on a day I did some summer class work. I think my favorite thing about the bag has to be the color. The light blue and white stripes are classic and that's one of my favorite color combinations (apart from green and gold.) 
The In Print Rucksack is a promotional item via shopletpromos.com and is available HERE.
The Shoplet brand features two separate websites, one is Shoplet.com (the parent company,) which features an array of office supplies (students...this is a must for all of those expensive supplies...shoplet has them for less!) The brand also features ShopletPromos.com, which is great for those promotional products you just CAN'T find anywhere. From lanyards, micro fleeces, and more; this site has it ALL! No need to scour the web. Need to personalize koozies? Yea...Shoplet Promos has those too! 
The company has been around since 1994 and has been working to provide customers with what they love and quality products ever since! 
Visit their site to find out more about the rucksack I'm rocking and about what they can do for YOU! 
xo
BCC