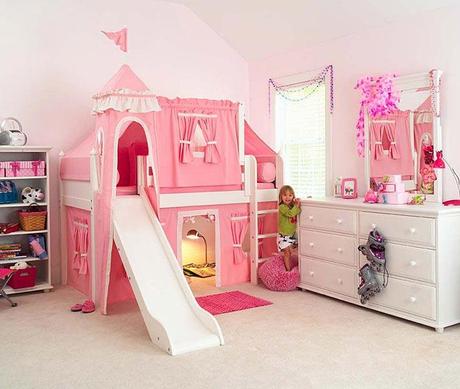 You may remember a post I wrote last month about kids bedroom ideas, you can see it here, the research for that post can be some huge bouts of inspiration and meant I ended up looking at pretty princess rooms for Abbie for about 5 hours...one of my favorite topics is home decor, especially when it comes to bedrooms, we are just about to re-do ours and Abbie's nursery for the new year so thought I would conjure up a list of essential items you will need for he perfect princess bedroom! I especially LOVE the little 'den' in the bed above, a perfect place she can escape to and have some quiet time reading some books (yeah right..what's quiet time to a 4 year old?), still, as she gets older and has friends round, it'll be perfect :)
The Bed
When I was about 10, my parents finally gave in to me begging them and bought me a wooden stompa bed, it was the first bed that I chose myself and I was adamant on having one that had a ladder and plenty of space underneath for all my cow print stuff! I will have to dig out a photo of it and show you all! I helped my Dad build it and at first I was a little scared to sleep in it incase it fell down...but he jumped on it a few times to reassure me that if it can take his weight, it'll take mine! Ha. 
So if your little one is begging you for one too, there is currently a Stompa Casa high sleeper on sale online which even has a little desk & mini sofa too! So adorable! I literally cannot wait ill Abbie is old enough to have one, I think they are such a good way of making a small room look bigger and making the most of the space you have too! You can get some really cute designs too, some with butterflies, some with flowers & even some diamond encrusted ones (i'm serious...if money wasn't an option, I would think about it..) dont judge me... :)
Canopy
A MUST if you ask me, I had a pretty white one with pink fairy lights wrapped around the top of it as a little girl, it made the room look so girly and pretty! Again, you can get so many different types, short, long, white, pink, yellow, even multicoloured! They're not just for the bed, they can drape over a play area, a little chair or even over the door if you want to! It can be used as an accessory or can be wrapped around the whole bed too (obviously they are only suitable for children over a certain age so make sure to check) :)
Fairy lights
As I mentioned above, I think they are the perfect way to add that finishing touch to a princess themed room, or any room for that matter, wrap them around the bed, canopy, curtain rail, or if you're feeling super creative, around the whole room! Put them on different effects too, from sparkling to fading and even flashing different colours, perfect for special occasions in the year too including her birthday, Christmas & sleepovers! You can even get different shapes too and use them as wall art! 
Furniture
Obviously depending on the colours your little girl likes, it's nice to get matching sets, I was thinking for Abbie I would get all white, a chest of drawers, a toy box, fabric wardrobe & eventually a little vanity table and chair, french or shabby chic style! With all her pretend makeup and perfume sat on top too, so adorable! 
Pretty Accessories
I'm talking fluffy bean bags, giant rugs & pink curtains! Things she probably won't really notice but will make the room look complete, even a few night lights and possibly some glow in the dark lights to place around the room too! This is also a good opportunity to take her along with you and let her choose what she would like, she'll feel proud and will gain a sense of accomplishment that what she chose, is now in her room on show to everyone :). She might pick something that you don't like, but remember, it's her room, no yours ;)
I could literally spend the next week talking about things to buy but I don't have infinite time and none of us have infinite money (where are those money trees?). If budget is tight, you could always have a go at making any furniture yourself, there are some fab tutorials online which can help you along the way & you don't need to be a DIY expert either! I think we will definitely try and build our own bed for her and let her pick as much as she likes too, our pride plus her pride equals a very happy family & a gorgeous room fit for a princess! :)
x