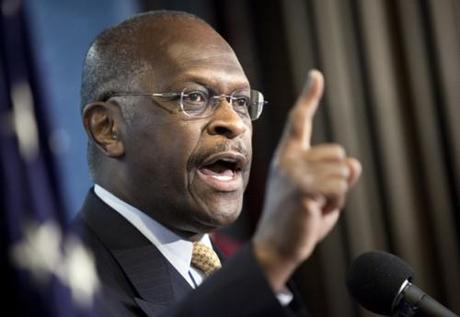 Herman Cain: A Fascinating Man with Stale Ideas
Since I last sat down to blog about the 2012 presidential race, there have been innumerable developments.  Tim Pawlenty and Thaddeus McCotter have already called it a day.  Speculation is persistent about the potential entrance of big names like Chris Christie and Sarah Palin.  And, the now-frequent debates have changed the nature of the contest.  The audience has stolen the show three times in a row.  First, they applauded the fact that Rick Perry doesn't have second thoughts about his execution record.  Second, some cheered a hypothetical scenario in which an uninsured, sick man was left to die.  And to top it off, they booed a gay soldier who delivered a question via YouTube. 
More importantly, the performances of the candidates lucky enough to be included (Fred Karger and Buddy Roemer have yet to appear in a debate) have forever altered their political fortunes.
Michele Bachmann has endured a brutal debate drought and lost any momentum she had after victory at the Ames, IA Straw Poll.  She spectacularly fumbled a potentially effective attack on Rick Perry when she erroneously claimed that the HPV vaccine can cause mental retardation.  In fact, Bachmann is back in single digits in most states, and finished dead last in the most recent Florida straw poll.
Rick Perry has lost a lot of his luster and has been left explaining and spinning his poor debate performances.  After alienating some of his base by claiming those who oppose in-state tuition for illegal immigrants lack hearts, he has turned in a pair of second-place straw poll finishes and watched an exodus of party elites from the campaign.
Gary Johnson has the laugh line so far.  In his first debate appearance in months, Johnson quipped, "My next door neighbor's two dogs have created more shovel ready jobs than this president."
Mitt Romney looks like the most credible, competent GOP candidate in the race after a relatively strong string of debates, a dominating win in the Michigan straw poll (51%), and a huge lead in New Hampshire polling.  Romney has positioned himself in a more moderate light, praising the Obama administration's Race to the Top program and defending social security.
Herman Cain has had a string of effective debate performances in the eyes of many.  He's also regained momentum after winning the Florida straw poll with 37% and raking in funds and endorsements in its aftermath.  Let me say this about Herman Cain: he is a really interesting guy.  He's a dynamic public speaker (and talented singer) who can deliver either a stump speech or a sermon.  He's chaired the Federal Reserve Bank of Kansas City and Godfather's Pizza.  He's deeply involved in charity endeavors.  He began his career in US Navy ballistics.  He's a cancer survivor.  He's written four books and hosted a talk show.  He's affable, and he has a sense of humor.  Now, he has an energized, grassroots base.  What's not to like?  His policies, by far the most important factor in any consideration of candidates, are wrongheaded and regressive.  Chief among those is the 9-9-9 tax plan, which might be one of the worst ideas in the field.
So who's in it to win it?  Romney and Perry remain the two plausible victors.  If Romney falters big-time, Jon Huntsman, currently at 10% in New Hampshire, may fill his void.  If Perry crashes and burns, Herman Cain has positioned himself as the logical candidate to gobble up right-wing support.  Candidates like Ron Paul and Newt Gingrich just don't have a plausible path to the nomination.