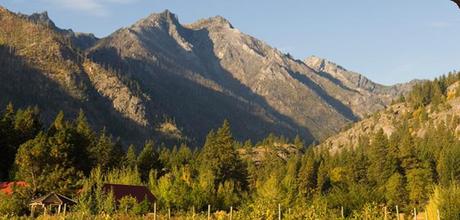 There are many resorts out there, but few have a sense of purpose like Sleeping Lady Resort.
The property, located on the East side of the Cascade Mountains in Washington, was once the location of a Civilian Conservation Corp. When the land was put up for sale in 1991, Sleeping Lady's founder and owner, Harriet Bullitt, purchased it to prevent commercial development. Instead she created a haven where people can come together and create ideas to change the world. Keeping with this goal, the company embraces the triple bottom line, integrating sustainability into everything they do.
From the start, Sleeping Lady has focused on conservation and sustainability. During construction only one building was torn down and was promptly repurposed as mulch. New architecture was built to match existing structures, keeping the sprit of the property alive while minimizing waste. A certified organic 2-acre garden supplies much of produce to Sleeping Lady's restaurants, with the remaining ingredients mostly coming from local famers and purveyors supporting Chefs Collaborative principals.
A devotion to environmental responsibility has continued over the years. Today the B Corp is working with the Department of Commerce of WA to electrify the nearby state highway and allow electric vehicles to travel to the area. Sleeping Lady has even purchased electric vehicle charging stations, the first resort to do so. As Lori Vandenbrink, Director of Sales and Marketing states, the initiative has, "a little do with business but a lot to do with who we are as a company."
Becoming a Certified B Corporation was a natural fit for the company. With similar philosophies and priorities, it only made sense to align themselves with the B Corp community. Also, after witnessing the difficulties of Ben& Jerry's, it was important to ensure the preservation of mission, no matter the future.
In addition to electric vehicles, Sleeping Lady is looking to bring glass recycling to their area. They also hope to switch completely to alternative energy. And as always, the resort will continue to strive to educate their clients and neighbors. It is their ultimate goal that visitors take lessons learned during their stay home with them. Whether this occurs through the resort's garden tours, environmental initiatives or the planned environmental property walk, Sleeping Lady will leave its mark.