Donations, Truncations Ensure Survival for Philadelphia Orchestra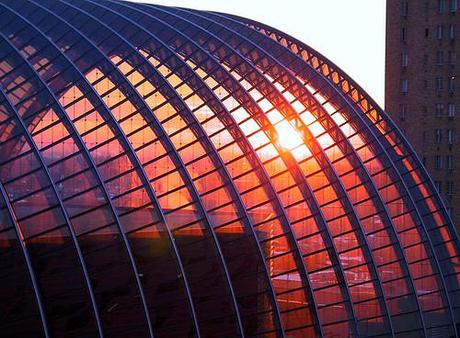 A new day is dawning for the Philadelphia Orchestra.
Photo of the Kimmel Center from its Tumblr page.
Things are looking up for the Philadelphia Orchestra. The organization announced yesterday that they have been successful raising funds for next season, and may be on the road out of Chapter 11 bankruptcy.
According to a
report in The New York Times
, the orchestra has raised $27.5 million in pledges and support for next season, as well as wooing some new major corporate donors. $16.3 million of the money was raised in the form of "challenge grants", which must be met by the end of the year. The orchestra's goal is to plump the endowment by $100 million in the next 5 years, and raise $60 million for artistic purposes.
The Philadelphia Orchestra board rocked the music industry in April when it announced that the venerable organization had elected to file Chapter 11 in the face of mounting debt. Philadelphia is one of the "Big Five" orchestras, an elite quintet considered the best orchestras in this country. (The others are the New York Philharmonic, the Cleveland Orchestra, the Chicago Symphony Orchestra and the Boston Symphony Orchestra.)
The crisis in Philadelphia was caused by a number of factors. In 2001, the orchestra moved from the small Academy of Music to the larger, more expensive Verizon Hall, (part of the Kimmell Center) down the street. Add in the economic collapse of 2008, which caused a drop in subscriptions and donations, the twin elixirs that keep an orchestra afloat. Finally, the collapse of the classical recording industry stripped the orchestra of a valuable revenue stream.
The Orchestra has also faced a crisis of leadership. The last music director, Christoph Eschenbach left on a bad note. The orchestra has been in the custody of chief conductor Charles Dutoit for the last few years. A new music director, the energetic French-Canadian Yannick Nézet-Séguin, is tabbed to take over the ensemble starting in 2012.
Mr. Nézet-Séguin will inherit a somewhat different organization. The 2011-2012 concert schedule has been slashed by 15%, with the cuts affecting the number of performances in a week. International touring has been cancelled for the foreseaable future. However, the orchestra will maintain its successful summer series at SPAC, the Saratoga Performing Arts Center.
Changes to the company's traditional programming and schedule will include concerts featuring film music, complete operas in a concert setting, and occasional forays back to the cozy, nostalgic confines of the Academy. The Philadelphia board also announced a renewed interest in pops programming, even as the orchestra struggles to renegotiate its contract with faded '60s pop star Peter Nero.