After releasing the premium Nokia Lumia 1520, the Finnish company realized that it perhaps needed a low-end version of its flagship and that's where the Nokia Lumia 1320 came in. It arrived at the same time as its more expensive sibling, but with a few differences.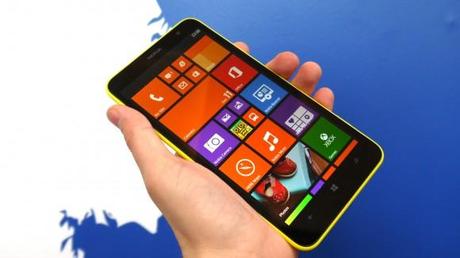 It may be a slightly downgraded version of the 1520, but it's still a good phone.
On the outside, the Nokia Lumia 1320 looks like other models in the Lumia line – its polycarbonate case has a matte finish available in four different colors – black, white, red and yellow. It's a sturdy 220 g device with a slightly curved back and rounded edges that can prove a bit difficult to hold, but not more than any other smartphone of that size on the market.
The Lumia 1320 has a 6in ClearBlack IPS LCD display, with a resolution of 1280 x 720 pixels and a density of 245ppi. The screen is crisp (not as crisp as the one on the Lumia 1520), the colors are bright and the contrast is pretty good. It works great in bright light, which means that you'll be able to use it outside without problems. You can even use the screen with gloves, thanks to the super sensitive touch technology (you can enable this option in the settings menu).
The Nokia Lumia 1320 is powered by a 1.7GHz dual-core Snapdragon 400 processor, backed by 1GB of RAM. It breezes through everyday tasks, but if you're a gamer, then you might want to pick a different phone. The Lumia 1320 only has 8GB of internal storage, but thanks to a microSD slot, you can expand it with a card up to 64GB. This smartphone runs on Windows Phone 8 GDR3 (the Lumia Black edition).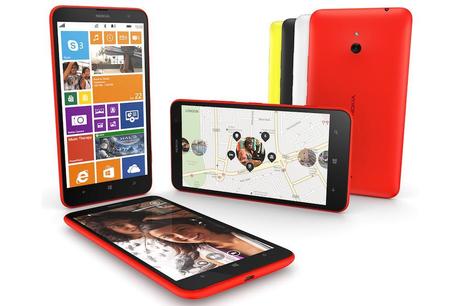 Like all Lumia models, it is available in different colors.
The back cover is removable, but, unfortunately, the 3,400mAh battery underneath it isn't. The battery is fairly large and should, according to Nokia, get you 21 hours of 3G talk time and 9 hours of video playback time. On the Lumia 1320′s back is a 5-megapixel camera that can shoot 2592 x 1936 resolution photos and 1080p videos. When it comes to connectivity, the Nokia Lumia 1320 has quad-band 3G with HSPA and penta-band 4G LTE connectivity, quad-band GSM/GPRS/EDGE support, Bluetooth 4.0 and dual-band Wi-Fi a/b/g/n.
The Nokia Lumia 1320 might not be as good as the Lumia 1520, but it is still a quality smartphone that's for those users who want something similar to the 1520, yet less expensive (the Lumia 1320 costs around 280 euros).