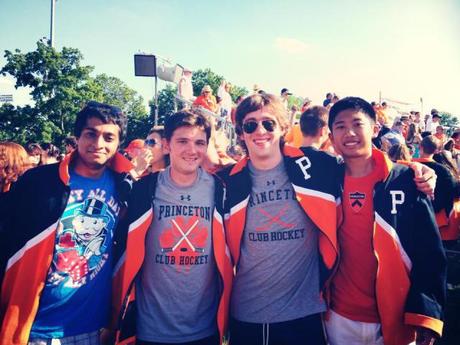 My roommates became my best friends. Graduating together 2013.
Tomorrow, I will be embarking on an emotional 3 day trip and a post-grad first: my first Princeton Reunions as a graduate.
When I first created 'America's Finest Tiger,' much of what I initially wrote about revolved around my 4 year experience at Princeton. Because of how life-changing it was, I felt the need to give back in some way, by sharing my thoughts and passing along what I learned in the Orange Bubble to you guys. Even now, I still reminisce about my Princeton experience. I don't let it affect my current state of mind, but instead I use it as fuel for motivation and to keep things in perspective.
My final moments on the Princeton campus as an undergraduate are still very vivid to me. As my family and I drove off campus for the final time, a wave of emotions suddenly hit me. Admittedly, tears started flooding down my face as I stared out the window for the very last time at what had been my home for the past 4 years. I had managed to make it through all my final goodbyes somewhat unscathed, yet I should have known that it would all hit me at some point. Princeton was a second home to me, hence half of this blog's name.
Now that it's already been a full year since I graduated, I feel a new wave of emotions coming at me as I prepare to venture back to the "best ol' place of all" for the first time as an alum. To say that I'm excited is a gross understatement. It'll certainly be beyond incredible to see all of my old friends, roommates, classmates, and teammates again. But, it will be even more fulfilling to be reunited with Princeton itself. A place that molded me,shaped me, pushed me, amazed me, hypnotized me, and inspired me.
And with that, Princeton, I look forward to seeing you again, and to my fellow Tigers, let's make these 3 days the best 3 days of the year.
Tiger Tiger Tiger!
Cheers,
Michael