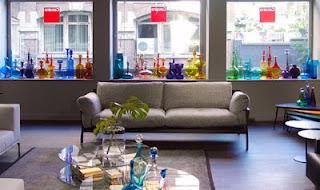 The 2nd floor of Cassina's SoHo boutique with Blenko glass
Lining the window of the Cassina boutique in SoHo is a vast collection of multicolored vases. At first glance you would think that these vases, all in different shapes, sizes, and colors are part of the shop's attempt to spruce things up but in fact this is a selling exhibition of mid-twentieth century Blenko Glass organized by Damon Crain, the leading expert on historic period Blenko glass (1947-1974).
In 1921, William Blenko founded a sheet glass company in Milton, West Virgina called Eureka Glass Company (later renamed to Blenko Glass). Blenko was quiet successful and provided sheet glass to St. Patrick's Cathedral in New York City and the Anglican Cathedral in Liverpool. However with the start of the Great Depression, Blenko had to shift gears as there was little or no demand for stained glass windows and the company decide to pursue tableware as a means of survival. This proved to be a smart business move for Blenko and in 1936 the company produced became the exclusive manufacturer for Colonial Williamsburg's glass reproductions. From 1937- 1942, Blenko benefitted from the expertise of Carl Erickson, a Swedish glassblower who brought with him to the company a Swedish design sensability. After World War II, which halted any major developments, Blenko hired its first artist director Winslow Anderson, in 1947. Blenko's reputation soared, as Crain puts it, "Blenko was to Modernism what Tiffany was to Art Nouveau".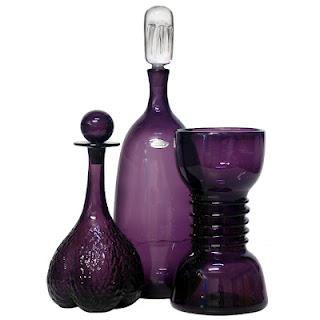 Trio of Plum colored Joel Myers designs for the Blenko Glass Co. USA, Mid 20th Century
It is the work of the "Blenko Four" or the company's four main design directors, Winslow Anderson, Wayne Husted, Joel Myers, and John Nickerson, that the selling-exhibition features.
The work of these four artists is very different, with each one bringing something entirely unique to Blenko. To quote Crain, "a Henry Moore and Russel Wright-like sensibility in the work of Blenko's first designer Winslow Anderson (1947-53); the influence of Paul Klee and Le Corbusier in the work of Blenko's second designer, Wayne Husted (1953-63); the kinship of Blenko's third designer, Joel Myers (1964-71), with Richard Diebenkorn's sense of color and Eero Saarinen's mod organic forms, and John Nickerson's (1971-74) space-age Louis Kahn-like sensibilities." Each of these direstors was as graduate of Alfred University, the only school in the United States located within the "ceramics corridor", a region in New York State the focuses on the ceramics and glass industry and therefore has a very strong ceramics program.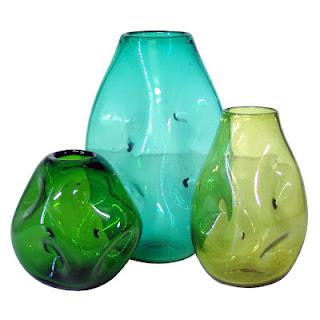 A group of 'indent series' vases by Winslow Anderson for Blenko    USA, Mid 20th Century
I was immediately struck by the brilliant solid colors, unusual shapes, and the large size of the vases. These three unmistakable characteristics distinguish Blenko glass from any other glass manufacturer.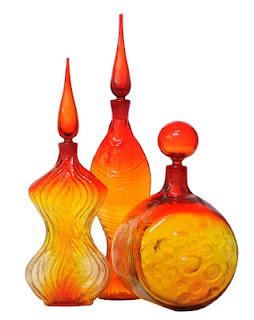 Trio of scupltural decanter by Wayne Husted for the Blenko Glass. USA, Mid 20th Century
 All of these pieces are as beautiful as they are functional. They were intended to be used and were marketed for the "middle-class luxury" as Crain puts it. Today the pieces range in price from $770 for a single vase to $6,945 for a grouping.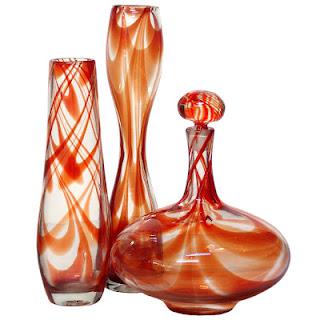 A trio of important Charisma designs by John Nickerson for Blenko
USA, Mid 20th Century
I was lucky enough to get a tour of the exhibition from Crain himself. Should you miss it, Crain's office is around the corner and where he will gladly educate his guests by appointment. The exhibition can also be viewed on line at
http://www.cultureobject.com/
and http://www.cultureobject.1stdibs.com
 The Blenko Glass Company is still around although they don't make them like they used to!
Visit: Cassina, 151 Wooster Street through August 5th.