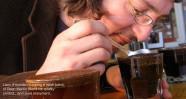 For Larry's Beans, coffee roasting is about the people. Throughout the process the company considers the farmers who grow the beans, the roasters, the employees, the local community, and the consumer. To this certified B Corp, putting people and the planet at the core of their mission makes for a 'better' cup of coffee.
Larry's began his quest for 'better' coffee in the early 1990s by sourcing directly from small farmers, a revolutionary idea at that time. He recognized the difference that a direct source of income made for the farmers who previously lost money to middlemen. Since his first trip to Mexico over a decade ago, Larry's team visits farmers annually and seen first hand the positive impact that fair trade has had on their families and farms. Larry also teamed up with other coffee roasters to found Cooperative Coffees, which buys fair trade coffee in bulk. This allows smaller companies to source directly and still get fresh beans. Today there are 23 roasters purchasing 100% shade grown (good for the environment) and organic coffee beans from 16 countries. This means better wages and better coffee for more people worldwide.
People are important to the company at the local level as well. Larry's Beans offers fun tours of their green facilities to the community, delivers local coffee orders in their vegetable oil-run bus, donates 1% of their revenue to local causes and actively supports local artists. Larry's also sources locally when possible to better support the people around them.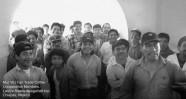 Larry's Beans became a B Corp to maintain and improve upon their dedication to people, planet, and profit. Larry's believes in spreading knowledge about the power of commerce, or "voting with your dollars", and B Corp certification supports that.
Find out more about fairly traded coffee and Better Know Larry's Beans. After all, coffee just tastes better when it is doing so much good.