I loved
Bocado
in Wellesley the first time I tried it,  so when I saw the
facebook contest
I had to enter...
and I won!
Last night I not only enjoyed another amazing meal at Bocado, but I also got to tour the restaurant, meet several of the incredibly talented staff members, and learn all about the concept from Owner Mike Covino. What struck me most was Mike's energy and passion for the business, serving delicious authentic food and creating a culture of hospitality at all of his restaurants (there are currently three different Bocado locations, as well as six additional concepts through Worcester, Leominster, and Providence). Before starting the tour, I enjoyed a glass of cava and some marcona almonds at the gorgeous bar.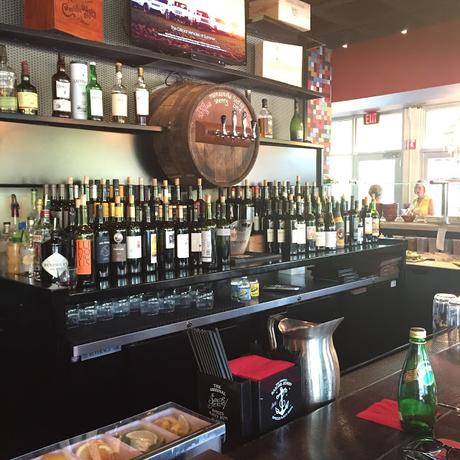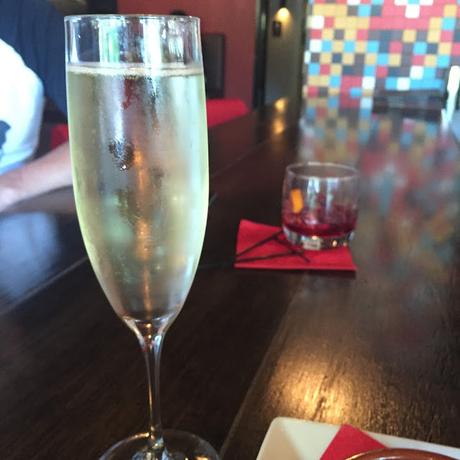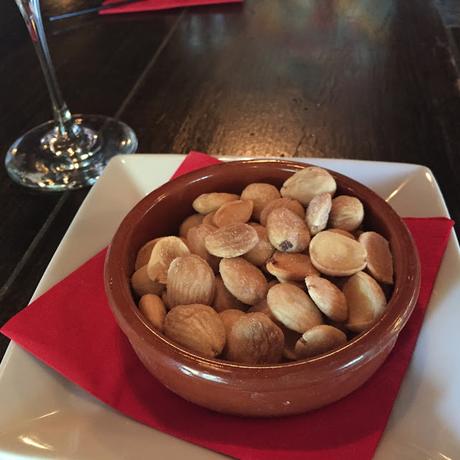 Next I got a full tour of the space including the bar, dining room, patio, wine room / private dining area, and kitchen. They design the space and  shelving / storage units themselves so everything is highly functional and helps to keep operations running smoothly.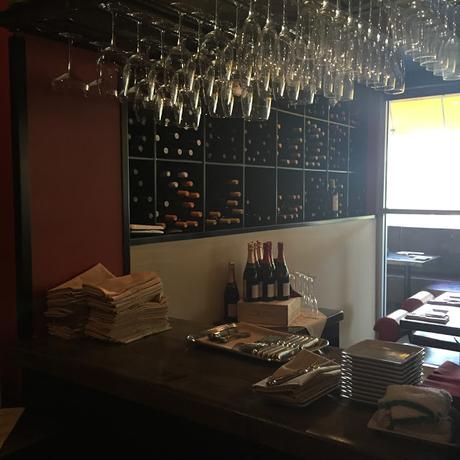 They even have an in house artists who designs all of the artwork for each property, as well as the chalkboard art.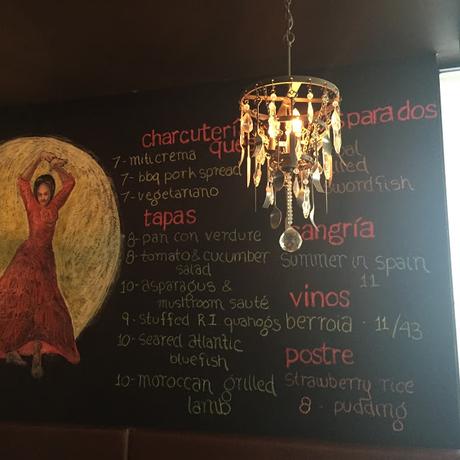 The kitchen was impressive, and included a Spanish charcoal grill - everything that came out of that grill looked and smelled amazing!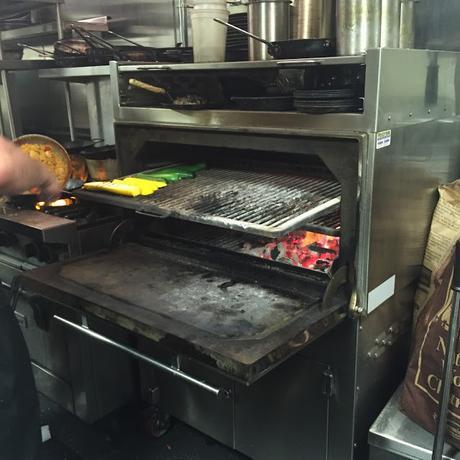 The best part may have been watching all of the dishes come out - at first I thought this would make it easier to decide what to order but it only made it more challenging. Everything looked so good!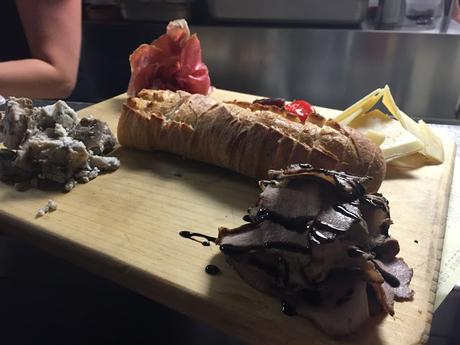 Meat and cheese board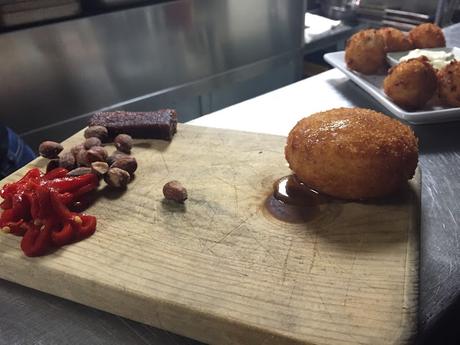 Fried goat cheese with honey & almonds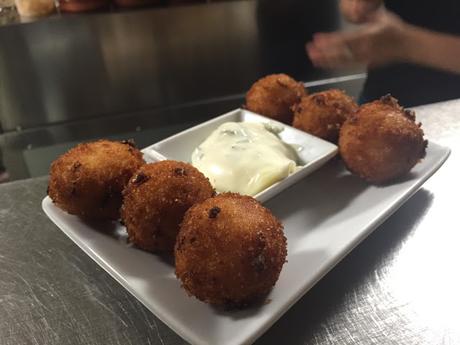 Mozzarella stuffed crispy rice balls with basil allioli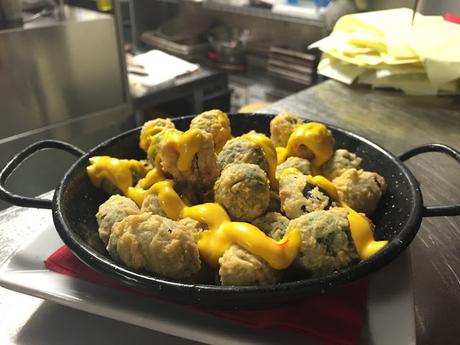 Battered manzanilla, kalamata & black olives, saffron allioli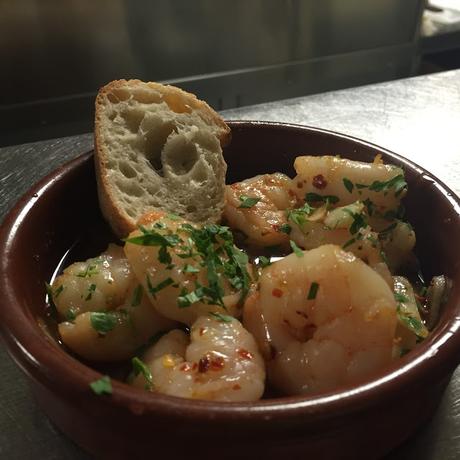 Sautéed shrimp with garlic, parsley and olive oil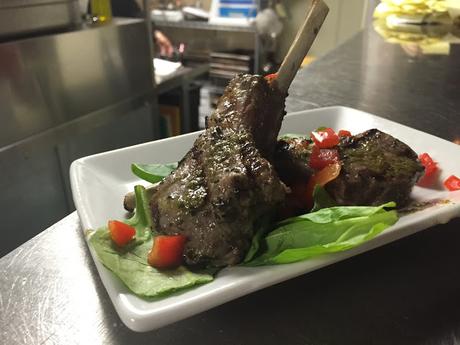 Grilled lollipop lamb chops with rosemary mustard oil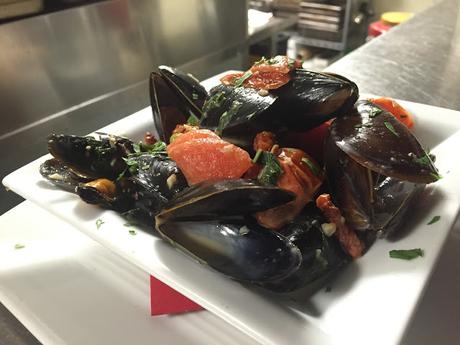 Mussels tossed with garlic, sun dried tomato, basil, cracked black pepper, white wine and cream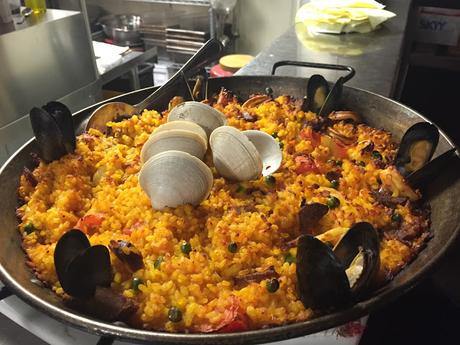 Paella Clasica with saffron rice, chicken, calamari, shrimp, chorizo,  mussels, little necks, peas, tomato
   I ended up trying the meat paella, duck leg, scallops wrapped in bacon, stuffed clams, stuffed piquillo peppers, stuffed eggplant, and a sampler of several different types of ham.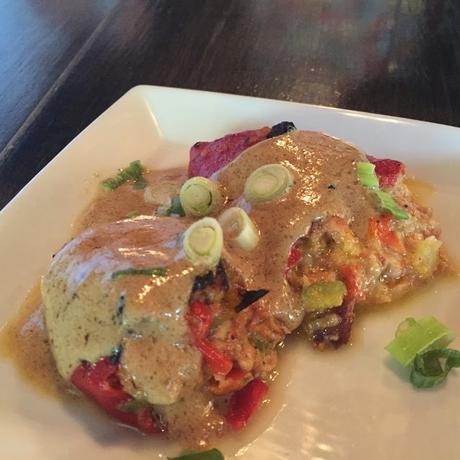 Piquillo peppers stuffed with veal and manchego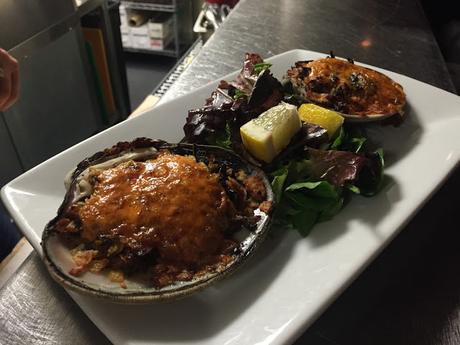 Clams stuffed with chorizo, kale, and cape cod potato chips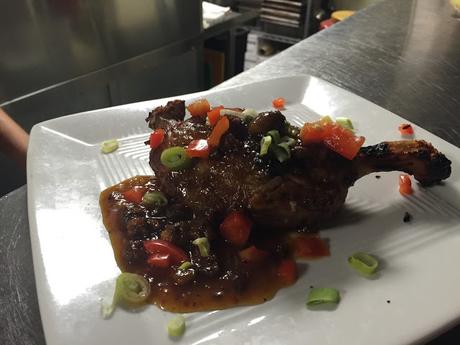 Slow roasted duck leg with apricot-pistachio glaze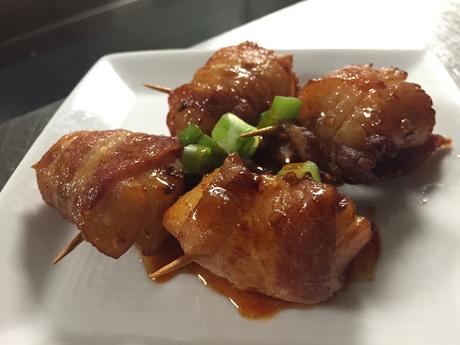 Scallops in bacon with truffle honey
   They were all delicious and I would definitely order everything again, but the dishes that really stood out were the paella, stuffed piquillo pepper, and iberico ham. The paella was loaded with chicken, chorizo, veal, and duck confit tossed with perfectly cooked rice that was just a little crispy. The iberico ham was some of the most tender and flavorful I've ever had, and the peppers were stuffed with veal and mahon cheese.
   Not pictured here are the desserts, specifically the brownie sundae and churros -  both were amazing and chocolate-y (my only real requirement for dessert). You can't go wrong with either, but for the more authentic experience, I would go with the churros!
   I've dined at Bocado and enjoyed it before, but being able to see all of the effort and attention to detail that goes on behind the scenes really made the experience special. If you ever have the opportunity to tour the kitchen or chat with the owner of one of your favorite restaurants, I highly recommend you take them up on it!