Written by Derek Zobrist, founder and CEO of Enovative Kontrol Systems
Energy waste is an issue which affects everyone. Which is why, for the last 6 years, Enovative Kontrol Systems has worked to improve energy efficiency related to domestic hot water circulation. Standard domestic hot water circulation pumps operate continuously and waste $1000s each year in natural gas and electricity. In greater detail, a standard hot water circulation pump delivers hot water 24 hours a day- regardless whether anybody uses the water or not.  The water cools as it moves and the boiler is forced to reheat the same water over and over again.
This method of recirculation is incredibly inefficient. Of the energy consumed in heating water, up to 70% of it is lost in the process due to cooling in the pipes and heat escaping from the storage tank.  Translated in dollars, out of every $1000 spent on hot water heating, $400 is wasted through ambient cooling and another $300 from inefficient boilers and storage tanks.  At this rate, the combined amount of wasted energy across the United States, according to the California Energy Commission, is estimated to be as high as $10,000,000,000 per year.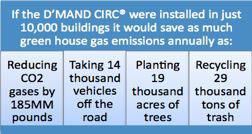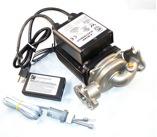 In 2005 Enovative Kontrol Systems decided to research and design a "smart" technology application to eliminate this waste. We've discovered that by adding a sensor-controlled system to a standard circulation pump, creating Enovative's D'MAND CIRC®, we can deliver hot water only when needed.
Here is how it works: When no one is using hot water, D'MAND CIRC® shuts off, which reduces heat loss and minimizes wear and tear on the central heating system.  As soon as there is demand for hot water, the D'MAND CIRC® flow sensor sends a signal to the control box which, in turn, reads the temperature sensor. If water is at the target temperature, the D'MAND CIRC® pump remains off. If the temperature sensor reads below target temperature, then and only then, will D'MAND CIRC® turn on to send fresh hot water. This generates significant utility savings, in the range of 10-30% in natural gas consumption and 95-98% in electricity used to run the pump.  Depending on the size of the building, these numbers translate into $1000s saved.
The D'MAND CIRC® is already having a remarkable impact on our environment and natural resource consumption. In the last year alone, Enovative has retrofitted as many as 1,000 continuous pumps with the D'MAND CIRC® system. In fact, the D'MAND CIRC® has performed so efficiently, the So Cal Gas Company has developed a rebate program offering it to their customers for free.  Lastly, Enovative Kontrol Systems recycles 100% of the pumps that have been replaced.
The company mantra at Enovative is: "Energy Saved is Energy Made."  By improving energy efficiency in hot water circulation, we "make" energy for future generations to come.
To learn more about the D'MAND CIRC® system and everything else going on at Enovative, please visit:  www.enovativegroup.com.
Derek Zobrist is the founder and CEO for Enovative Kontrol Systems, a firm dedicated to assisting building owners reduce energy consumption through simple, innovative technologies and strategic design. His area of expertise focuses on domestic hot water distribution in commercial and multi-tenant buildings. Mr. Zobrist helped develop and test demand controlled pumps responsible for saving buildings owners millions of dollars annually in gas and electricity. Mr. Zobrist is currently working with notable clients such as the City of Anaheim, Marriott Corporation, and Sempra Utilities to effectively reduce energy consumption in hot water systems.