If you've been here a while, you'll see that the site has had another make over! It's been quite a while since the last one and I thought we needed a change around here! Hopefully it'll be easier to navigate and I think it actually looks a lot better overall!
Everytime I look in my wardrobe lately I'm always disappointed. It's a bit like when you're peckish and keeping opening the fridge hoping that something yummy has magically appeared, which it doesn't – same goes for my wardrobe. With this in mind, I'm also off out with one of my good friends who I haven't seen for a while on Friday and I had a little bit of cash spare, so there was only one thing to do – go shopping!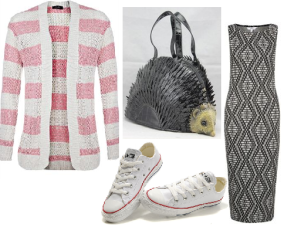 I ended up going to New Look (I don't know why, I rarely find anything I like), and left with this midi dress – it was only £19.99! I don't usually wear dresses like this but I really liked the pattern so I thought I'd give it a go! It's really soft too!
Since the weather's on and off here I'm planning to pair it with this white and pink cardigan from Yours Clothing (a steal at under £10!) but I bought it 2 sizes too big so it's feel oversized and comfy, and my converse, which cost about £38. I think there's a bit of a 'comfort' theme going on here!
The bag is by far my favourite piece from this outfit. I saw this little guy when I last went to Camden 4/5 months ago and fell in love. He was being sold in one of the shops down in the stalls and would have set me back £40. Now, the problem with Camden is that if you don't have much money left you start to panic a little just in case you see something even more awesome down the road. The last thing you wanna do is find the dress of your dreams and then not be able to afford it.
I didn't see anything else I really wanted before we came home so I really regretted not buying Mr. Hedgepig – but luckily I found one on ol' faithful eBay that was exactly the same! I ended up paying and extra £6, but I wanted him so bad I really didn't care.
In all honesty he's not the most practical of bags… sometime's he can look a little awkward hanging from your arm, his spikes could snag your tights and his nose could do some serious damage… it's also a bit difficult to get your things in and out of his belly… but he's cute so who cares! He attracts a lot of attention too!
I'll try and snap a picture of the outfit on Friday so ya'll can see how it all looks in real life – I'm quite excited to try this outfit!