TAKEAWAY: Russians will wake up to a new daily newspaper March 28.  But, although the product is brand new, the name, Moscovskiye Novosti, will be familiar to many.  Today we begin a series of blog posts on our participation in the creation of this iconic Russian title as it makes a comeback.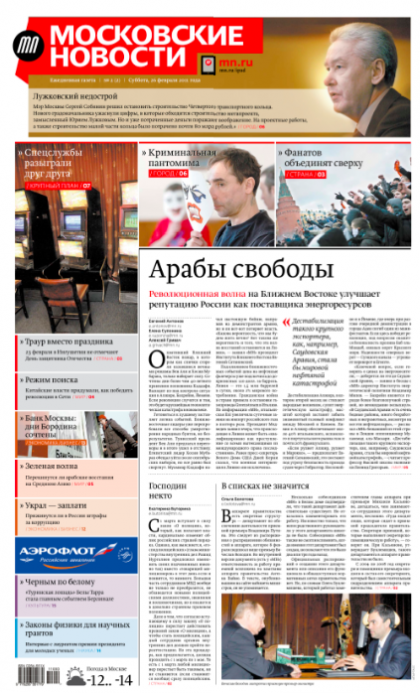 Here is one of the final front page prototypes (which is still work in progress) for the new daily Moscovskiye Novosti

It has been an unusually cold and wet winter in Moscow, but for the talented team of the new Moscovskiye Novosti, it has been mostly indoors, diligently working with the rebirth of an iconic Russian title, which was one a weekly, but now will appear as a daily, starting March 28.
For six months, we at Garcia Media have worked with the team in a project that involves three platforms: print, online and an iPad app, all of which will appear simultaneously.
The case study of how the new Moscovskiye Novosti has come to be is different from the usual project involving either a redesign of an existing publication, or the start of a new one that has not existed before.
In the case of MN, there is plenty of history, and a rich one too.  For Russians of a certain age, the weekly MN, founded in 1980, came to signify the closest that existed to a free voice during the Perestroika period, when Moskovskiye Novosti gained huge popularity thanks to its liberal political stance, and for promoting itself as the newspaper to be "the bridge between the USSR and the Western world."
Much has happened since then, and since 2008, when MN ceased publication.
Now, the MN will be published as the partnership between Vremya Publishing House (the publisher of Vremya Novostei until 2010) which will produce the journalistic content, and RIA Novosti (owner of the brand Moskovskiye Novosti) which will provide the technology and infrastructure.
It was RIA Novosti, the Russian news agency, that contacted us at Garcia Media to undertake the project.  It began with a briefing meeting in London in late summer 2010.  The key players from both editorial and management met with me and described their vision for the new newspaper.  We conducted a lot of meetings on the phone, emails, and by the time I arrived in Moscow in the fall, I already had a good idea for the look and feel of the new MN.
Or so I thought.
As the day of the launch approaches, I would like to document the case in a series of blog posts starting this weekend.
More to come later in the day Friday, with updates throughout the weekend.
But, for now, here is a preview of the front page of the new Moscovskiye Novosti.  In subsequent updates, I will relate and show our creative efforts to arrive here.
Stay tuned.
TheMarioBlog post #733