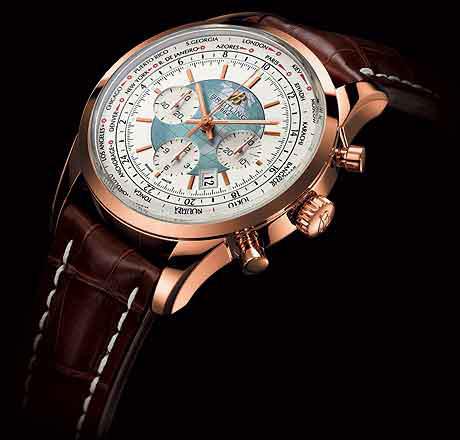 It's not anything new when luxury watch brands introduce a new model or collection. Every year at Bezel, excited watch enthusiasts awaits the unveiling of what is to be a more complicated and intricate in design. There has been no news of late to indicate anyone was disappointed at this year's event. One of the more impressive releases comes from Breitling.
To its credit, Breitling is pushing the benefit of ownership to a new level by seeking a customer draw with its new 5 year warranty. Covering all in-house movements with the Manufacture Breitling Caliber, you can count on the support and service that has long been part of the Breitling name.
Introducing this year's highlight, the "Transocean Chronograph Unitime" is going for extended power with the ability to hold a 70 hour reserve. This is huge in comparison to what has been common place with previous models. For even more impressive subtleties, notice that the bezel is adorned with various languages as an option to owners.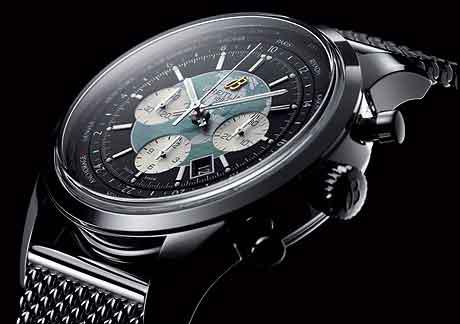 Steel case and mesh bracelet of the Unitime model
The traveler is likely to really be excited to see a feature that will cause a real stir. A time zone function is added making full use of the directional capabilities of the crown. Moving forward or backward, the crown will initiate different function that does not affect the minute hand, city disk, or 24 hour disk. What an accomplishment!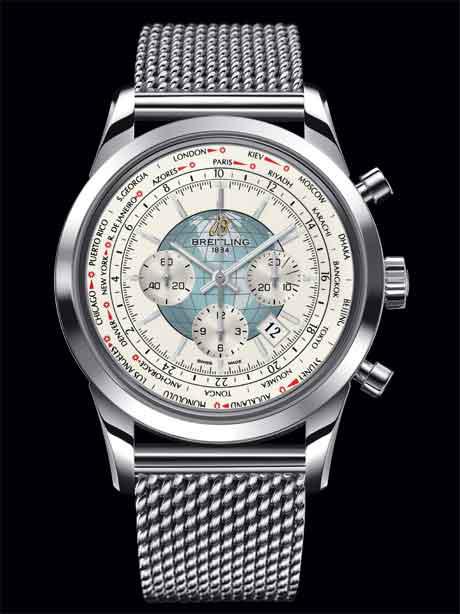 Another model of the Unitime with a bright white face on Stainless Steel
Additionally, you will notice date adjustments automatically operate for a better owner experience not requiring extra attention. With all of these fantastic features, you are likely to really appreciate the design and overall look of options for the bracelet. If you are a leather lover or a steel mesh contemporary style, both are sure to offer exactly what you want in this new Unitime.
One option that definitely sets this watch apart is the rose gold color with a rich black face and integrated dials. For the brighter version, you have a steel watch inset with a white face that gives a very noticeable fresh and glee type appearance. It just puts a smile on your face when you check the time, of course that's just an opinion – a positive one I might add!
Choose 18 kt. gold or stainless steel and get ready to thoroughly enjoy your new Transocean Chronograph Unitime for life. Breitling has really put together one very smart design that has a bold, yet subtle appeal for any luxury watch fan. This is one for the books!