I can remember hopelessly searching the internet trying to find an encouraging IVF success story. I did come across some, but I always told myself that the couples were different from me in some form or fashion. Some of them produced 20 eggs every cycle, some of them had unexplained infertility, and many of them got pregnant on the first or second IVF attempt. My story is very different from these, and I hope you can find some comfort and encouragement through it. I hope you enjoy reading our IVF success story.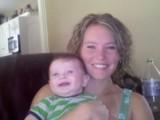 About six years ago my husband and I decided we were ready to start trying to have a baby. We were off birth control for about a year before we decided to go to the doctor. It was not long at all before we were finding out that we had male factor infertility. The doctor recommended us skipping IUI and going straight to IVF with ICSI. At the time we didn't really even know what IVF was. We thought that it would be the answer to our prayers and that we would be having a baby soon.
The first cycle was a complete failure. Even though we had male factor infertility, the doctor had trouble getting me stimulated. We had to change the dosage of our drugs numerous times and still ended up only getting 6 eggs. The doctor thought I should have textbook eggs, since I was only 23 at the time, but that was far from the truth. The embryo quality was poor and we did not get pregnant. The second IVF seemed more hopeful. I was stimulated much easier and produced 10 eggs this time. Also, we got pregnant! But the excitement didn't last long. We miscarried soon after finding out we were pregnant. Even though I was disappointed, I took the miscarriage fairly well. I was just ecstatic to know that we could actually get pregnant. We had one more failed cycle and one more miscarriage. That is a total of 4 IVF procedures, two miscarriages and two negatives.
We were starting to think that maybe we should stop trying. We were going through so much money and emotions with no guarantee that it would ever pay off. My husband tried to tell me that it was ok if we could never have kids, but I knew he wanted them as badly as I did. Since we were getting pregnant, but not carrying to term, I felt like I was failing. We still had 8 embryos frozen, so we couldn't give up yet. We went through our first frozen transfer, and had yet another miscarriage. Since we still had embryos left we decided to keep moving forward. If we would not have had the frozen embryos, then we may have given up.
Written by: Brittany Brumbelow