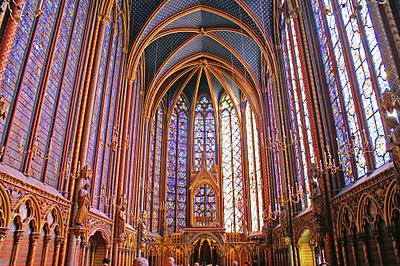 wikimedia.org
On the Île de la Cité in the heart of Paris, just a stone's throw away from Nôtre Dame, is Sainte-Chapelle. But people who visit glass houses (of God) should not throw stones; at least not at the mainly-glass Sainte-Chapelle. While smaller and less famous than Nôtre Dame, Saint-Chapelle is equally one of the most thrilling experiences in Paris. The stained glass in this chapel, set in a delicate framework of arches and buttresses, is considered to be some of the best in the world. The fifteen stained-glass windows in the upper chapel – each one over 50 feet high and 14 feet wide - literally surround you from floor to ceiling with a masterpiece of colour and light.
My husband, son and I visited in the spring of 2003. This was the only venue on our trip in which we subjected to fairly tight security. The chapel itself is now surrounded by the Palais de Justice and it was quite common to hear the "wee-wah, wee-wah" of the French police cars as they drove into the adjoining grounds, but we didn't encounter the Jackal OR Inspector Clouseau. 

Originally built by Louis IX in the 13th century to house sacred relics brought back from the Crusades, Sainte-Chapelle is the epitome of High Gothic Architecture.
Sainte-Chapelle has two levels. The ground floor is rather dark and close. After lining up to enter, I was worried that this was all that we had come for. But the second level had the radiant, tall windows. Slender columns of blue and red camoflagued the supporting pillars that led to a vaulted ceiling of star-strewn blue, seemingly floating above the magnificent stained glass windows. The Gothic architecture of Sainte-Chapelle is a prime example of an architectural style called "Rayonnant" which strived to achieve a sense of weightlessness.
We waited without success for the noon-day sun to shine through the glass. I think it would have been miraculous. The pictures we took that day are good but not remarkable.
Two-thirds of these windows are original and represent the most complete collection of 13th century stained glass art. Although seriously damaged during the French Revolution, the windows were remarkably restored in the 1800s.
Sainte-Chapelle has been a national historic monument since 1862.