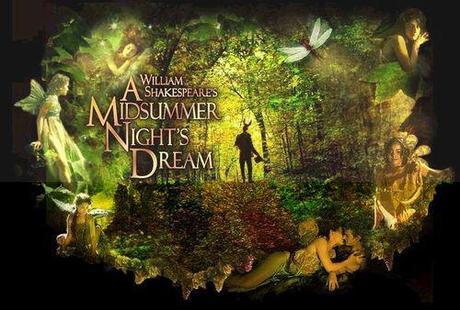 I am wondering if I'll ever get my garden back for it's by invaded by the brightest cast of characters that I've ever seen. There are fairies everywhere and  even if I hadn't seen them twinkling brightly out of the corners of my eyes I would have known that they were there by the madly intoxicating aromas that are wafting from every corner, every branch every bough....Midsummers Magic is definitely alive and afoot and I have the feeling that my life which is never quite ordinary is about to become very interesting in unimaginable ways for we all know that when the fairy folk are around that one never knows when the next prank will arise...
When I started writing about fine fragrances it was mostly out of my love for the beautiful perfumes that I had worn all of my life. Gorgeous grand things like Shalimar and Joy and my beloved Magie Noire which has always made me so happy. But then I began to notice something. My fragrances didn't smell the same anymore.  Reformulations and crass regulations subjected my beauties to the whims of something unnatural and to my mind almost evil. The list of aromas that are not allowed to be used in fine perfumery is mindboggling, but we can of course continuously douse ourselves with chemicals that make us sick and are not even remotely recognizable.
Enter the outlaws to the rescue!....
It's been my pleasure then to discover that there was a group of mavericks....men and women who have devoted themselves to the passionate crafting of outrageous natural and botanical perfumes. I love getting samples from them because they're always beautifully packaged, carefully and lovingly wrapped with a soul that's simply not found in mass marketed merchandised. Best of all, the perfumes are gorgeous.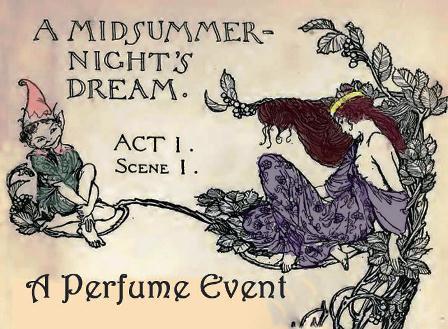 For the next few days I'm devoting myself to reviewing 14 luscious natural perfumes that have been created to honor the Summer Solstice and crafted in the fun and frolicsome spirit of Shakespeare's Midsummer Nights Dream. This is going to take a bit because this is the most distracting and disarming group of perfumes that I've come across in awhile and the fairies keep overwhelming me by blowing sweet kisses on the nape of my neck  and this morning I woke up next to the brambles to find myself fairly naked and covered in jam....trust me and definitely try them all!
"Out of this wood do not desire to go.
Thou shalt remain here whether thou wilt or no.
I am a spirit of no common rate.
The summer still doth tend upon my state.
And I do love thee. Therefore go with me.
I'll give thee fairies to attend on thee.
And they shall fetch thee jewels from the deep,
And sing while thou on pressèd flowers dost sleep.
And I will purge thy mortal grossness so
That thou shalt like an airy spirit go.—
Peaseblossom, Cobweb, Moth, and Mustardseed!"
A Midsummer Nights Dream, by William Shakespeare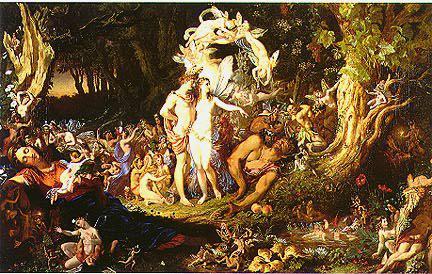 Titania- by Bellatrix Perfumes
Enter Titania, Queen of the fairies by Bellatrix perfumes. I immediately loved this ode to Titania the fairie queen, because of its delightful spiciness which to my awareness had everything to do with the initial blast of pink peppercorn and neroli. I adore PInk Peppercorn; it reminds of my other life in Southern California so anytime I smell it I'm instantly filled with happiness! The lovely Ankica Milic  has created a beautiful perfume that speaks to my sense of whimsy but is ultimately a very passionate caress of a fragrance.  
She calls herself a newcomer to the field of perfumery but I think that she has an incredibly fine future. She's combined rose and mint and tuberose in a way that's truly exciting to my senses and she's used labdanum so skillfully that instead of being cloying is refreshing and bright. It lasted for a long time and the drydown was wonderful, leaving the soft fragrance of angelica, orris, oakmoss and patchouli which brushed my senses like a butterfly who just alighted on my hand for a moment but left her gossamer touch forever.....
Eva Luna- By Providence Perfume Co.
I simply adore Charna's perfumes.I first made her acquaintance during the "Outlaw Project" put on by the Natural Perfumers Guild when she sent me "Gypsy" which was one of the loveliest fougere's that I'd ever met. She's captivated me again with "Eva Luna" which she has created for this project and describes as "Verdant carrot kisses, spring green flowers, joyful lovers and a moonlit dance.." I love Charna's style because it's sophisticated and just a little bit wicked like me..not in the witch of the west sense but a very sexy naughty ephemeralness that seems to run through her creations.
I adore Eva Luna and it's burlesque sensibilities. From the very beginning I'm captivated by the Russian Carrot which surprises  and confuses me and then the mimosa and fresh mint that disarms me even more, but soon I'm bewitched by an emerging heart of tuberose, frangipani and jasmine. By the time we get to the lusty drydown of Orris , frankincense and ambrette  it's all over.... I can imagine applying Eva Luna all over my naked body; Anais Nin wrapped in fur and giving myself over to an almost stranger at midnight somewhere deep in the heart of Paris...
Smiling Country - Ayala Moriel
 I love a cryptic game, a treasure hunt of any kind so receiving this note from the gorgeous Ayala was a total treat..."The note's chosen are unusual and I prefer not to disclose them until after you've formed your own impression". I was intrigued and I must say that even after I'd sniffed this many times and during many different phases I still couldn't tell you what's in it. I'm actually not that kind of reviewer and I prefer to let my imagination wander around what I'm experiencing in the scent and wander it did. Smiling Country is just that; a vast wide open breath of fresh air with a bit of sun warmed hay, almost overripe fruit and freshly turned earth. I could instantly smell the mountains and I was immediately taken back to a trip that I made to the Tetons in Wyoming.
I was given the opportunity to ride an amazing horse bareback through the government lands that bordered on the foothills of those grand mountains. As my horse and I  wound our way along the roaring Snake river I remember thinking that I could die there happily. The white sage that grew wild along with the flint and rose quartz smell of the mountains were all that I could ever have needed. Later that night my husband and I watched as a beautiful pair of golden Eagles mated in the skies above the porch where we were resting. I will never forget that trip.  I don't need to know what's in Smiling Country although I am curious. Ayala's perfume is a powerful talisman and a touchstone of a moment in time that was for me completely and utterly perfect.
Dreams -  Yuko Futami/Perfume Phyto
I was not familiar with the beautiful perfumes of Yuko Fukami, but one sniff of her lovely "Dreams" and I was smitten. Dreams is a very pretty perfume  and has a very spicy, solid green quality that I love in a perfume probably because of the coriander and violet leaf  that become immediately apparent upon first sniff. Dreams is a light fragrance, green and very sheer yet it is strangely narcotic and reminded me instantly of a solid perfume that I loved as a child called "Newly mown hay". I really want to smell Dreams as an eau de cologne. I have the distinct feeling that it would be very refreshing that way, something that I'd thoroughly enjoy on a warm summers day. It reminded me a bit of my current favorite Herme's lovely Un Jardin Sur le toit without the fruity apple and pear but with a flourish of yummy tuberose and a delightfully musky little bit of ambrette.
 I was taken back immediately to a time decades ago, on a very warm and breezy day at our local hunt club. I was wearing a lovely  white linen dress as I presented a fluttering championship ribbon to a gallant gentlemen dressed in full fox hunting  attire. A hint of something flashed between us as I stroked his horses beautiful flaxen mane and I smiled. He was gallant, gorgeous and his horse was exquisite. Whether the moment we shared was the result of the heat of the day or the icy gin and tonic with freshly squeezed lime I'll never know.....but there were most definitely passionate and exquisite Dreams.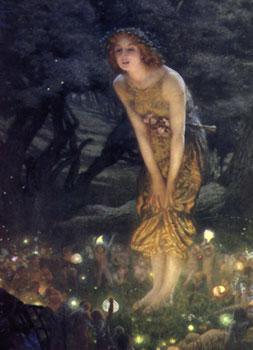 More sweetly scented stories to come...... 
For more impressions of all the incredible perfumes in this project, please visit these participating blogs:
Bloody Frida
WAFTbyCarol
EauMG
Feminine Things
All I am – a Redhead
Perfume Pharmer
Le Parfumeur Rebelle
Scent Hive
Fragrance Belles-Lettres: The Magazine
Esscentual Alchemy's Blog
Perfume Smellin Things
I have no idea of the origins of these paintings but I love them. I obviously didn't paint them and make no claims that they are mine . The lovely Midsummer Nights Perfume Event drawing is the property of Amanda Feeley.