Thanks to A-list couples like Brad Pitt and Angelina Jolie, Hollywood has put adoption in the spotlight.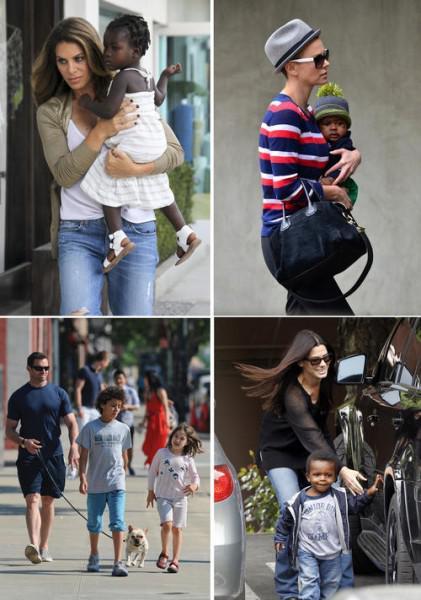 From Malawi, to Korea, to the United States, let's look at some international and domestic adoptions from our favorite celebrity families. And hear about the joys from some of the most high-profile adoptive parents.
Jillian Michaels:
The Biggest Loser star Jillian Michaels and her partner Heidi Rhoades became parents to two children in May: A 2-year-old daughter Lukensia and a newborn son Phoenix.
"About three and a half years ago I began dating my partner Heidi," Jillian shared on her road toward motherhood. "We had a very easy going, comfortable and no-pressure relationship. And a year or so into our relationship, I decided I want to adopt."
The celebrity trainer went on to say the adoption process was not easy, and after a year and a half of waiting for a referral from Africa, she switched gears.
"I switched all my paperwork over to Haiti and I get a phone call one day," she shared. "Heidi is now trying to get pregnant for five months now. They say, 'We have a referral for you,' which means they've matched you with a child. I was like, 'This is unbelievable, this is great!' I come home and tell Heidi, and in less than 24 hours she says, 'By the way, I'm pregnant.' "
Charlize Theron:
Academy Award-winning actress Charlize Theron, who stars in Snow White and the Huntsman and Prometheus this summer, shocked fans with her baby news in March. The actress adopted a baby boy named Jackson.
Charlize recently opened up about a letter she wrote at 8-years-old, sharing her plans for a future adoption.
"My mother found [it]. It said, 'Would you please take me to orphanage, so that I can go and adopt a baby?' I always knew I would adopt – always," she shared.
Sandra Bullock:
Not only did Sandra Bullock become an Academy Award-winner in 2010, she also become a mom. The Extremely Loud & Incredibly Close actress adopted a New Orleans-born boy, Louis, in January 2010.
Now 2-years-old, Louis has become Sandra's greatest joy: "He's just perfect, I can't even describe him any other way."
Sandra opened up about the first time she laid eyes on her gorgeous son:
"The first time I met Louis, it was like the whole outside world got quiet," she said. "It was like he had always been a part of our lives. All I said when I met him was, 'Oh, there you are.'"
Continue Reading to Read on about the 10 Adoptions in Hollywood