Busy busy day today, and I'll be working this weekend.  When things get like this eating healthy is really hard, and it doesn't help that my coworkers tend to bring in unhealthy 'snacks' when we're working long hours.  It's a nice thought but way too tempting for people trying to eat healthy!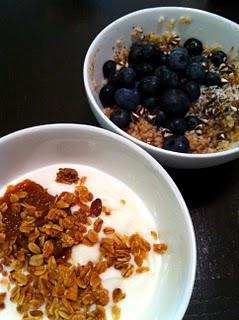 Breakfast was steel cut oats with blueberries, coconut, vanilla, honey, chia seeds, and swirly chocolate chips.  My yogurt was non-greek this morning by a local company called Mountain High with american spoon pumpking butter and udi's granola.  The yogurt was good but I really like the extra protein so I think I'll stick with greek from now on.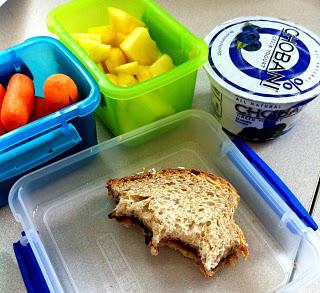 I ate part of lunch before I thought to take the picture, oops. :)  Anyway, it WAS a justin's honey peanut butter and black currant preserves sandwich on whole wheat bread plus chia seeds.  Accompaniments were baby carrots, pineapple, and the last of my chobani's which were expiring today.  Whew- just barely made it!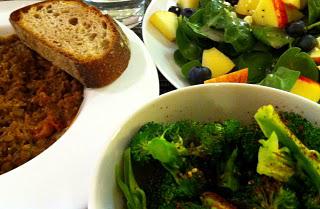 I waited too long to eat dinner and was ravenous by the time I sat down.  I had some leftover dal makhni from the other night (just as yummy warmed up) with udi's honey wheat bread, a side of steamed broccoli with penzey's salad elegant sprinkling - plus a spinach, apple, blueberry, feta, and poppy seed dressing salad.
There was also some unfortunate snacking, including peanut m&ms, chocolate, and a salted caramel square that I got free at Starbucks.